Explore an Exciting and Growing Career Field by Pursuing an Online Cybersecurity Degree
As of 2022, there are nearly 600,000 open cyber security jobs in the United States – and projections indicate 3.5 million jobs will come available by 2025¹. That means your choice to earn a cyber security degree is a smart one. And since most jobs in this field require a degree, you'd be right on track studying at Liberty University.
Did You Know?
Liberty's cyber security programs prepare you for 3 types of cyber jobs, which are explored more below.
More than 590,000 cyber security job opportunities are available in the United States.
Cyber security job postings typically require a degree.
Cyber security is one of the highest paying jobs in the Information Technology field.
---
Designations
Liberty University was designated a National Security Agency and Department of Homeland Security Center of Academic Excellence for Cyber Defense Education (NSA/DHS CAE-CDE) for the Bachelor of Science in Information Technology with Data Networking and Security specialization.*  
*Liberty plans to submit other cybersecurity programs for this designation over the next two years.


---
If you want to protect innocent people from cyber threats, a career in cyber security could be right for you. Liberty's Information Systems (IS), Information Technology (IT), and Computer Science (CS) degrees can prepare you for entering one of the highest paying careers in the information technology and cyber security fields.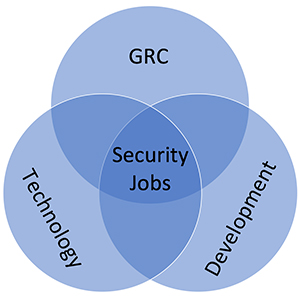 Decide which type of cyber security job is right for you, and let Liberty University prepare you for success!
Liberty University is one of the leading Christian universities in the nation. Liberty University's online cyber security and related degrees are offered at the bachelor's degree and master's degree level, providing you with many options to meet your goals.
You don't have to give up your job and relocate to Lynchburg, Va. to pursue one of our highly in-demand cyber security degrees. Additionally, Liberty University is accredited by the Southern Association of Colleges and Schools Commission on Colleges (SACSCOC). This accreditation means that you can rest assured that your degree stands up to scrutiny as an academic credential.
¹Cyber security statistics were taken from Cyberseek.org and Cybercrime Magazine. Learn more about cyber security employment opportunities by state. 
---
Common Questions
While researching the best online cyber security degrees, you may have questions about how Liberty's programs can help you reach your goals. Below are some common questions about Liberty's cyber security online programs.
Is it hard to get a job in cyber security? Is cyber security in demand?
Does cybersecurity require coding?
What degree is best for cyber security?
Is a cyber security degree worth it?
*Bureau of Labor Statistics, U.S. Department of Labor, at Occupational Outlook Handbook: Information Analyst, 2019 (viewed online February 19, 2020). Cited projections may not reflect local and/or short-term economic or job conditions and do not guarantee actual job growth.
---
Cyber Security Online Degrees
Information Systems (IS) – Security GRC Jobs
Information Technology (IT) – Cyber Security Technology Jobs
Computer Science (CS) – Secure Development Jobs
---
What's Your Passion for Cyber Security?
Prepare to meet the cyber security challenges of today and tomorrow! You can be prepared with Information Systems (IS), Information Technology (IT), and Computer Science (CS) degrees in these exciting career fields.
Security GRC
Get involved in the Cyber Security Governance, Risk Management, and Compliance (GRC) of an organization. Help with the creation, operation, and maintenance of information security policies, procedures, and standards.
With a career in GRC, you will work to assess and reduce the risk of the organization to cyber-attack as a cyber security professional.
Careers in Security GRC
Chief information security officer (CISO)
Information assurance
Security policy manager
Security manager
Security Technology
Through the Cyber Security Technology career field, you will help provide a security architecture for an enterprise network and work with systems in an organization. This professional specialty is based on risk assessment strategy. While testing and predicting failure points in a system, you will implement a wide range of security controls. These methods will help raise the security posture of the organization and prevent emerging threats from doing damage.
Careers in Cyber Security Technology
Ethical hacker
Penetration tester
Security analyst
Security architect
Security engineer

Secure Development
Help to solve tomorrow's cyber security challenges with a career in Secure Development. Start by understanding today's underlying principles and theories of the technologies used in IT and cyber security. Then, develop new solutions to meet tomorrow's challenges by implementing security throughout the software development lifecycle (SDLC).
Careers in Secure Development
Malware analyst
Reverse engineer
Secure developer
Security researcher 
Threat hunter
---
School of Business Facilities
Liberty's School of Business has its own 78,000-square-foot, three-story building. Online students are invited to come to campus to see the gorgeous state-of-the-art building and resources. 
Our School of Business building features a number of innovative spaces. These include information technology labs, networking and data centers, a 500-seat auditorium, and our Entrepreneur's Center for Innovation.

---
Cyber Security Faculty Spotlight

Dr. Michael Lehrfeld
Executive Director of Center for Cyber Excellence
Dr. Lehrfeld has worked in the IT field and academia for over 25 years. He brings a passion for Computer Forensics and Cyber Security to Liberty University as the Executive Director of the Center for Cyber Excellence.
Most recently, Dr. Lehrfeld assisted with the establishment of an Insider Threat team for a Fortune 500 company.
His research interests include assisting law enforcement with processing computer-related evidence.

Richard Bansley
Associate Professor of Computer Science
Richard Bansley served over 20 years in the United States Navy as a signals intelligence specialist. He earned his Navy Aircrewman wings as an airborne electronic warfare analyst and trainer. As a Navy instructor, he developed courses and taught joint service computerized SIGINT collection and analysis techniques, earning a Navy Master Training Specialist certification.
Mr. Bansley has also worked as a project manager and senior staff engineer for multiple space and defense and other federal government customers.

Dr. Robert Tucker
Associate Professor of Computer Science
 
Prior to teaching, Dr. Tucker spent 25 years in the intelligence community working primarily in software engineering and database implementation.
Before coming to Liberty, he taught for nine years in the Computer Science graduate program at James Madison University.
Dr. Tucker's academic interests include information security, software engineering, web services and programming, as well as database technologies.