Master of Education – Math Specialist Endorsement
Whether you have a passion for teaching or enjoy helping others learn difficult mathematical concepts, Liberty University's Master of Education – Math Specialist Endorsement is designed to build upon your previous knowledge to equip you with the ability effectively teach mathematics. Our Master of Education with a Math Specialist Endorsement will provide instruction on how to plan and implement mathematics strategies to meet specialized needs for quality of education. In accordance with our goal to Train Champions for Christ, the M.Ed. with Math Specialist Endorsement integrates biblically-based principles, partnered with an excelled curricula, to prepare you for effective leadership in Christian, public, and private schools.
The Master of Education program is accredited by the NCATE standards through CAEP, which means we have met rigorous standards for our teaching degree so you can study with confidence. Please note that this distance higher education degree is an advanced licensure program and requires you to have a math teaching license in middle or secondary education.
At Liberty University, we believe in our students. That's why we work hard to develop reasonably priced programs that produce educators and school leaders who model high academic, moral, and spiritual standards before their peers.
And it's why our 100% online Master of Education degrees are now specially priced at just $415 per credit hour.*
*This discounted rate is for students taking 9 credits or more in a semester.
Teaching mathematics
Current issues in math
Educational assessment and intervention
Educational research and assessment
Provided in a flexible and affordable program format, our online Master of Education with Math Specialist Endorsement allows for you to maintain current daily activities as you learn in-demand skills throughout each M.Ed. course taken. If you choose to attend any of our optional intensives, you will have the opportunity to connect with like-minded individuals through peer and professor interactions. Your M.Ed. internship will assist you in earning practical experience as well as useful skills for both academic and professional implementation. You will graduate competent to pursue your passions while serving as a valuable asset to your school.
Curriculum Developer
Math Educator
Math Specialist
Teacher
You may also be interested in exploring our master's degree in teaching or school counseling.  
By earning your Master of Education – Math Specialist Endorsement from an accredited, nonprofit university whose online programs are ranked in the top five of more than 2,100 online colleges and universities for academic quality, affordability, and accessibility, you can be confident your degree will be well respected within your field.
Tuition for all undergraduate, graduate, and doctoral programs has not increased in four straight years. While many other online colleges have raised tuition, Liberty has been able to keep costs low as a nonprofit university.
Students are able to complete this Master of Education – Math Specialist Endorsement program in as little as one and a half years.
Service is important to us, so whether you're currently serving in the Armed Forces, have served, or are married to someone who serves, we're here to serve you. Liberty's military benefits are available to:
Active duty service members of the U.S. Armed Forces
Reserve/National Guard
Veterans/retirees
Spouses of service members and veterans/retirees
Current Department of Defense employees
We are proud to support you in your pursuit of a flexible and affordable online education degree by offering you the following benefits: 
Tuition discounts - $275 for graduate (per credit hour)
Additional discount for veterans who serve in a civilian capacity as a First Responder (less than $625 per course).
8-week courses, eight different start dates each year, and no set login times.
Class Type
100% Online, 8-week Courses
Transfer Credits
Transfer in up to 50% of the degree total
Next Start Date
Sep 16, 2019
Accreditation
NCATE through CAEP
Experience that Matters to You
As an accredited Christian college with a 7,000+ – acre campus in Lynchburg, Virginia, Liberty University offers you an education that is both academically challenging and rooted in a biblical worldview.
At Liberty, you'll benefit from 30+ years of learning, growing, adapting, and innovating for the distance learner — and more than a decade of researching the needs of the online student. You can be confident that we've taken the time to learn what's important to you.
And what's that?
Affordability
Accessibility
Academic Quality
These important factors challenged us to find new financial solutions, get ahead of industry trends, and blaze trails into cutting-edge career fields — and it's paid off. That's the difference experience makes.
We're now ranked in the top 1% of online schools and universities for affordability, accessibility, and academic quality.
– by BestColleges.com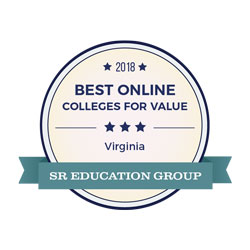 Why Choose Liberty University?
Enjoy Flexible Courses
Choose from a wide variety of programs at the associate, bachelor's, master's, and doctoral level, most of which are 100% online*. With an 8-week format and 8 start dates per year, it's easy to fit your courses around your schedule!
* excludes licensure, certification, and some doctoral programs
Maximize Your Time
Start and finish your degree faster! Liberty requires no standardized testing for admission, and you can transfer previous course credit — transfer in up to 75% of a bachelor's degree and up to 50% of a master's degree — or discover how your life, career, or military experience may count toward your college degree.
Grow in Your Faith
All of our courses are taught from a Christian perspective and our faculty sees themselves as mentors. Our mission is to Train Champions for Christ — we're committed to championing you as you study to go further in your field, become a leader in your industry, or start a new career.
Access Academic Support
Throughout your educational journey you will have access to academic resources that will aid in the completion of your degree. Services include our online library, writing center, tutoring, study aids, IT assistance, 30+ tutorial videos, live webinars, and personalized help from our academic advising team.
Liberty's online courses give you the ability to choose when and where you study.
Why We're Nonprofit
As a nonprofit (not-for-profit) university, Liberty is in the business of training skilled professionals to make a difference in the world – not gaining profit, revenue, or producing dividends for shareholders. In keeping with our commitment to your education, we invest our resources back into degree programs and into your student experience.
While many other online colleges have raised tuition, Liberty has been able to keep costs low as a non-profit university and has not increased tuition in four straight years. Lower tuition means less student loan debt for students.
For Liberty University, nonprofit is more than a status; it is the valuable opportunity to invest in the lives of students who will go out and impact the world.

Tuition amounts are for an entire degree and all tuition rates and credit hour requirements are based on data published on competitor's websites as of 11/28/18. Therefore, this information is believed but not guaranteed to be accurate. All tuition data and credit hour requirements are for online programs. Individual institutions may charge additional fees above published tuition costs. Rates are subject to change.
Financial Aid
87% of all Liberty students in an online program are awarded financial aid.
Corporate Tuition Assistance
Deferred – If your company reimburses you for the cost of your education, you submit your grades to your employer who pays you, and then you pay for your classes.
Tuition Discounts
Available for: Military service members, including active duty, retired, veterans, and their spouses. Also available to first responders.
Contact one of our Admissions Counselors for more information by calling (800) 424-9595.