Band Camp

Personalized Band Jackets!
Liberty University Marching Band:
We are excited to offer personalized band jackets to all band members this fall! The cost will be $89.00 for all sizes. This warm jacket is navy with a bit of reflective 'disappearing' stripe near the shoulder, and will have our large, full 3-color eagle/monogram logo embroidered on the back, our logo embroidered on the front left, and your name and instrument personalization embroidered on the front right.
These will be available for you to view, try on, and order at Band Camp Check-in Day only. Payment is required at the time of order (in form of cash, check, or credit card). It takes a while for the vendor to complete this order, so we must order early so the jackets arrive for cooler weather.
Please be prepared to make payment by check, cash, or credit card at Band Camp Check-in if you desire to order one. Please know that these jackets are offered exclusively to current members of The Spirit of the Mountain Marching Band only.
See you soon!
Fall 2020 Show Music – Coming Soon!!
Show Music Parts – AVAILABLE NOW!  PLEASE FIND ON THE MARCHING BAND PAGE, UNDER "CURRENT MEMBERS." (Print and Practice)

This is a log-in protected page for members only.
Note:  You should learn to play all parts for instruments with multiple parts – part placement will occur on the first music session of Band Camp.  Practice!
---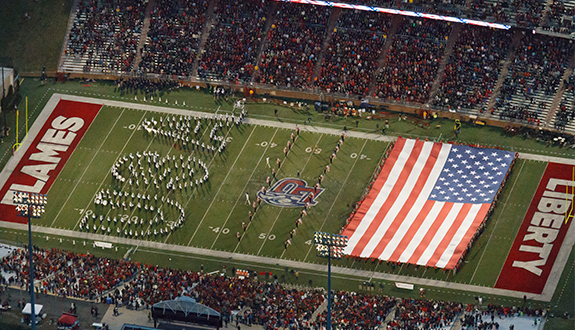 Marching Band Camp
(*Updated February 20, 2020)
Camp 2020 Check-in Dates
Camp Check-in for Liberty University Marching Band Camp varies based on position.  Any student who will not be able to register at the times shown below should notify the director immediately.  Students who do not attend Band Camp will either lose their positions and/or have their scholarships substantially reduced.
Battery and all Front Ensemble members

Sunday, August 9, 1:30 p.m. to 4:30 p.m.

Color Guard

Sunday, August 9, 1:30 p.m. to 4:30 p.m.

Officers and Section Leaders

Friday, August 14 at 8 a.m.

Back Ensemble

Saturday, August 15, 12 to 3 p.m.

Brass & Woodwinds

Saturday, August 15, 12 to 3 p.m.
Dorm Key
The Office of Student Housing will be open for us as follows (if you obtain your key earlier than your band camp check-in date, you will be responsible for each additional day's payment):
Sunday, Aug. 9, 2 p.m. – 6 p.m. (this is the earliest that any student can move into his or her dorm, per the Housing Office)
Thursday, Aug. 13, 8 a.m. – 5 p.m. (normal hours)
Friday, Aug. 14, 8 a.m. – 5 p.m. (normal hours)
Saturday, Aug. 15, 12 p.m – 4 p.m.
All other days are normal hours for the Housing Office.
*Students who have housing assignments on the Hill will be able to move into their dorms on the day that they arrive for Drum Camp, Guard Camp, and Band Camp.
Camp Cost
$65.00 Total – Breakdown as Follows:
An Activity Fee of $35 will be collected from each student during camp online registration (due June 1) to cover the costs of extra-band activities during the semester. Please be aware that the activity fee does not defray any of the individual expenses related to the annual Band Christmas Banquet held in December.
A $30.00 damage deposit will be collected for the Marching Band Uniform during camp online registration (due June 1). This fee will be refunded at the conclusion of the Marching Band semester, provided the uniform is returned in an approved condition.
This $65.00 band camp fee is the final step in your online application. Please note that this payment secures your position in the show drill, and you must pay by June 1st in order to be included in the drill writing process. 

Please notify Dr. Kerr or the band office of any changes to your membership 

immediately.
A jacket is available to any interested band member. This specially designed garment is navy with red and white accents and features "The Spirit of the Mountain" logo. A student may also include his or her name and instrument name embroidered on the jacket front. A sample jacket will be available at band camp check-in, and the student may order only at that time only. The cost of the jacket is $90.00.
Summary of Costs
Activity fee $35.00 – paid online Band Camp Registration
Uniform damage deposit (refundable) 30.00 – paid online Band Camp Registration
Total amount required to complete online Camp Registration $65.00 (due June 1)
Marching band jacket (optional) additional $90.00.  Will be available at Band Camp Check-in.  This will be an 'on-line' payment via your credit card.  Most of the upperclassmen already have purchased, but some will like to get a new one.  Most (if not all!) new members usually buy this.
Transportation
If you are arriving at the bus station or airport and you need transportation to campus, a few of the Lynchburg area Taxicab services are listed for your convenience:
Airport Limousine: 804-239-1777
Allied Cabs: 804-845-7039
City Cab: 804-846-0231
Hill City Cab: 804-845-8554
Room and Board
The Marching Band assumes all costs of lodging and meals incurred during Band Camp for students who live on campus during the fall semester, in accordance with their LU lodging and meal plan.  Lodging begins with the night of your designated registration day. The first meal provided is breakfast the following morning. In the event, an individual participating in Band Camp drops out of band camp or withdraws from the class later in the semester, reimbursement for meals and lodging is expected.  Commuters – Lunch & Dinner will be provided for you as well during band camp through the Saturday prior to classes beginning (no camp on the Sunday before classes).
On band camp check-in day, students who have made arrangements with Student Housing for fall semester dormitory housing will move into their dorm rooms. The dorm assignment given at Band Camp will be your permanent room for the entire school year. However, if you have not completed Financial Check-in and Housing, you will not receive a dorm assignment.
Schedule
Generally, each day will usually be divided into 3 practice sessions.
9 a.m. – 11:30 a.m.
1:30 p.m. – 4:30 p.m.
6:30 p.m. – 9:30 p.m.
Some late evening social events are also scheduled!
We start work on the show immediately. Band Camp is extremely concentrated due to the minimal number of rehearsal hours during the semester. Band Camp will begin on your scheduled arrival date listed above and continue through the day before the first day of regular classes.
Activities
During Band Camp, a Hawaiian Luau, Putt Putt Game Night, Ice Cream Social, Pool Party, and other recreational activities have been planned. Additional activities occur during the semester, such as an October Hayfest, bonfire cookout, and the Annual Christmas Banquet.
Appropriate Camp Attire
Clothing during Band Camp should be casual and of a "sports-like" nature. Since August is still extremely hot in Virginia, shorts (no cut-offs), T-shirts, tennis shoes, and sunscreen are recommended (for rainy days, a hooded poncho is also suggested). Due to the fact that our practice location is a grass field, we suggest bringing insect repellant for those annoying gnats.
Band Camp Reception – Freshmen Families
Following Band Camp Check-In on Saturday, the band officers will host a reception at 8 p.m. for all parents, family members, and band members who are new to us!  Attendees will have an opportunity to meet the band leadership, hear of the band's plans for the year, and meet other band families in attendance at Band Camp Check-in. This is intended primarily for freshmen/transfer band members and their families.
University Competencies – UNIV 101
All new students must complete University Competencies, UNIV 101.
The course includes Campus Health and Safety, Academic Success, Library Tutorial, Liberty Way and Technology Essentials.  The course is ONLY ONLINE and offered during the summer weeks.  In addition, a session of 'New Student Transition' items and services will be introduced upon entering LU, which may also be attended during any Summer Orientation days in June and July.
*(The Registrar's Office auto-enrolls UNIV 101 to all new students schedules, so you do not have to personally register for this course. If you do not see UNIV 101 automatically appear on your class schedule, you may contact the CASAS office at casas@liberty.edu to have it added).
---
Registration for School Year
All Marching Band members must complete university registration and check-in requirements prior to band camp. This will include class registration, Flames Pass (school ID), BankMobile refund preference selection, financial account, automobile registration, and any other documentation that accompanies enrolling at Liberty University for the semester.
A few Liberty University web sites that provide helpful information:
Professional Advisor
Your advisor in the Center for Academic Support and Services (CASAS) may be of assistance as needed to register for band or any Liberty University course.  Your Professional Advisor is determines based on your area of study. Call (434) 592-4110 or e-mail CASAS with further questions.
Marching Band Class
Be certain your academic schedule includes Marching Band, MUSC 184-001. This class meets Monday, Wednesday, and Friday, 3:20 p.m. – 5:20 p.m.
Marching Band (MUSC 184-001) Class is our field rehearsal time—no additional class is designed for the Liberty University Marching Band. If you find that a required class for your major conflicts with the band, and you have not been able to discover a solution, please contact the band office so we can help you resolve the situation!
In addition, all band members who intend to major in music must take the Music Theory Placement Test online PRIOR TO YOUR ARRIVAL for band camp.
---
Local Lodging*
If you will be arriving on an earlier date than your band camp check-in day and need hotel lodging, or if your family is in need of accommodations, the following information is provided for your convenience.
View a detailed list of Local Accommodations.