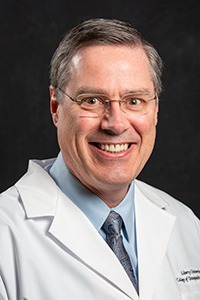 Chair, Department of Psychiatry & Behavioral Health; Associate Professor of Psychiatry
Education
MD, University of Tennessee College of Medicine, Memphis, Tennessee
Professional Memberships
American Association of Christian Counselors (AACC)
American Medical Association (AMA)
American Psychiatric Association (APA)
Southern Psychiatric Association (SPA)
Biography
After completing his MD degree in 1990 from the University of Tennessee College of Medicine, Dr. Jennings completed his psychiatric residency at D.D. Eisenhower Army Medical Center in Augusta, Georgia. During his distinguished military career, Dr. Jennings served as the Division Psychiatrist for the 24th and 3rd Infantry Divisions and as Chief of Psychiatry at Winn Army Hospital in Fort Stewart, Georgia. After completing his military service, he spent 25 years in private practice. In 2022, he became the Chair of the Department of Psychiatry and Behavioral Health at Liberty University College of Osteopathic Medicine in Lynchburg, Virginia.
Dr. Jennings is board certified in psychiatry by the American Board of Psychiatry and Neurology, a master psychopharmacologist certified by the Neuroscience Education Institute, a Distinguished Life Fellow of the American Psychiatric Association, a Fellow of the Southern Psychiatric Association, and licensed to practice medicine in Tennessee, North Carolina, and Virginia. He also served as president of the Tennessee and Southern Psychiatric Associations and is the founder and president of Come and Reason Ministries, a 501(c)(3) non-profit Christian ministry based in Chattanooga, Tennessee.
Dr. Jennings has spent decades studying and integrating God's principles for healing the mind and modern brain science and has authored many books, including Could It Be This Simple? A Biblical Model for Healing the Mind; The God-Shaped Brain: How Changing Your View of God Transforms Your Life; The God-Shaped Heart: How Correctly Understanding God's Love Transforms Us; The Aging Brain: Proven Steps to Prevent Dementia and Sharpen Your Mind; The Remedy New Testament; and The Remedy of the Lord in Song: The Psalms. 
Research Interests
The interface between Christian principles and neuroscience.