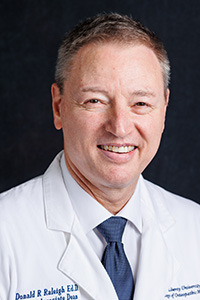 Senior Associate Dean of Academic Operations
Education
EdD, School Administration, Oklahoma State University
MS, Curriculum & Instruction, Oklahoma State University
BS, Natural Sciences, Northwestern Oklahoma State University
Biography
At Liberty University College of Osteopathic Medicine (LUCOM), Donald R. Raleigh, EdD, serves as Senior Associate Dean for Academic Operations, working with LUCOM faculty and colleagues on multiple aspects of academic and operations in all four years of osteopathic medical education. He comes with decades of experience since starting his educational career in 1988, including having served as President of the Oklahoma Association of School Administrators in 2019-20 and as Chairman for the Oklahoma Advisory Council in 2016-18. He served as a member of Oklahoma State Superintendent Joy Hofmeister's Advisory Committee, on the committee to "Develop, recruit and retain Oklahoma's Workforce," on the Oklahoma Character.org Board of Advisors, as well as on the Mid-American Industrial Park Workforce Development Council. He also has served on the Oklahoma Standards Setting Steering Committee.
While serving as superintendent of Pryor (Okla.) Public Schools for the past 13 years, Dr. Raleigh was named the 2017 Oklahoma Association School Administrators (OASA) Oklahoma Superintendent of the Year and the OASA District 6 Superintendent of the Year three times (2012, 2015, and 2017). He was also named the 2014 Oklahoma Administrator of the Year by the Oklahoma Advisory Council and has been honored as the 2006 Coca-Cola Joseph B. Whitehead Educator of Distinction. He earned his Bachelor of Science degree in Natural Sciences from Northwestern Oklahoma State University, where he was inducted into its Athletic Hall of Fame in 2014 and received his Master of Science degree in Curriculum and Instruction and earned a Doctor of Education in School Administration from Oklahoma State University.
At LUCOM, Dr. Raleigh focuses on creating and strengthening a culture of osteopathic learning that prepares Liberty University osteopathic medicine students for their clinical experience and equips them to complete their future mission of healing from a holistic approach.