Sending Forth
Keynote speakers at Liberty University's Commencement exercises have been varied throughout the years, from heads of businesses, to government leaders, to big names in entertainment, to alumni who have reached the highest tiers of success.
Though all of them have imparted their own words of wisdom before the tassels turned, they have also recognized the significance of earning a degree from the largest Christian university in the world.
"Liberty is sending forth across America civilized, confident, true-hearted men and women, which happens to be just what America needs," former Florida
Governor Jeb Bush told graduates at Liberty's 42nd Commencement ceremony on Saturday, May 9.
"Whether you are in this stadium or an online student receiving a degree (and unable to attend), as of today, Liberty University is in your past. But this school, and the values that it stands for, will always be part of who you are," Bush said.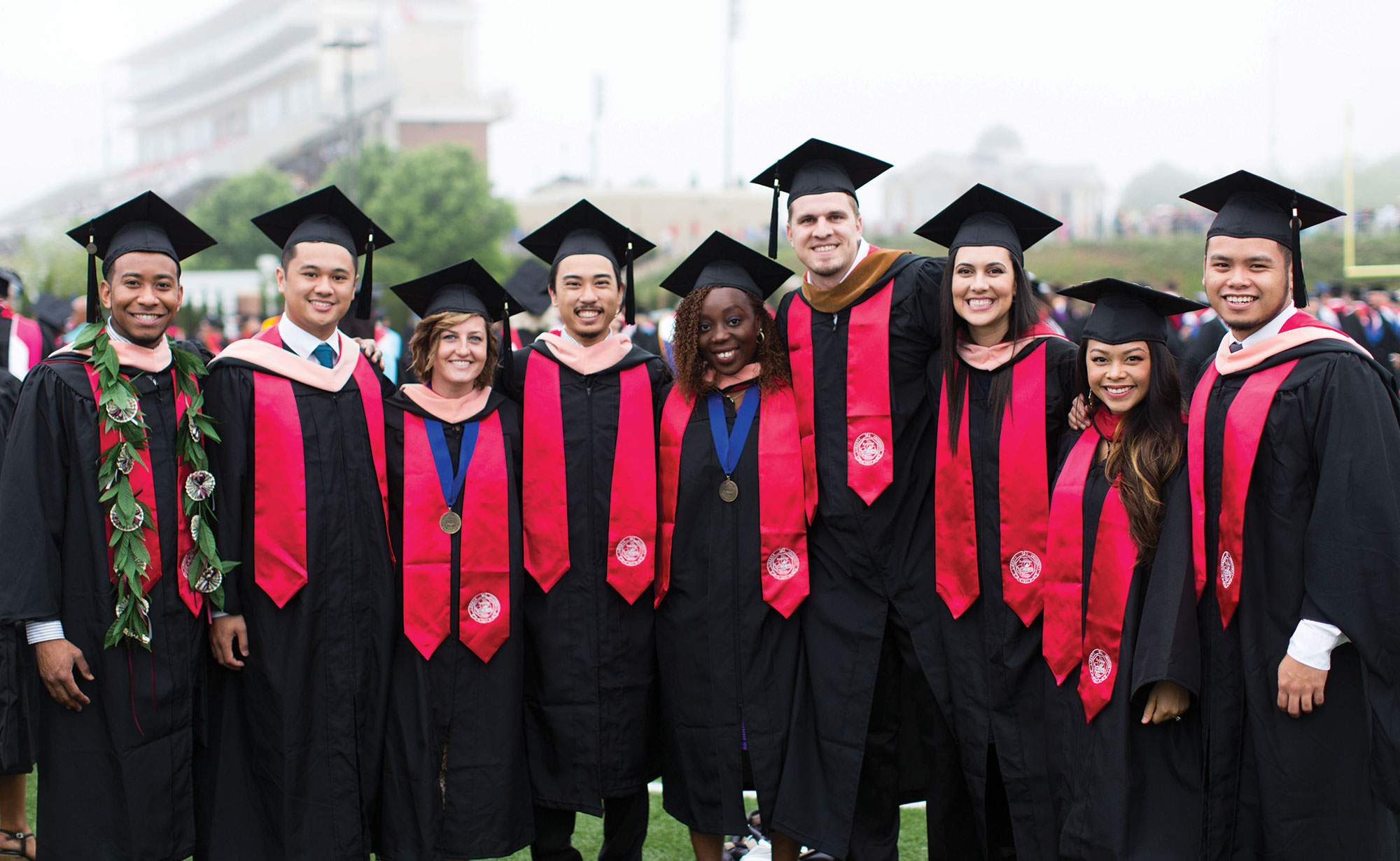 Excitement filled the air as 17,500 degrees were awarded in front of the largest-ever Commencement crowd of over 34,000 in Williams Stadium.
Bush was the second member of his family to speak at Liberty's graduation. His father, 41st U.S. President George H. W. Bush, spoke to graduates in May 1990 and received an honorary Doctor of Humanities degree.
In a speech that drew several major media outlets to campus, Jeb Bush challenged graduates to cling to the faith that had been strengthened during their college years and reminded them to hold fast to Christian values as they embarked on a new chapter in their lives.
"If there is any useful role I can perform here, maybe it is just to offer one last word of encouragement in the vocation you have freely taken up," Bush said. "It is the same one, of course, whatever degree you have earned, whatever work you will do, however life unfolds. It is the greatest of all callings — to know, love, and serve the Lord. And it is yours by choice."
In words reflective of Liberty's mission, Bush spoke directly about the importance of living out the Christian faith, one he said has a "daring, untamed quality, which is underrated."
"Whatever the need, the affliction, or the injustice, there is no more powerful or liberating influence on this earth than the Christian conscience in action."
Liberty graduates, he said, are in a position to greatly impact culture — where Christianity is often seen as a negative force.
"How strange, in our own time, to hear Christianity spoken of as some sort of backward and oppressive force," Bush said. "Your generation is bringing the Christian voice to where it always is needed, and sometimes isn't heard enough.
"Outside these 7,000 acres of shared conviction, it is a depressing fact that when some people think of Christianity and of Judeo-Christian values, they think of something static, narrow, and outdated," he said. "We can take this as unfair criticism, as it typically is, or we can take it as a further challenge to show in our lives the most dynamic, inclusive, and joyful message that ever came into the world."
He left the graduates with these words, reiterating the same challenge: "May all the work you have finished here mark just one milestone in a long, purposeful, and happy journey. At each new turn, may you find God's loving-kindness before your eyes, and may you always be its instrument. And from this place, to wherever you are bound, in the words of Isaiah, may you 'go out with joy and be led forth with peace.' God bless the Class of 2015."
Words from President Falwell
President Jerry Falwell took his first chance to address Liberty's newest alumni, who are now part of a network of more than 250,000 serving as Christ's ambassadors in ministry and in the workplace in communities around the world.
He reminded them to never forget the original vision for Liberty, "to train young people to go out into every profession, every walk of life, and to live your life by Christian principles."
"Your priorities should be to love God and love others while you strive to be the best that you can be in your chosen profession," he said. "It is our prayer that all of you will be the salt of the earth and the light of the world throughout your careers."
Falwell noted the academic accomplishments of this year's graduating class, which included more than 7,700 master's degrees, 500 doctoral degrees, 60 law degrees, 4,800 students graduating with honors, and more than 1,000 students with a perfect 4.0 GPA.
He also recognized the more than 5,400 graduates who have served, are serving, or are married to a military service member.
Parents were also honored for their essential role, as were families with members who were graduating together — siblings, parents and children, husbands and wives.
Other notable graduates he recognized were former Congresswoman and presidential candidate Michelle Bachmann's daughter Caroline, who earned a bachelor's degree with a double major in business finance and marketing, as well as Jill Hannity, wife of Fox News TV and radio host Sean Hannity, who received her Master of Arts in Counseling.
In a touching tribute to the seven graduates who passed away this school year, Falwell personally recognized their family members during the ceremony. Posthumous degrees were awarded, and the graduates were represented by empty chairs draped in graduation regalia.
President Falwell introduced his own family members and, as a special surprise, his son Wesley proposed to his longtime girlfriend, graduate Laura Brumble. President Falwell also recognized his son Trey's wife, Sarah, a fellow member of the graduating class.
In his formal address to the graduates, he gave an overview of the year's highlights, including a first-ever playoff win for Flames Football, a first national championship for the women's Division I hockey team, and many other athletic achievements by its 20 NCAA athletic and 32 Club Sports teams.
He also gave a construction update, thanking graduates for their patience while the campus landscape is being transformed by new academic and athletic facilities as well as new areas for student recreation.
On a national stage, Falwell said Liberty has made the headlines over the last few months, being spotlighted by articles in the Associated Press, USA Today, and The Chronicle of Higher Education. These accounts, he said, show that Liberty is standing out in many ways.
"We have always been proud to be different," he said.
Falwell told the Class of 2015 that the praise coming from the "corners of society" is a compliment to the students and alumni of this university.
"It is you who make Liberty University successful," he told graduates. "It is you who represent this university so well with your work ethic. It is your obvious love for God and love for others in the workplace that sets this university apart. The vast majority of you will never preach a sermon, but our goal at Liberty has been to train you how to live a sermon every day."
42nd COMMENCEMENT
More than 17,500 graduates
86 percent studied online
More than 34,000 attended the ceremonies
More than 5,400 military ties (nearly 1,400 on active duty)
More than 500 doctoral degrees awarded, including 60 graduates from Liberty University School of Law
More than 7,700 awarded master's degrees
More than 4,800 graduated with honors
Over 1,000 with a perfect 4.0 GPA