Individual Staff – Peter Lee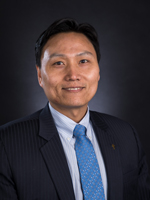 Peter Lee, MRE, M.Div., D.Min.
Assistant Director for Institutional Assessment
ylee7@liberty.edu
(434) 592-3998
Peter Lee came to the Office of Institutional Effectiveness in March 2018 after working for 5 years as the Assessment Director at Ivy Christian College. Peter is originally from South Korea, where he earned his B.A. in Theology from Bible Baptist College. He then served as a minister at a local church for more than 10 years. In 2007, Peter and his family came to Liberty to further his education. Peter earned a M.R.E., M. Div., and a D. Min. from Liberty. In 2013, while in the D. Min. program at Liberty, Peter moved to Northern Virginia to work at Ivy Christian College in Fairfax, VA. Since 2014, Peter has been working with the accreditation organization TRACS, and has made several trips with TRACS to evaluate institutional assessment. Peter enjoys playing sports and traveling with his wife Hannah.