Dr. Emmanuel Clottey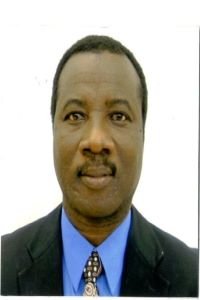 Professor, School of Health Sciences
(434) 592-7058
eclottey@liberty.edu
Education
Dr. P.H., Community and Health Education, Georgia Southern University
M.P.H., Community Health, University of Iowa
M.TH., Biblical Studies, Nairobi Evangelical School of Theology
B.Sc. Biochemistry, Kwame Nkrumah University of Science and Technology
Biography
Dr. Emmanuel Clottey has over 15 years of teaching experience at the university level. He has served as an educator for over thirty years in Ghana, Kenya and the USA.
Professional Memberships
Certified Health Education Specialist (CHES, 2018).
M. Alfred Haynes Research Training Institute for Social Equity Scholar. Meharry Medical College, Tennessee, USA. 2013.
Courses Taught
HLTH 216: Personal Health
HLTH 370: Introduction to environment Hazards and Response
HLTH 505: Principles of Environmental Health
HLTH 622 : Primary Healthcare in Developing Countries
Research Interests
Leadership and Social Justice
Caregiving of Grandparents
Contributions of Faith Communities to Health, Obesity, and Mental Health
Publications
Selected Publications
Latta, G. F. & Clottey, E. N. (2020). Ethical Leadership: Understanding Ethical Failures and Providing Consequences for Practice: Priority 8 of the National Leadership Education Research Agenda 2020 – 2025. Journal of Leadership Studies. 14(3): 82-89
Latta, G. F. Clottey, E.N., Dugan, M., & Chikeleze, M. (2020). Developing Ethical Leaders: Innovations in Promoting Ethical Decision-making, Using Discretionary Power & Overcoming Immunity to Moral Integrity. Journal of Leadership, Accountability and Ethics. 17(2): 73-87.
Johnson, I., Chikeleze, M., Hawthorne, M. J., Johnsey-Seaman, M., & Clottey, E. (2020). Women Mayors in U.S. Cities: Leading Authentically and Ethically. In D. Rosser-Mims, J. McNellis, J. Johnson-Bailey, & C. Eagan (Eds.), Pathways into the Political Arena: The Perspectives of Global Women Leaders (pp. 309–330). Charlotte, NC: IAP – Information Age Publishing, Inc.
Hollenshead, J. H., Parker, Jr., F. R., Rubin, H. W., Shaughnessy, T.M. & Clottey, E. N. (2020). The Economics of Crime Rooted in Psychopathic Disorders: Aspects of Law, Public Policy, Rehabilitation and Faith-Based Programs. In The International Handbook of Psychopathic Disorders and the Law (2d Ed.). Alan Felthous, Editor.  Hoboken, NJ: Wiley & Sons.
Shaughnessy, T.M. Parker, Jr., F. R., Hollenshead, J. H., Clottey, E. N., & Rubin, H. W. (2017). Contemporary Data and Trends in the Economic Costs of Mental Disabilities. Behavioral Sciences & the Law: Special Issue on International Perspectives on Mental Disability. Behav Sci Law. Mar;35(2):162-177. doi: 10.1002/bsl.2280.
Clottey, E. N., Scott, A. & Alfonso, M. (2015). Grandparent caregiving among rural African Americans in a community in the American South: Challenges to health and well-being. Rural and Remote Health Journal. Jul-Sep;15(3):3313
Scott, A., Ejikeme, S. C., Clottey, E. N., & Thomas, J. (2013). Obesity in sub-Saharan Africa: Development of an ecological theoretical framework. Health Promotion International. Mar;28(1):4-16. doi: 10.1093/heapro/das038.
Clottey, Emmanuel N. O. (2012). "African American Grandparents raising their Grandchildren in Rural Areas: A Phenomenological Investigation in South Georgia." Dissertation in partial fulfillment of the Doctor of Public Health (DrPH) degree, Georgia Southern University
Presentations
DeMello, J., Clottey, E., & White, G. (2018). "A Case for Different BMI Standards for Women and Men." American Public Health Association (APHA) 146th Annual Conference, San Diego, California, November 10-14, 2018. Poster Presentation
Clottey, E. (2018). "Effect of Western Diets and Lifestyle on the Health of Africans: Reflections from Ghana." Presented at the National Association of African American Studies Joint Conference at Westin Dallas Park Central. February 12-17, 2018. Oral Presentation.
Clottey, E. (2017). "Faith-Based Organizations: Partners for Building a Culture of Health." Presented at the Delta Society of Public Health Education (SOPHE) Conference at the University of Alabama, Tuscaloosa, Alabama. October 6, 2017. Oral Presentation.
Burrel, T., & Clottey, E. (2016). "The Leader in Ruby Bridges: Lessons of Self-Leadership for African American Adolescent Females." National Association of African American Studies Joint Conference at Crowne Plaza Executive Center, Baton Rouge, Louisiana. February 8-13, 2016. Oral Presentation.
Harris, C., & Clottey, E. (2016). "Mentorship and African American Women Leadership Path." National Association of African American Studies Joint Conference at Crowne Plaza Executive Center, Baton Rouge, Louisiana. February 8-13, 2016. Oral Presentation.
Hawkins, M., Clottey, E., Winter, T., Pandey, S., Cavanaugh, D., & Ayuk, S. (2014). "A two-year measure of bicycle and pedestrian practices and preferences in a medium sized southern city: Recommendations for education, advocacy, and policy." American Public Health Association (APHA) 142nd Annual Conference, New Orleans, Louisiana, November 15-19, 2014. Poster Presentation
Hawkins, M., Clottey, E., Cavanaugh, D., & Winter, T. (2014). "Assessment of child and youth knowledge and practice regarding bicycle and helmet ownership, bicycle use, and associated injuries in Northwest Louisiana: Implications for education and injury reduction." American Public Health Association 142nd Annual Conference, New Orleans, Louisiana, November 15-19, 2014. Poster Presentation
Pierce, K., & Clottey, E. (2014). Using Resistance Training to Fight Obesity in Children. 5th Ghana Physical Education & Sport ThinkTank Conference & 3rd Exercise Medicine Congress. Accra, Ghana. June 4-6, 2014. Oral Presentation.
Clottey, E. (2014). "African American Grandmothers raising their Grandchildren: Voices from the Rural South." National Association of African American Studies Joint Conference at Crowne Plaza Executive Center, Baton Rouge, Louisiana. February 10-15, 2014. Oral Presentation.
Mason, M., Arroyo, C., Charles, S. M., Shankar, P., Clottey, E., & Lawrence. R. (2010). "K. Kellogg Foundation New Tools New Visions 2 project: Utilizing participatory evaluation methods to inform best practices among community-academic partnerships" 138th APHA Annual Conference, Denver, Colorado, November 6-10, 2010. Poster Presentation