Dr. Paul Miller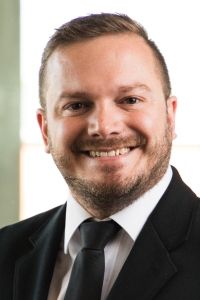 Associate Professor of Biology
(434) 582-3221
pmiller26@liberty.edu
Science Hall 221
Education
Ph.D., Vanderbilt University
B.A., University of Alabama at Birmingham
Biography
Dr. Miller earned his B.A. in Social Psychology with minors in Chemistry, Biology, and Philosophy from the University of Alabama at Birmingham in 2005. While in Birmingham, he became interested in research while working in the lab of Dr. Dale Benos in the Department of Physiology and Biophysics. In this lab, he studied the regulation of epithelial sodium channels in astrocytes and glioma cell lines. This experience led him to attend Vanderbilt University where he received his Ph.D. in Cell and Developmental Biology. His dissertation was funded in part by an American Heart Association Pre-doctoral Grant and focused on the function and regulation of the CLASP-dependent microtubule array at the Golgi.
During this time he also received a scholarship to complete a 13-week intensive course in Human Physiology at the Marine Biological Laboratory in Woods Hole, MA. After completing his Ph.D., Dr. Miller obtained a T-32 Postdoctoral Grant from the Vanderbilt Training Program in Mechanisms of Vascular Disease. During this fellowship, he carried out research in the laboratory of Dr. David Bader that focused on the Role of LEK1 in Cardiovascular Development and Disease.  This fellowship also provided mentorship in the pedagogy of Gross Anatomy, Physiology, and Histology instruction and prepared him for a career of teaching as well as research.
His current research interests relate to the cytoskeletal basis of human disease and the study of cadaveric tissue and model organisms to better understand the mechanisms underlying pathological mechanisms of disease.
Professional Memberships
Virginia Bio.
Human Anatomy & Physiology Society
American Association of Clinical Anatomists

American Association of Anatomists
Courses Taught
BIOM 513 – Human Gross Anatomy
BIOM 524 – Human Anatomy Cadaver Lab
BIOM 613 – Human Gross Anatomy II
BIOM 700 – Anatomy & Cell Biology Seminar
BIOM 710 – Anatomy & Cell Biology Teaching Practicum
BIOM 750 – Research Rotation
BIOL 330 – Histology
BIOL 497 – Research
BIOM 630 – Principles of Pathology
Publications
Pfaltzgraff ER, Roth GM, Miller PM, Gintzig AG, Ohi R, Bader DM. Loss of CENP-F Results in Distinct Microtubule Related Defects Without Chromosomal Abnormalities. Mol Biol Cell. 2016 Jul 1; 27 (13): 1990-9
Benesh EC, Miller PM, Pfaltzgraff ER, Grega-Larson NE, Hagar HA, Sung BH, Qu X, Baldwin HS, Weaver AM, Bader DM. Bves and NDRG4 regulate directional cell migration through autocrine extracellular matrix deposition. Mol Biol Cell. 2013 Nov; 24(22): 3496-510
Maia AR, Zhu X, Miller PM, Maiato H, Kaverina I. Modulation of Golgi-associated microtubule nucleation throughout the cell cycle. Cytoskeleton. 2013 Jan; 70 (1): 32-43
Dees E*, Miller PM*, Moynihan KL, Pooley RD, Hunt RP, Galindo CL, Rottman JN, Bader DM. Cardiac-specific deletion of the microtubule-binding protein CENP-F causes dilated cardiomyopathy. Dis Model Mech. 2012 July; 5(4):468-80. Co-first Author*
Vinogradova T, Paul R, Grimaldi AD, Loncarek J, Miller PM, Yampolsky D, Magidson V, Khodjakov A, Mogilner A, Kaverina I. Concerted effort of centrosomal and Golgi-derived microtubules is required for proper Golgi complex assembly but not maintenance. Mol Biol Cell. 2012 Jan19; E11-06-0550
Vinogradova T, Miller PM, Kaverina I. Microtubule Network Asymmetry in Motile Cells: Role of Golgi-derived Array. Cell Cycle. 2009, 8(14): 2168-74
Miller PM, Folkmann AW,Maia AR, Efimova N, Efimov A, Kaverina I. Golgi-derived CLASP-dependent Microtubules Control Golgi Organization and Polarized Trafficking in Motile Cells. Nat Cell Biol. 2009 Sep; 11(9): 1069-80
Moynihan K, Pooley R, Miller PM, Kaverina I, Bader DM. CENP-F regulates centrosomal microtubule nucleation with Hook2 at the centrosome. Mol Biol Cell. 2009 Nov; 20(22): 4790-803
Efimov A. JKharitonov A, Efimova N, Loncarek J, Miller PM, Andreyeva N, Gleeson P, Galjart N, Maia AR, McLeod IX, Yates JR, Khodjakov A, Maiato H, Akhmanova A, Kaverina I. Asymmetric CLASP-dependent nucleation of non-centrosomal microtubules at the trans-Golgi network. Dev Cell. 2007; 12: 917-30. Preview in Dev. Cell. 2007. 12(6); 839-840. Research roundup in J. Cell Biol. 2007; 178(1): 5