Dr. Matthew Lazenka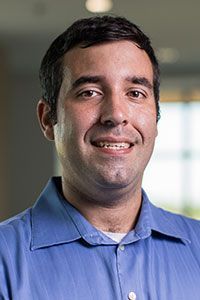 Assistant Professor of Biology
(434) 528-2525
mflazenka@liberty.edu
Center for Natural Sciences, Room 338
Education
Ph.D. in Neuroscience, Medical College of Virginia
B.S. in Psychology, East Tennessee State University
Research Interests
Cannabinoids

Drug abuse

Nociception
Courses Taught
Neurobiology (BIOL 435)
Human Neurology and Neuroanatomy (BIOM 610)

Human Physiology (

BIOM 515)
Publications
Lazenka, M.L., et al., Dissociable effects of the kappa opioid receptor agonist nalfurafine on pain/itch-stimulated and pain/itch-depressed behaviors in male rats. Psychopharmacology, 2018. 235(1): p. 203-213.
MF Lazenka, BA Hutsell. Preclinical models for assessment of antidepressant abuse potential. Curr Sex Health Rep, 2017.
Lazenka, M.F., et al., Delta(9)-tetrahydrocannabinol experience influences deltaFosB and downstream gene expression in prefrontal cortex. Cannabis Cannabinoid Res, 2017. 2(1): p. 224-234.
Lazenka, M.F., et al., Relief of pain-depressed behavior in rats by activation of D1-like dopamine receptors. J Pharmacol Exp Ther, 2017. 362(1): p. 14-23.
Lazenka, M.F., et al., Sex differences in abuse-related neurochemical and behavioral effects of 3,4-methylenedioxymethamphetamine (MDMA) in rats. Pharmacol Biochem Behav, 2017. 152: p. 52-60.
Lazenka, M.F. and S.S. Negus, Oral modafinil facilitates intracranial self-stimulation in rats: comparison with methylphenidate. Behav Pharmacol, 2017. 28(4): p. 318-322.
Lazenka, M.F., F.G. Moeller, and S.S. Negus, Effects of caffeine and its metabolite paraxanthine on intracranial self-stimulation in male rats. Exp Clin Psychopharmacol, 2015. 23(2): p. 71-80.