Taking over the point: Jordan Hodges details her Flames basketball journey

Lady Flames basketball guard Jordan Hodges has been a force to reckon with throughout her first two years at Liberty Mountain. The 5-foot-6-inch guard from Virginia is entering her junior season with high hopes for herself and her team.
Growing up in Richmond, Hodges was heavily involved in sports, playing AAU basketball until she began her high school career at Monacan High.
"I didn't get (recruitment offers) much in my early years," Hodges recounted. "My freshman year we went to the Liberty team camp with my high school and from there, they started recruiting me."
At Monacan, she put up 1,501 points over the course of her career, earning a Virginia State Championship and multiple All-State titles as well as the 2021 All-Metro Player of the Year. Hodges committed to play at Liberty going into her sophomore year of high school, where she fostered a deep and lasting connection with the Lady Flames coaches.
Since coming to Liberty, the Central Virginia native has seen growth in her own abilities through the renowned Lady Flames coaches.
"Over my time at Liberty I feel like I have developed greatly," Hodges said. "We have great coaches, especially our guard coach, Alexis Sherard, who has always been on my side."
With a strong staff seeing potential and pushing players such as Hodges to be their best, the Lady Flames basketball program has a rich history of incredible coaching staff.
"They developed me through film, practice and mentorship," Hodges added. "I have seen a ton of growth in myself."
Coming to Liberty, Hodges made 24 appearances and played a depth role in her freshman season. As a sophomore, she saw even more action, starting two of her 33 games played. An assist machine and sniper from downtown, Hodges ranked third on the team in assists (62) as well as coming up with timely shots beyond the arc, including three against Bowling Green in the WNIT tournament.
Switching into Conference USA this season, Hodges expects a bigger challenge during the regular season.
"I expect a difference in play as they have a different style than we have experienced," Hodges said. "But I think we can go in there and defeat those teams."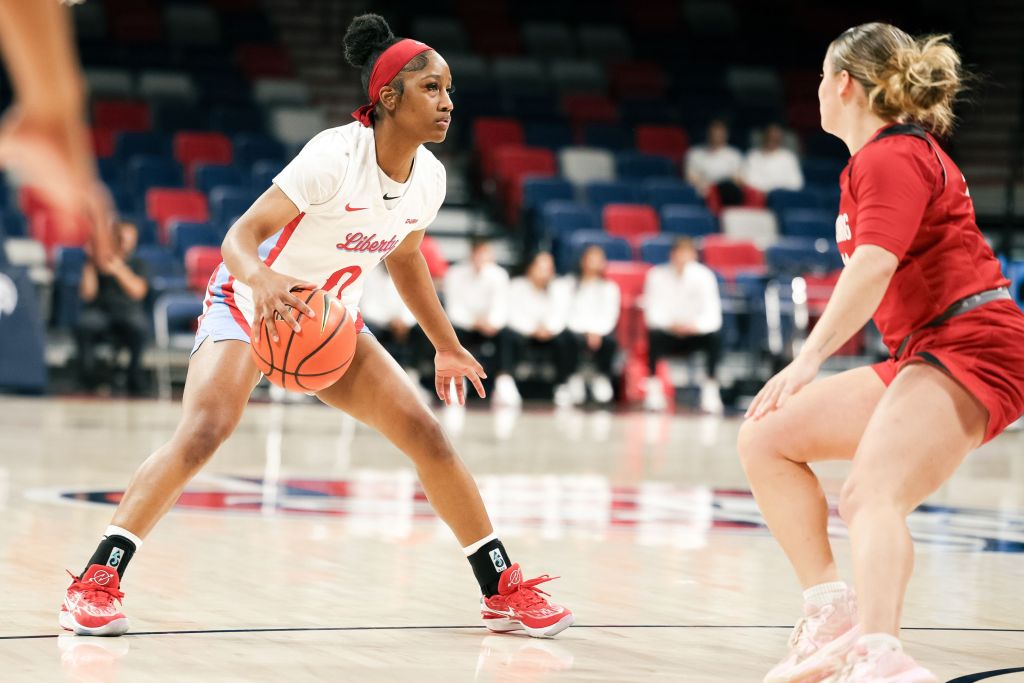 The heightened competition will prepare the Lady Flames for the postseason better than ever before.
"Even with all of the new pieces that we have," Hodges said. "I think that we have the pieces to connect and make us a championship team."
The Lady Flames' coaches and scouts have been working overtime this year, bringing in recruits from all over the map including Icelandic natives Emma Hjordisardottir and Elisabeth Aegisdottir as well as Spaniard Claudia Acin.
"I expect us to go out there and play hard," Hodges said. "We have a very young team, with seven newbies who I expect to have fun and be their best."
With a wide variety of talent, the young roster will look to use its excellent coaching and team culture to blossom into a powerhouse program.
"There's not a big light on us, people don't really know about us yet," Hodges added. "From a leadership perspective, I want us to do well."
With only one senior and three juniors, Liberty will rely on Hodges and her fellow upperclassmen to lead on and off the court.
"We talk a lot and have one-on-one meetings with each other outside of school," Hodges said. "We go grab food or whatever to connect with them on a different level which helps make sure the chemistry is there."
This team bonding and closeness was apparent on the court in its 22-point difference victory against Frostburg State.
Winning the team's home and season opener against Frostburg State University, Hodges played 17 minutes, racking up three assists and two points. With the team's win, the Lady Flames Head Coach Carey Green collected his 548th win in his 25th season as the head coach, taking the all-time wins record for Liberty Athletics.
After an exciting start to its season, Liberty looks to carry this momentum into a packed road trip where it will take on teams such as Texas, Alabama, Gonzaga and Louisville. This early season road trip will challenge the Lady Flames with some of the stiffest competition they face all season.
Hodges and the rest of the Lady Flames will be back in action at Liberty Arena when they take on JMU Dec. 1.
Bessire is a sports reporter for the Liberty Champion. Follow him on X