Military Appreciation on the Mountain: Several events campus-wide held in honor of Veterans Day

Liberty University is celebrating Military Appreciation Month throughout the month of November to honor veterans' sacrifices for the United States. 
"Liberty University is proud to carry on the tradition of Military Appreciation Month to honor the commitment and personal sacrifices made by our service members, veterans and their families to serve our nation," Director of Military Affairs Emily Foutz said. "It has truly been touching to see so many come together to celebrate our service members and veterans. I know our veterans have been touched by the outpouring of love and support."
For Veterans Day, Liberty hosted multiple sports events, memorials and other activities to display its gratitude and respect for veterans, such as a Military Appreciation football halftime show, an LU Air Force ROTC 24-hour vigil and the Valley View Mike Donahue 5-Miler memorial race, according to the Office of Communications and Public Engagement.
The LU MURPH Challenge began Military Appreciation Month Nov. 4 with a student-run fundraiser earning $39,000 for the National Center for Healthy Veterans. Special guests such as President Dondi Costin and Maj. Gen. Bob Dees attended the event and addressed participants and other veterans. 
Additionally, Campus Recreation held the Valley View Mike Donahue 5-Miler Nov. 11 at the Camp Hydaway Pavilion in honor of Maj. Mike Donahue and his service to America and Liberty, according to the Liberty Military Events page. The 5-mile race was a joint effort from Campus Recreation and the Liberty University Office of Military Affairs to honor those in service and show respect through pre-race ceremonies to veterans lost in combat.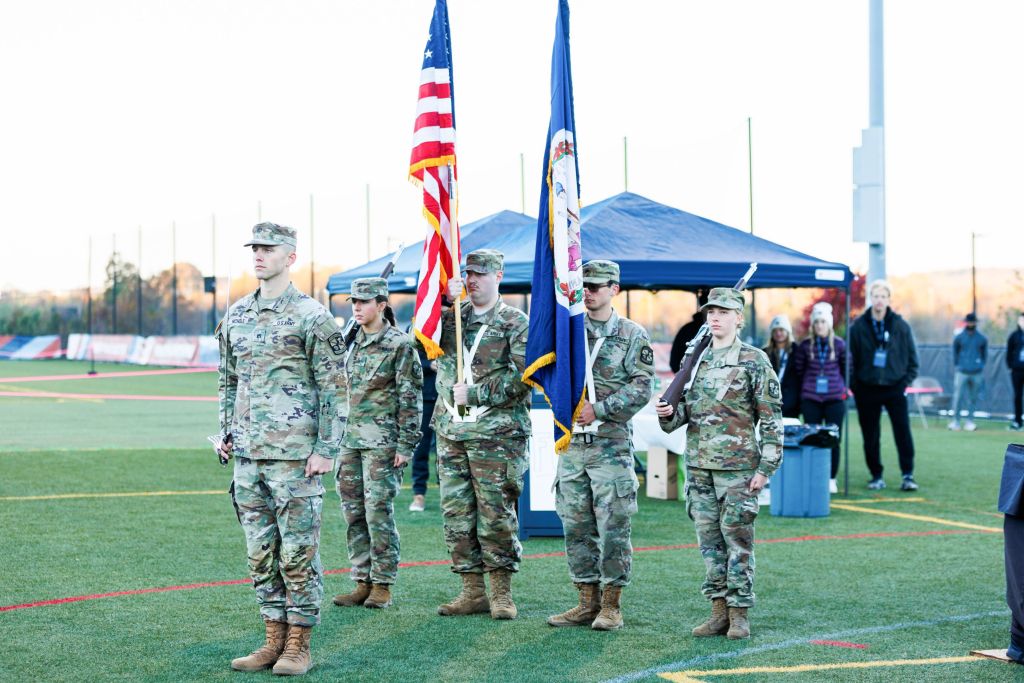 LU's Air Force ROTC held a 24-hour vigil Nov. 9 in remembrance of prisoners of war and those missing in action. The vigil took place on the steps of the Montview Student Union following a ceremony at the Jerry Falwell Pond Overlook, signifying the never-ending search for missing veterans and active service members and honoring those lost or killed in combat. According to the Defense POW/MIA Accounting Agency, 81,600 Americans are still missing from conflicts since World War II.
Convocation on Friday, Nov. 10 recognized veterans for their service and featured a special opening by Dr. Wayne Kompelien, a professor from the School of Music, who sang the national anthem while LU's Army ROTC took to the stage for the Presentation of the Colors. This was followed by a moment of silence from President Dondi Costin and over 50 service members and veterans in the President's Box in the Vines Center.
The Nov. 11 football game against Old Dominion University kicked off Veterans Day with over 21,000 fans in attendance. The first 3,000 received a camouflage hat, and current service members could attend the game at a discounted rate of $10. The Military Appreciation halftime show honored veterans and those serving in the military and featured a performance by the Spirit of the Mountain Marching Band. A massive American flag also unfolded across the football field with the annual reenactment of the U.S. flag being raised on Mount Suribachi during the Battle of Iwo Jima.
During the halftime show, Liberty presented the George Rogers Champion of Freedom Award to Vietnam veteran David Stokes, who was recognized for his service in the U.S. Army and his support of Lynchburg veterans through the Lynchburg Area Veterans Council, Wreaths Across America and the Daughters of the American Revolution. Stokes has also received the National Defense Service Medal, the Vietnam Service Medal, the Vietnam Campaign Medal, and the Army Good Conduct Medal, according to Liberty's Office of Communications and Public Engagement.
Head Coach Jamey Chadwell spoke during the postgame press conference about his respect for veterans and the sacrifices they and their families have made for America's freedom. 
"First of all, let me state that I'm a child of a veteran; he was a child of a veteran; my mom's side was a veteran, and so we love America and I'm thankful we could bring some fireworks today on Veterans Day," Chadwell said. "We're very thankful that we get to play a game, and they allow us to do that because of the sacrifices that they and their families have made so we can enjoy the freedom we do in this country. We never take that for granted. I want to make sure that we love the military and all they stand for and what they do for us. We are very appreciative of that."
Other sports events honored Military Appreciation Month as well, such as the Lady Flames Volleyball game against Louisiana Tech Nov. 3. Men's D1 Hockey invited students to attend the game against Ohio University Nov. 10, and the team wore special red, white, and blue jerseys to show respect for those serving in the military. 
Military Appreciation Month is not over yet, and Liberty has two upcoming events planned to honor veterans. The annual Veterans Appreciation Reception will be hosted Nov. 15 at 12 p.m. in the Montview Alumni Ballroom, according to the Liberty Military Events webpage. 
Lastly, the Military Installation Graduation Ceremony at Fort Liberty will happen Nov. 29 to celebrate current military graduates at the Fort Liberty Education Services Graduation Ceremony.
For more information about upcoming military events on campus, visit LUMilitaryAffairs on Facebook, @libertyumil on Instagram or this website.
Jarnigan is the assistant news editor for the Liberty Champion