Men's Basketball Season Opener versus MACU
The Liberty men's basketball team began its season 1-0 with a dominant showing against Mid-Atlantic Christian in its season opener. The Flames dropped 100 on the Mustangs in a 103-43 beatdown.
The Flames began the game looking like a shell of their usual selves and allowed the Mustangs to stay competitive through the opening minutes. That rough showing didn't last long, however, and the Flames went on a 19-2 run to break the game wide open. At the end of the first half, the Flames were leading 48-19, which came mostly off the hot hand of junior guard Brody Peebles, who ended the first with 10 points.
Coming out of the break, the Flames struck quickly, resuming their hot streak right where they left off. They continued to pull away until the game was out of reach for the Mustangs.
The only question left hovering in the air of Liberty Arena was "will the Flames score 100?" When Liberty hit 91 points, the chants began. The 3,664 Liberty fans in the arena chanted "score nine more, score nine more," on repeat until the Flames scored, and then it began again with seven. That continued all the way until the Flames hit triple digits and slowed their scoring to a halt as the final buzzer sounded.
"It was so nice to be back in Liberty Arena," Flames Head Coach Ritchie McKay said. "We have these secret scrimmages and there's no one there, but it's just a reminder of what a great home court advantage it is. Our fans are phenomenal. I love when our students are that engaged and they stuck with it. Football benefits from having a phenomenal season, and I'm guaranteeing you part of it is because that student section is so raucous and they're now experiencing what we've known for a few years now (with our basketball fans), so keep coming out."
Peebles led all Flames in scoring with 20 Monday night, and shot 4-10 from beyond the arc. Sophomore guard Colin Porter had the attention of all of the Liberty fans and the media but he played more of a complementary role with a team-high five assists.
Flames newcomers, junior guard Kaden Metheny and sophomore forward Xander Yates, played well in their Liberty debut, scoring 5 and 10 points, respectively.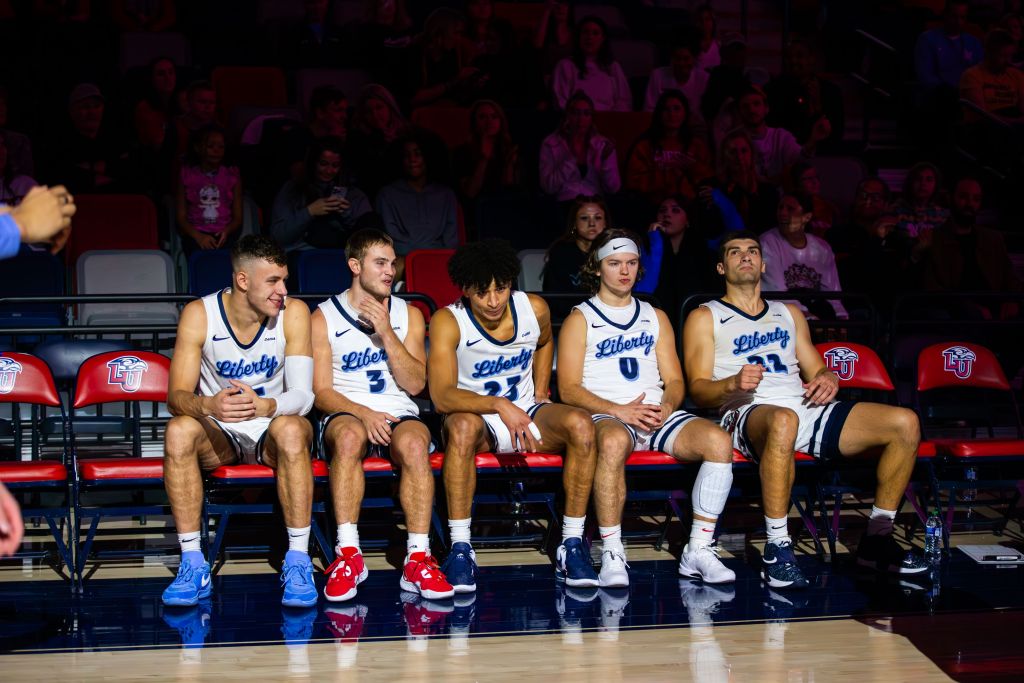 "Xander, he's an elite shooter," McKay said. "He's got some stuff around the basket, too, and I think there'll be a runway of experience relative to significant minutes that he'll have to acquire. But he and Kane Matheny fit seamlessly into our culture. Kane, you only got a small glimpse of what he's capable of, but again, when you have personalities like they do, they just want what's best for the team. So, they don't mind getting however many points."
The Flames will follow up this victory with a much tougher opponent, the Charlotte 49ers, whom they will face off against in the home of the Charlotte Hornets, the Spectrum Center.
"I don't think (we'll be intimidated by the arena)," senior guard Gabe McKay said. "I think we do the same things every day. When it's a big arena, sometimes it's a little quieter just because there's not many as many fans in there. So (we have to be) able to bring our own energy, talk on the bench, give that life, and I think it is cool. It's awesome to see, but I don't think there will be a drop off (in) our playstyle or what we do."
The Flames face off against the 49ers Friday, Nov. 10 and the game will be aired on ESPN+.
Palsgrove is the asst. sports editor for the Liberty Champion. Follow him on X