Liberty Transit bus driver, Linda Witt, shares wisdom and safety tips with students

While the sun is still sleeping and hardly any cars travel along the road, Linda Witt promptly wakes at 4:30 a.m. to prepare for work as a bus driver for Liberty University Transit Services. 
After clocking in for her shift at 6:30 a.m., Witt begins preliminary safety measures on the bus for a half-hour that she calls "pre-trip." A bus driver's complete pre-trip starts with taking pictures of the front of the bus to ensure no damage to the vehicle. Then they check under the hood, look at the oil and check the fluid levels, the transmission fluid, the fire extinguisher and the tires. Lastly, the driver reviews the ADA equipment for handicap students.
Once drivers have ensured the bus is safe, they begin their routes. Each bus route starts at Marie F. Green Hall early in the morning. The routes are 20-minute loops each, requiring drivers to arrive at the bus stops swiftly and succinctly.
"Once you get here, you're on demand," Witt said. "You need to be where you need to be."
Witt's top priority is safety for the students. She loves seeing and interacting with them. According to Witt, it makes her day when students interact with her.
"Many times (students) will ask if they can pray for you," Witt said. "Stuff like that is kind of cool."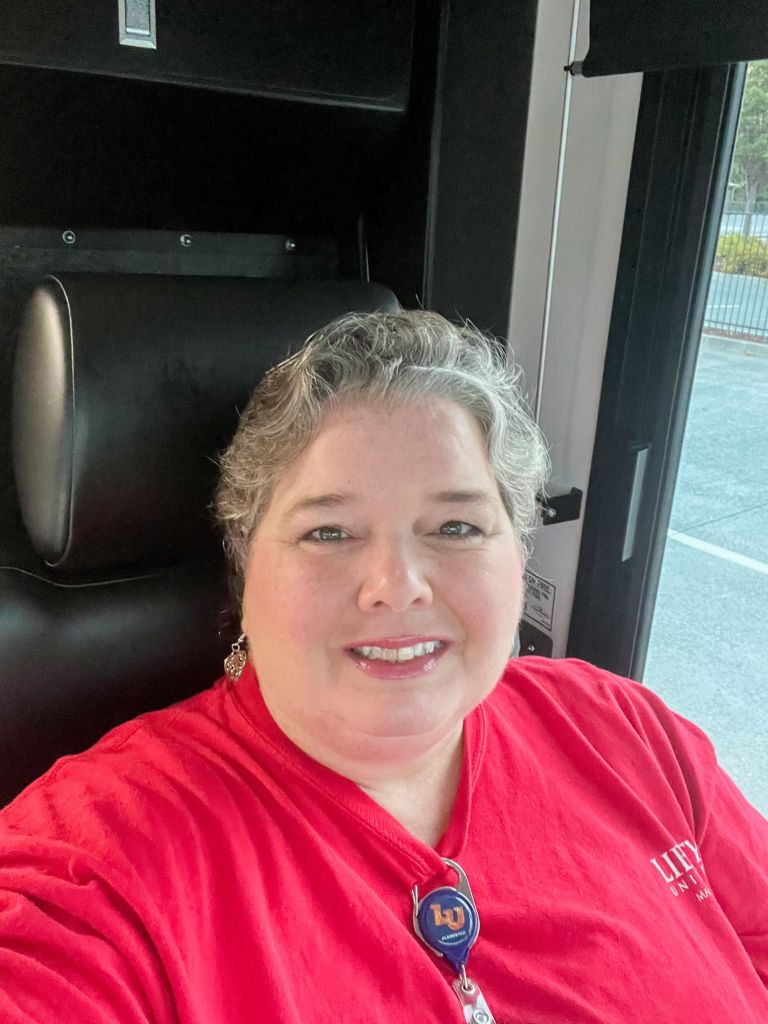 Witt worked part-time as a bus driver for the Bedford County School system for 13 years. After that, Witt wanted a change in pace from part-time driving. While working a shift at Walmart, Witt met her future coworker from Liberty, who encouraged her to apply.
According to Witt, part-time driving was more convenient with her children at home, but now a full-time position makes more sense.
When Witt is not driving buses at Liberty University, she helps with maintenance and custodial work around campus. According to Witt, meeting her coworkers is a blessing that she continues to enjoy every day.
Witt also offered safety tips for students. She advised students to be careful as they walk or ride a scooter in front or behind the buses because of blind spots.
"We just want (students) to be careful because of cars or bikes behind us who will go around buses when we stop," Witt said.
From waking up before dawn to safely transporting hundreds of students each day, Witt values the safety of the students she encounters. For Witt, taking care of those she transports is a crucial aspect of her role at Liberty.
Merritt is a feature reporter for the Liberty Champion