Liberty Army ROTC brings home the victory and makes history after winning first place in 4th Brigade Ranger Challenge
For the first time in Liberty University history, the LU Army ROTC won first place at the 4th Brigade Ranger Challenge Competition at Fort Barfoot in Virginia. 
After months of training, Liberty's cadet team competed in the Ranger Challenge Competition from Oct. 20-22. The team competed in functional fitness, weapons assembly and disassembly, radio communications, call for fire, grenades, tactical combat casualty care, one rope bridge, a pistol range, a timed 2-mile run and a 6-mile ruck.
During previous years, Liberty's cadet team had placed highly in the Ranger challenge and this year, its goal was to win.
"We've been trying to put Liberty's name out there. We have a really great program here, and we wanted to be taken a little bit more seriously. The goal was obviously to place first but not just to win. We have the faith-based aspect where we want to glorify God by showing the skills, ability and resources we have," Joshua Walls, Army ROTC cadet captain, said.
"The program itself does a great job of producing high quality officers, but it can get significantly more resources by putting itself on the radar. So, with the program performing as well as possible and just demonstrating (its) skill set, that helps(it) to build the program more and more each year," Joshua Cicalo, Army ROTC cadet captain, said.
This year, the cadet team for the Ranger Challenge Competition was selected during annual tryouts.
"The tryouts were less about trying to identify whether or not you were capable at the physical level and more to identify whether or not you had the appetite for it. (Your performance) determines if you had the desire to really put out that effort consistently, and if you do, you're on the team," Cicalo said.
During the competition, cadet teams were scored as a whole. They were only given instructions at the beginning of each event and had a short time frame to create a successful plan before competing. The limited time created pressure at each event and required trust to be built over months of training.
"We have a lot of investment not just in what the hard skills that we're trying to train towards, but also in each other," Walls said.
According to Cicalo, the team's trust and flexibility allowed for a great performance. Each individual's humility to put the team first made for a great experience for all participants.
"The team is always coming in motivated, ready to go, ready to contribute, ready to grow," Cicalo said.
Walls agreed with this sentiment and believes the team aspect played a heavy hand in their success.
"I don't think you'd find a team that we've been so lucky to be a part of anywhere else besides here. The level of intentionality you get from a faith-based program is something you won't find anywhere else," Walls said.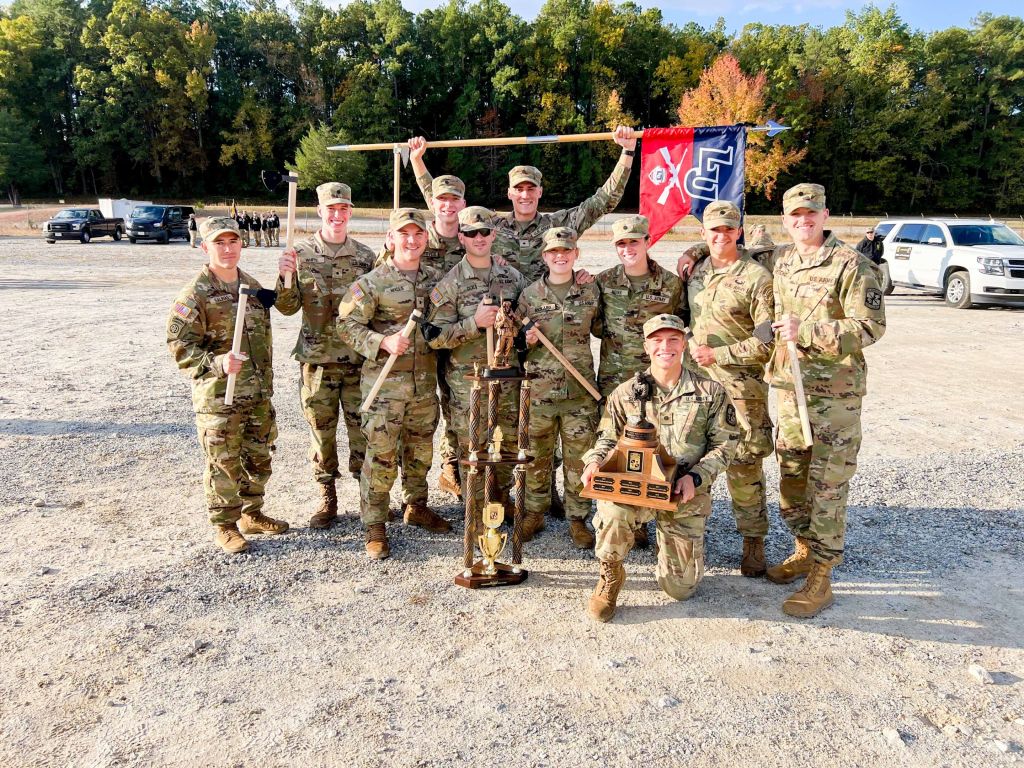 The cadet team credits its victory to the ROTC cadre, the Hydaway staff, Bill Crawford and Pat Meckley of the Liberty Mountain Gun Club and their staff. Without these people, the cadet team believes it would not have received the high-quality training and guidance that led it to this victory.
After a long weekend of grueling events and competitions, Liberty's cadet team was announced as the first-place winner with the highest total accumulated points of the stations during the awarding ceremony on Sunday, Oct. 22.
"It still hasn't really sunk in. We had a reputation to keep and a duty to fulfill," Walls said. "We said we're going to do something, and we kept our word."
Although the cadet team desired to continue to build on the previous successful years, its mindset was to allow God to do his will during the event.
"We expected to perform well because we knew how well we trained, but … if curveballs came through and we didn't perform as well as we want(ed) to, that there is a reason for that (happening), whatever it may be," Cicalo said.
The Army ROTC represents the 4th Brigade in the Sandhurst Military Skills Competition held at West Point Military Academy April 2024.
Oribello is a feature reporter for the Liberty Champion