History is made: Flames defeat UMass Minutemen to go 11-0 for first time in program history
The undefeated Liberty Flames approached their Nov. 18 meeting against UMass well aware of the opportunity to make history. No Liberty football team had ever won 11 games, and all that stood between the Flames and the monumental feat was the 3-8 UMass Minutemen.
But even with an unblemished record this late in the season, it couldn't be forgotten that Liberty's national ranking remained at a standstill, sitting at No. 25 in the AP poll. The lack of national respect had been clear to Flames Head Coach Jamey Chadwell and his team, and it's something he didn't want them to simply brush off this week.
"I told our team to embrace the disrespect," Chadwell said prior to Liberty's game against UMass. "We're going to have to do everything we can to earn it, but people don't have to give it back."
That mindset was noticeable on the field Saturday afternoon, as Chadwell's team put out another domineering performance. UMass fell behind early and couldn't recover, as Liberty left its regular-season home finale with its 11th win of the season, 49-25.
"We get questioned every week — schedule this, schedule that," Chadwell said postgame. "But we just keep showing up and playing hard and playing for each other. (This is) another big win for us as we continue to move forward."
On the team's initial offensive drive, the Flames saw contribution from a new weapon, as sophomore quarterback Kaidon Salter floated a pass to a wide-open Errol Rogers Jr. for a gain of 36. The reception was the Louisiana transfer's first of the season.
With the ball now at the UMass 11, a pair of Salter rushes was enough to get the quarterback's team on the board. He took the ball in from the 1-yard line, picking up his eighth rushing touchdown of the season.
The UMass Minutemen's offense, led by junior quarterback Taisun Phommachanh, eagerly took the field in search of a response. After gaining decent yardage on its first few plays, the Flames' defense touted for its playmaking abilities took over.
Phommachanh found his receiver George Johnson on 3rd and 9, but junior defensive back Preston Hodge forced Johnson to lose control of the ball. Liberty safety Brandon Bishop made the recovery, giving his team possession at the Minutemen's 40-yard line.
"(The defense) challenged each other to play better, to play with more urgency and more importantly, to practice with more urgency," Chadwell said. "I think that's showing up … There's a re-dedication to what makes us good on that side of the ball. For the most part, I thought we played a pretty clean game there from that standpoint."
Just a few plays later, Liberty returned to the end zone with a 13-yard reception by junior tight end Austin Henderson to extend the lead to 14-0. Henderson's touchdown was his second of the season and the third of his Flames career — a source of production the team needs after losing tight end Bentley Hanshaw to injury.
"(When Hanshaw went down) I knew that I had to step up and just take over some of his role there as well," Henderson said. "I was ready to just go to work and have his back when he needed it … It's been a season of just doing my role, whatever the team has for me. Whether that's just blocking every game and every play that I'm in or running routes and trying to get open. Ball comes my way, make the play."
After another well-executed drive by Liberty's defense resulted in a Minutemen punt, the Flames charged onto the field, looking to get up on their opponent by three touchdowns in the first quarter. The electric play of junior running back Quinton Cooley did just that. The running back broke loose at the line of scrimmage, evading defenders and taking the handoff 60 yards for the touchdown.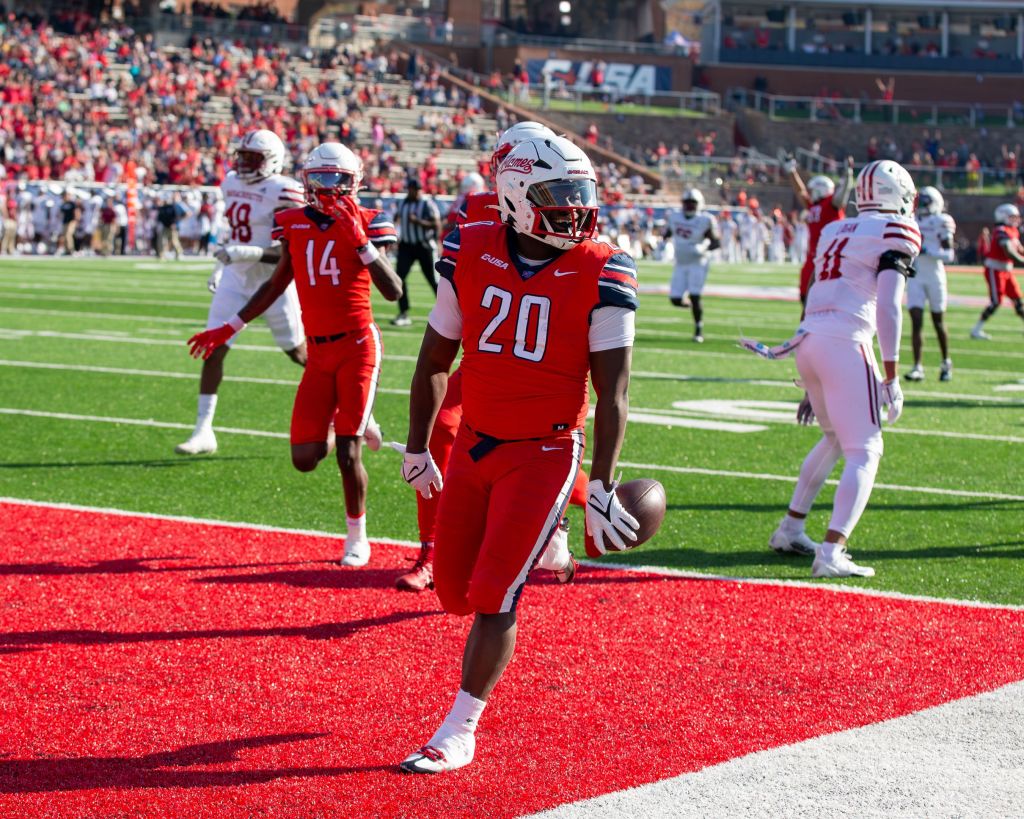 Following Cooley's flash of speed, Billy Lucas, who missed the previous game against Old Dominion with an injury, picked up 37 of the Flames' yards on their following scoring drive. He capped the drive with a 4-yard burst into the end zone.
"It was good to have (Lucas) back," Chadwell said. "Cooley doesn't have to rush 20 sometimes. (If) Billy can take 10-12 (carries), and then Cooley gets (the rest), they're fresher. They run through tackles. It was great to see him back out there confident, and he did well."
With a now 28-0 Flames lead, UMass finally managed to find offensive tempo. Lynch Adams, the team's electric running back, found the end zone for a 23-yard touchdown. Adams entered the game against Liberty just two weeks removed from his historic performance against Army, where he recorded 234 yards and three touchdowns in the Minutemen's 21-14 win.
Liberty got on the board once more before the end of the half, with Salter notching his second rushing touchdown of the day on a quarterback keep, taking it 12 yards for the touchdown. The touchdown tied Salter's career-high of two rushing touchdowns in a game.
With a 35-10 contest coming out of the half, UMass looked to get to work early in its first offensive drive. The opening play, however, was a momentum-killer. Phommachanh's pass went off the fingertips of his own receiver, finding the hands of Liberty linebacker Joseph Carter.
Carter's Flames, though, couldn't capitalize on the opportunity. Kicker Nick Brown's 47-yard attempt went wide left, allowing the Minutemen to walk away seemingly unharmed.
But UMass wouldn't leave unscathed on the ensuing drive, as Hodge jumped a Minutemen receiver's route and intercepted Phommachanh's pass, taking it 62 yards to the house.
"I saw (the receiver) break out, and I drove on it, and I saw the ball was overthrown to the left a little bit," Hodge said. "I put my hands up. I know I was going to the house when I got it."
A now 42-10 offensive beatdown, Salter and his offense had no intention of slowing down, knowing that the wider the margin of victory, the more national attention the team would garner. Looking to make it a 39-point differential, Salter heaved a pass to sophomore receiver Kylen Austin over the middle, who secured a 46-yard reception, a career-long for Austin.
With the ball in the red zone, Salter looked to take it in himself and achieve a career number in rushing touchdowns. The quarterback blazed through a gap, diving head-first to breach the goal line. A hit from a UMass defender caused Salter to lose control, and he fumbled the ball through the end zone, resulting in a touchback.
The quarterback would make up for the fumble on the second play of the fourth quarter, firing a touchdown pass over the middle to Henderson that was a near-perfect resemblance of the tight end's first.
The Flames removed their starters from the game with 13 minutes remaining, and the Minutemen managed to add two touchdowns to the board in the game's dying minutes. But when the clock hit zero, Liberty and its fans relished in the 49-25 victory and the historical implications that accompany it.
"I know it has been a great season for us," Henderson said. "Every team you're a part of, you want to feel like every week everyone (has a) 1-0 mentality. But this team for real, I truly believe we have a 1-0 mentality … It's been such a blessing to be a part of something historic, but we're not done yet."
Liberty will look to go 1-0 once again next week, closing the books on potentially its first perfect regular season Nov. 25 in Texas, taking on the UTEP Miners at 3:30 p.m. The game will air on ESPN+.
Cory is the sports editor for the Liberty Champion. Follow her on X