CFAW: Tasting life at Liberty

Prospective students explored Liberty University's campus during College for a Weekend Nov. 9-11. They had the opportunity to attend Convocation, classes, a hockey game, a football game and more.
According to Liberty's website, CFAW allows students to spend three days "test-driving" life as a Liberty student, giving attendees a look into the daily life of a student that a typical college tour would not cover. The weekend event was open to any high school junior, senior or college transfer student, as well as their families.
The weekend began on Thursday, where prospective students could attend a Getting to Know Liberty event to meet with representatives from Liberty's different departments. 
Attendees also took part in a Cinematic Arts scene demonstration in the Montview Student Union where they could see a live movie scene be shot in real time and even act as an extra in the scene.
Following this demonstration, the Student Connect Kickoff took place, where attendees connected with one another while roasting s'mores and playing games.
Friday, participants spent the day attending Convocation and sitting in on classes that fall within their prospective major, allowing them to see how Liberty professors interact with their students in the classroom. In the afternoon, they could ski and snowboard at the Liberty Mountain Snowflex Centre, bowl at the Montview Bowling Alley and participate in an open house at the Liberty Mountain Gun Club.
On Saturday, participants attended more parent and student sessions, toured model dorms and watched the Flames football game vs. Old Dominion and the Men's D1 hockey game vs. Ohio University. 
Parents could get involved throughout the weekend by attending a parents' session led by President Dondi Costin as well as panels about campus security and well-being and financial aid.
"CFAW becomes a pivotal step for students in determining if Liberty University aligns with their educational goals," Aaron Garcia, director of on campus recruitment events, said.
While some prospective students were local, others traveled from farther away to experience CFAW. One of these students was Lindsay Lockard, who traveled about 250 miles to attend CFAW with her father, Bill Lockard.
"I got to personally meet intentional, kind professors, experience an amazing campus and experience people who genuinely love God and care for others," Lindsay Lockard said.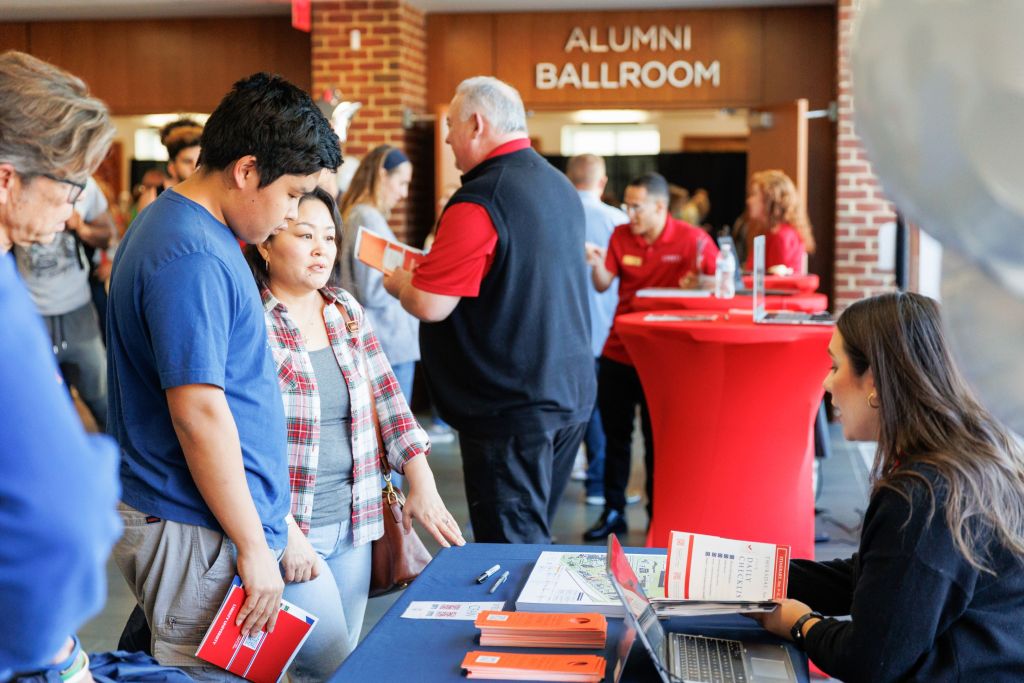 Bill Lockard attended Liberty in the 1970s as a student.
"When I walked on campus, it was so different than when I was there," Bill Lockard said. "(However), everything was communicated well and after a day, I felt like I was able to maneuver the campus."
Bill Lockard appreciated the opportunities that CFAW gave him to get involved on campus and encounter the positive campus environment.
"The atmosphere on campus was good," Bill Lockard said. "I was very impressed with Convocation; the speaker was outstanding. The football game experience was good too, especially the halftime experience for Veterans Day."
CFAW happens multiple times per year, giving prospective students many opportunities to visit and experience Liberty's campus. For more information, visit this website. 
Smith is the editor-in-chief for the Liberty Champion. Follow her on X