Students network with 21 employers
At the Meet the Firm Career Fair, geared toward business majors with specific interests in accounting, finance or actuarial work, 21 employers greeted 186 students Sept. 5 in the Montview Alumni Ballroom. 
The fair presented an opportunity for students to meet employers, make connections, form relationships and set themselves up for success in landing a job after graduation. 
"It's not just about finding internships and jobs, it's about creating the connections that they're going to need within the companies and forming a good relationship with them," Assistant Director of Career Coaching, Sarah Fendrich, said. 
Networking is another benefit of attending the career fair. 
"When they are applying to a job, they know the person that is actually doing the recruiting; they can be directing their questions to that person," Fendrich said. "When they apply, they can send a message to that person: 'Hey, I just applied.'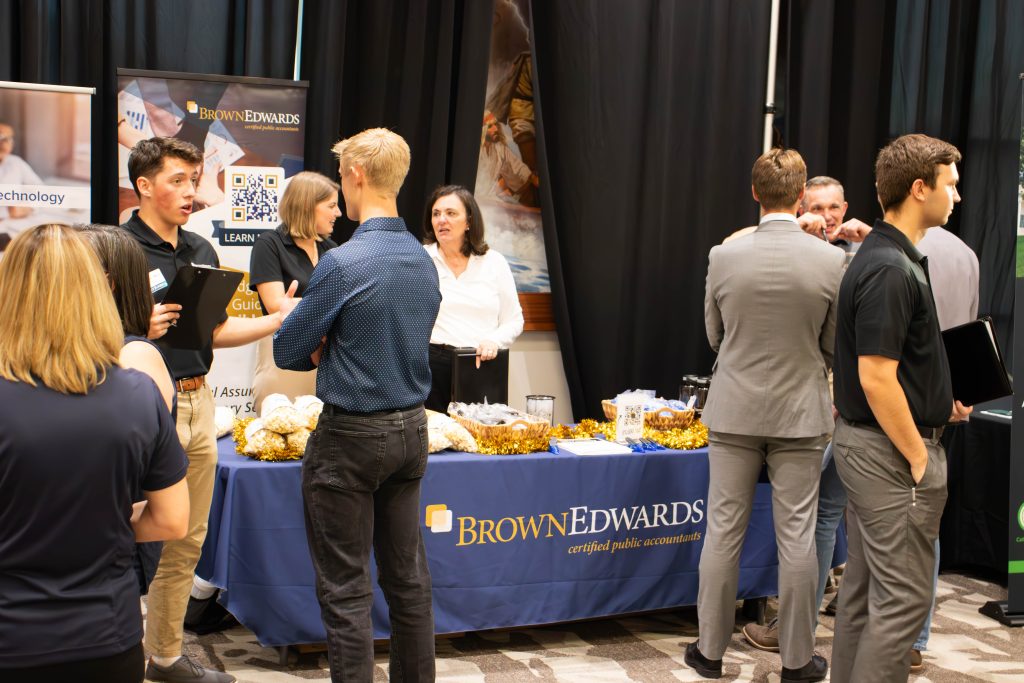 In addition, the career fair exposed students to the breadth of different opportunities available as careers. From a Big Four accounting firm, to regional and local firms, to missional organizations, a wide variety of roles and firm types were present at the fair. 
"I do find value in the diversity of the events that Liberty has," sophomore Silas Pearson said.
Accounting majors are recruited for internships early each fall, so the Meet the Firm Career Fair is hosted early during the
fall semester.
These majors are encouraged to get internships or shadowing opportunities during their freshman or sophomore years so that they obtain the necessary experience to land the opportunity they want post-graduation.  
"Career Coach Kraig Ware has been working with students in the School of Business (since) last spring to start getting ready for this career fair, knowing it was going to be so early," Matt Young, assistant director of Employer Relations for
Career Services, said.
One of the largest Big Four accounting firms, Ernst & Young, was at the career fair. The line of students stretched across the room to make connections, which can be crucial to landing a job at a big firm.
"Getting the experience of being able to talk face-to-face with an employer was really beneficial," Pearson said. 
Other major employers that were present include Brown Edwards, FORVIS, Goodman CPA, Kearney & Company and Robins, Eskew, Smith & Jordan.
"We appreciate Liberty and value their students," an employer from Brown Edwards said. "They make an immediate impact
at our firm."
Additionally, free headshots were available to students at the headshot booth to use on platforms like LinkedIn for improving the professional look of their profiles.
Career Services offers free headshots at every career fair and welcomes all students to come update their photo, regardless of their participation in the fair or not.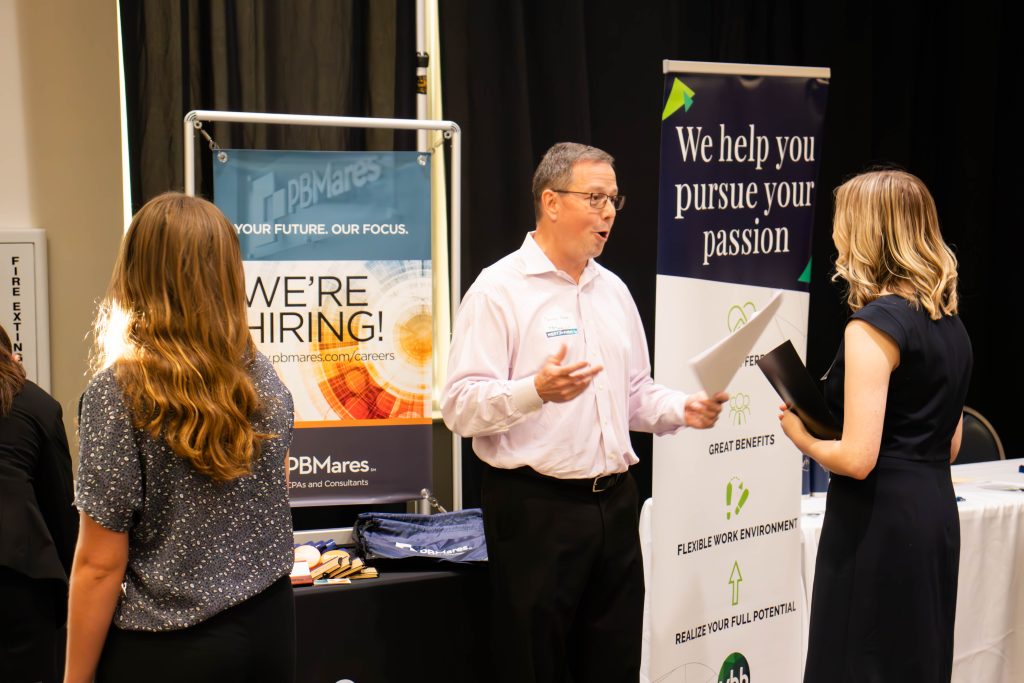 Young said this career fair had record numbers, with 21 employers and 186 students in attendance. Last year, there were 15 employers and 136 students. As the business program continues to grow, so does the career fair. 
To promote career fairs, in conjunction with Liberty University Marketing, Career Services sends out up to four different emails advertising any given career fair. Students must claim their Handshake account if they have not done so already, which will provide them with updates when new employers register.
Career Services also utilizes social media, pull-up banners, career coaching appointments and workshops to inform students about career fairs.
Every Thursday before a career fair, there is a Navigating a Career Fair workshop for students to gain insight on how to successfully attend the event.
Students can view all upcoming workshops and register on Handshake. 
The next career fair will be for nursing and healthcare students Sept. 12, 2-5 p.m. in the Montview Alumni Ballroom. 
For more information on career fairs, visit this website.
Joachim is a news reporter for the Liberty Champion. Follow her on X