Popular artist holds Christian concert

Christian music artist Tauren Wells lit up the Vines Center stage Sept. 22 at 8 p.m., performing on Liberty University's campus for the first time.
The Vines Center was filled with students milling around the concession and merchandise booths. Almost half of the arena seats were filled, and floor seating was completely sold out. Joshua Leventhal opened the performance with slow, reverent songs before increasing the energy and performing his latest single, "Kingdom."
As Wells' act began, the room filled with energy, from students cheering, to the bright, flashing stage lights, to Wells' electric opening numbers complete with choreography.
Wells sang a diverse set of songs for the concert, including crowd favorites such as "Known" and "Hills and Valleys," to which many students sang along. Slower songs and Wells' new song, "Take It All Back," were also featured.
Throughout the show, Wells encouraged the audience to participate, pausing on some lyrics to let the crowd take over.
"You sound amazing, Liberty," Wells said.
Wells also took a moment between songs to encourage the crowd and share God's truth with them.
"The reality for you tonight is you can do all your things, you can check all your boxes, you can go to all your religious activities," Wells said. "You can give God hollow sacrifices or sacrifices that are your true best to present him. But can I tell you tonight, it doesn't even begin to compare to the measure of God's love for you. … He is crazy about you."
Wells ended the show with a performance of "Up," a hopeful song that he released last year.
According to Director of Student Activities Cort Comfort, Wells has been on the radar of possible performers for some time.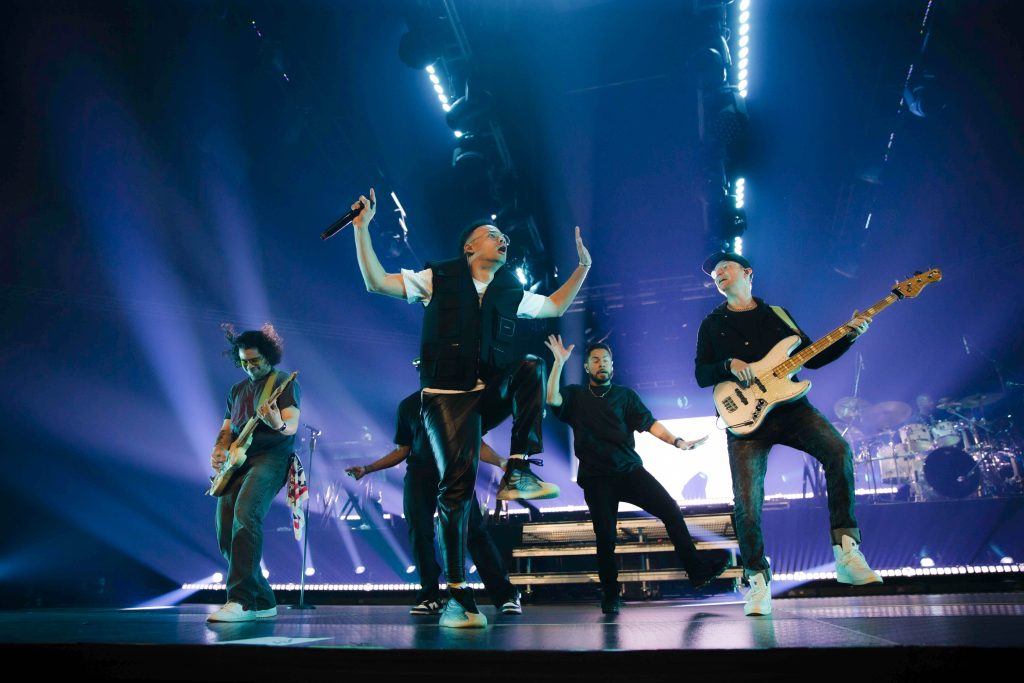 Comfort said that Student Activities highly values the concerts it puts on each semester and seeks to find artists that the student body wants to hear.
"Tauren Wells luckily checks off every single box," Comfort said. "He's incredibly exciting, he's never been here before, he has really interesting music which kind of goes all over the realm of pouring his heart out to God while also creating some of the dance-iest, most fun music you've ever heard."
The concert audience was made of both Liberty students and visitors attending College for a Weekend, allowing the Vines Center to be packed for the duration of the night.
Liberty sophomore Jacob Sokalski said he was looking forward to the concert.
"I really liked his voice when he sang this morning," Sokalski said. "I thought it was so great, so I'm looking forward to that. Also, I love music so I'm just here to enjoy it."
After the performance, CFAW visitors said that they enjoyed the show.
"I thought it was so good; I did not expect that," high school junior Sarah Houpt said. "I'm not a fan of Tauren Wells — I'd never heard of him until tonight, but it was so good."
High school senior Faith Connor agreed.
"It was awesome," Connor said. "It was so much fun, I loved it."
Student Activities holds a multitude of events throughout the semester, each catered towards giving Liberty students a wide range of opportunities and fun, unique events to look forward to.
Student Activities' next concert will feature a classic rock concert Oct. 6 at 7 p.m. on top of the Runk and Pratt Garage. Additionally, there is a performance from Allie Paige coming up Nov. 10 at 8 p.m. in the LaHaye Event Space.
To buy tickets for future events, find more information or suggest an artist for a future concert, visit www.liberty.edu/sa.
McKenzie is a news reporter for the Liberty Champion. Follow her on X