Former Lady Flame McKinley Burkett adjusts to life as the team's assistant coach

The Lady McKinley Burkett, a dominant former player and leader for the Lady Flames soccer team, has transitioned from the field to the sidelines, trading in her cleats for a clipboard. From scoring her first goal at the age of 9, Burkett has fostered a deep passion and unwavering commitment to the sport. Now, she embraces a new role using her experience and knowledge to guide and lead her players not only on the field, but also in Christ.
Following the completion of her undergrad at The University of Tennessee, Burkett was in search of a place to complete her master's degree.
"I was just looking for a really good environment, more so than just focusing on soccer," Burkett said. "The Christian atmosphere at Liberty is something that is pretty much unmatched and I was really craving."
As a two-year starter at Tennessee and an additional three years starting at Liberty, Burkett gained valuable experience in the realm of college soccer. Her time on the field provided her with ample opportunities to develop her skills and knowledge of the game.
After finishing her final season with the Flames in 2022, she thought her time on the pitch was over.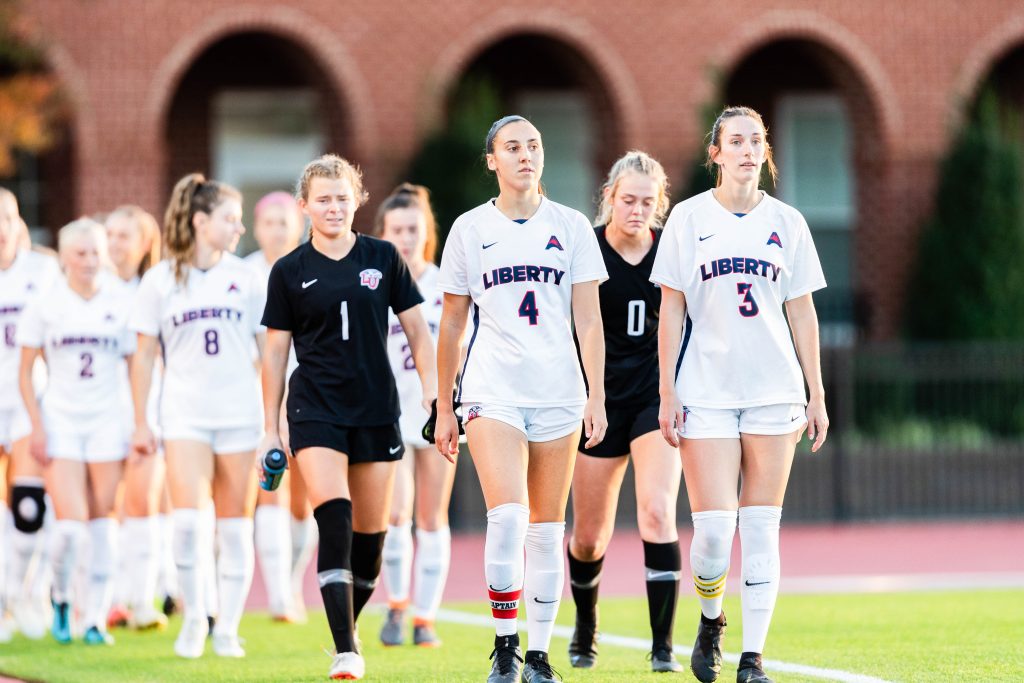 "I finished playing last fall, but in the spring, I was still around Lynchburg. So, I was playing with the girls, practicing with them, being a part of the team in any way I could," Burkett said. "I thought soccer was pretty much over for me. I was trying to move on. It was definitely difficult."
Despite Burkett's belief that her soccer journey had come to an end, God had a different plan in store for her.
"It was pretty unexpected," Burkett said. "At the last minute, Coach Lang (Wedemeyer) called me and told me they were looking for another coach. I was just so joyful to hear it was an opportunity. I felt like the Lord orchestrated it so perfectly. For me to be able to come back and serve the girls in a way that I had never been able to before was quite unexpected, but I'm so excited to be here."
During her time at Tennessee, Burkett encountered numerous injuries that eventually led her to medically retire after her sophomore season with the Vols. With these injuries, however, came great purpose for Burkett, providing valuable lessons and shaping her perspective of the game.
Burkett's experiences have undoubtedly contributed to her growth and resilience as an athlete and now a coach.
"I think unless you've been through a pretty significant injury, you can sympathize with somebody, but you aren't going to understand the day-to-day struggles," Burkett said. "The mental, physical and emotional toll it can take on someone, especially a high-level athlete. It's all encompassing."
Having experienced numerous trials firsthand, Burkett understands the toll D1 sports can have on a person. Her personal journey equipped her with empathy and insight into the emotional aspects of being on a D1 sports team.
"Their sport is such a big part of their life, their ministry, their friend group, all of that," Burkett said. "Having gone through that, I know how difficult it can be. How alone you can feel. How much it can mess with your identity. Because of this, I feel like I'm able to connect with these girls in a unique way."
As a previous transfer student, Burkett found comfort in the beautiful culture of the team.
"Our culture is something so unique that I had never experienced until I got here. Culture is so huge for us," Burkett said. "The way the girls care so much about continually building that culture is really special because you have to work day in and day out to keep it going."
With a strong passion for the sport and an incredible bond with her teammates, Burkett's transition from the pitch to the sidelines has appeared seamless. Her dedication to her teammates and the sport as a whole, however, made the transition to coaching a truly remarkable one.
"Just being involved with the girls and building relationships with them has been the biggest blessing. I just love each and every one of them so, so much," Burkett said. "When they succeed on the field, I'm so joyful for them. And when they're struggling, I want to be right there with them and feel everything they're feeling. They have changed my life more than they could ever know."
Carlson is a sports reporter for the Liberty Champion