Seven top education majors are chosen for trip to Teachers of Promise conference

Liberty University's School of Education nominated and sent seven of their top students to the Teachers of Promise conference March 24: Mary Holland, Harley Rusk, Bethany Scott, Melanie Smith, Hazel Stephens, Logan Wise and
Amanda Works.
According to Michelle Goodwin, associate dean for the Licensure Programs in the School of Education, Teachers of Promise is an institute created by Wade Whitehead, who wanted to highlight and celebrate outstanding novice teachers entering into the field.
Whitehead established the Teachers of Promise in 2004 to come alongside senior education students from all around Virginia who are preparing to go out into the world and teach. This recognition gives these students the opportunity to access resources and tools that will help them as teachers, but even more than the tools it provides, it gives students the chance to be paired with a mentor. Each mentor is a teacher who has typically won a major teaching award and can be considered a master teacher.
"The mentors I was assigned to were very knowledgeable and experienced as they had each won teaching awards," Smith said. "It was very beneficial to be able to talk and learn from such wonderful teachers."
Students do not apply for the Teachers of Promise award. Instead, they are chosen. At Liberty, the faculty work together to select some of their top and brightest students whom they know will excel in the field of teaching. They must narrow hundreds of qualified students down to nominate a few.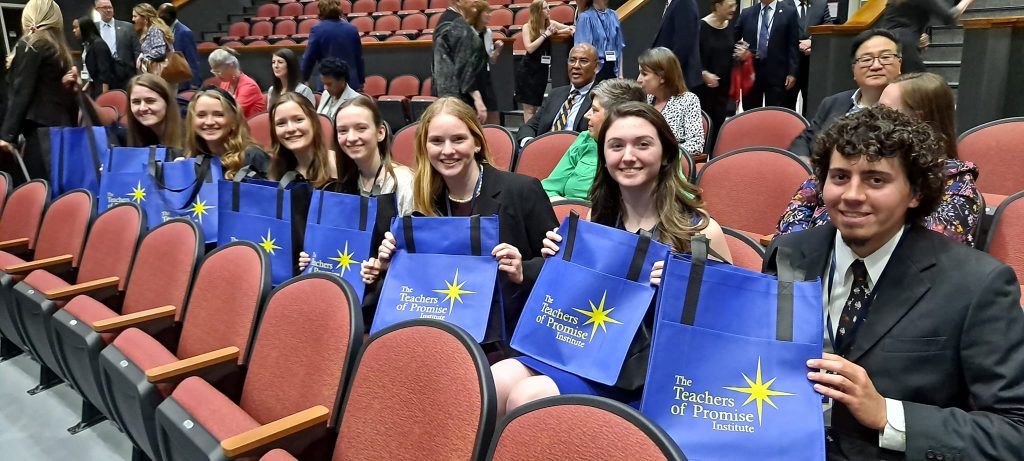 "I think (the program) helps them to go into teaching with networking strategies (and) a good mentor that they can reach out to," Goodwin said. "Once they are established in the field, it sets them up to do the same thing for the next crop of teachers. Current school leaders in the Central VA schools such as principals and assistant superintendents were chosen as TOP recipients when they were studying to be a teacher at LU."
"Being a teacher of promise means working hard to become the best teacher that you can possibly be," Rusk, a Liberty recipient, said.
She entered the field of teaching because she was inspired by some of her teachers, whom she noted to have a powerful impact on her life.
"I had a couple English teachers that weren't (only) good at teaching, but they really showed you that they cared about you as a person, and they were always there for you," Rusk said.
She wants to carry on their legacy by impacting her students in the same way.
"For me, having the title Teacher of Promise means that I have shown those around me I have what it takes to stand strong in a struggling system and will put my students' education and well-being first, no matter what," Logan Wise, a Liberty recipient, said. "A true teacher of promise is someone who always puts their students first, even above themselves, serving them at all times in the name of the Lord. This is what I will strive for as
an educator."
well as my time here at Liberty in the education department, I have learned that the role of the educator is to first and foremost meet the needs of my students," Wise said. "This is done through teaching the students each and every day in a way they can understand and appreciate, but even more so, it includes showing them love, respect and godliness at all times."
Though the Teachers of Promise award is not a strictly Christian event, some of the mentors are Christian and reach out to Liberty students to talk about faith principles in the classroom.At Liberty, the School of Education students are reminded to consider their faith and shown how to teach with a biblical worldview.
"To me, being a teacher of promise means that I am fulfilling the calling the Lord has placed on my life," Scott, a Liberty recipient, said. "God placed a calling on my life to be a teacher, and I have been chasing that calling for the past few years at Liberty. The professors around me saw all the hard work."
"Being a teacher of promise means valuing students, helping students climb higher, and teaching them how to embrace the journey of growth and protect their inner light," Holland, another Liberty recipient said. "It means taking students on a journey of learning without ever leaving the classroom. It means that I have a responsibility to my future students, school, colleagues and administration to be the best teacher that I can be and create high-quality, differentiated lessons and support. It means that I am one of the best teachers in Virginia, and I need to rise to that award every day, embody a Christ-like attitude and put others above myself in my teaching career."
Sending students to this event would not be possible without the support of Liberty University. Dr. Goodwin shared that the School of Education is thankful for Liberty's help in sending students to receive this award. To learn more about the Teachers of Promise award and the mentors Liberty students had the opportunity to work with, visit their website www.teachersofpromise.com.
Auld is a feature reporter for the Liberty Champion