Men's soccer Captain Luke Eberle leads community outreach for 110 children
As children shyly walked through the cafeteria doors of their humble elementary school, a raucous crowd welcomed them with a seemingly ordinary gift: shoes. The plain faces grew into large smiles as hope became something one could slip onto their feet. 
At Robert S. Payne Elementary school in the heart of Lynchburg, a typical Thursday evening on April 28 turned into a memorable night for over 100 kids. Samaritan's Feet — a nonprofit organization out of Charlotte, North Carolina — in partnership with senior midfielder Luke Eberle of the Liberty men's soccer team, and dozens of Liberty student-athlete volunteers, converted a cafeteria into a fully-functioning and completely free shoe distribution center. For 110 pre-kindergarten to fifth grade students, a new pair of shoes awaited them.
In August 2022, Eberle signed a name, image and likeness (NIL) deal with Samaritan's Feet pledging to raise $100,000 for shoes to give away. Now, after raising nearly $50 thousand, Eberle begins to see the fruit of his labor.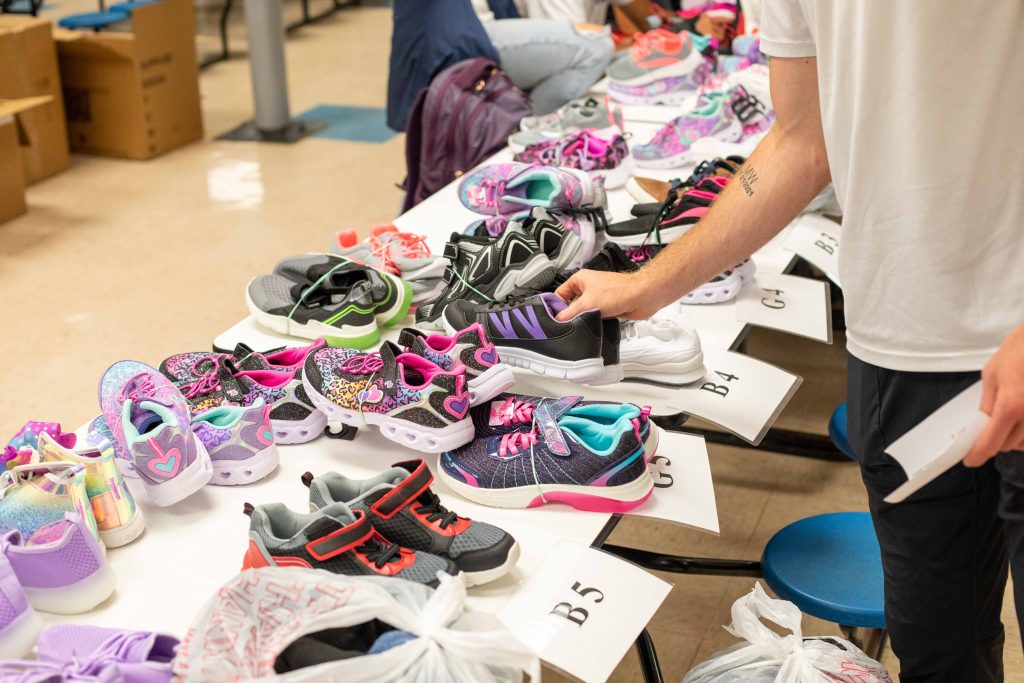 "It was awesome," Eberle said. "It was great to see so many Liberty athletes out here serving at R.S. Payne … the shoes were a small part of the whole night, but I'm happy that the shoes were the avenue through which we could impact the kids. It was amazing to see the smiles, not only on the athletes' faces, but on the parents, the kids, and everyone else who was serving here."
From 4-6 p.m., students filtered into the cafeteria. There, more than 50 student-athletes from nearly every NCAA sport at Liberty welcomed them with loud cheers and open arms. Individually, each child paired with a Flame to find the perfect fit. New pairs of shoes arranged by size and color awaited the students who made their choice.
"We are so glad that this is happening. Our parents are excited, and our children are excited because they are receiving some wonderful shoes that they can play in during the summer," Dianne Stratton, the family engagement liaison at Robert S. Payne Elementary School, said.
On a large poster in the back, a once blank canvas with the words "My dream is …" began to crowd with various kinds of handwriting and unique ambitions. One student wrote "to be a hairdresser," another wanted to become a "football player," and another described their dream as simply to: "provide for my family." Some kids joined Flames student-athletes in coloring, and others went into the gym to put their new kicks to use by jumping rope and playing sports.
"I was so excited to serve next to athletes that I see all the time, but to see them in this context is really sweet," Liberty volleyball redshirt junior Julia Mangum said. "Seeing the kids' faces was so fulfilling and rewarding. Knowing the impact shoes — something that we get all the time as athletes — can do for a kid is so encouraging."
"It's a great day to have an impact and inspire the kids to dream," Samaritan's Feet Regional Program Manager, Jeremiah Williams, said. "Maybe they want to be athletes, maybe they want to be doctors, maybe they want to own their own business, you never know. Today we're present … and we're giving effort."
Samaritan's Feet's mission is to "serve and inspire hope by providing shoes to those in need around the world." On a Thursday in Lynchburg, this mission was achieved. While meeting a need in the community, a privilege was simultaneously realized. Liberty's student-athletes saw the power of their platform, but also the blessing of something so simple as shoes that many take for granted.
"I want to thank everyone who is volunteering. I want to thank Samaritan's Feet for doing a lot of work behind the scenes to get the shoes here and I want to thank everyone at Liberty for helping me get this started," Eberle said.
Eberle and everyone involved saw shoes as the avenue to show others the tangible love of Christ. However, the Maryland native is not done. With only half of his $100,000 raised, Eberle hopes to organize more shoe drives like this one and impact more lives through his platform as a collegiate athlete.
Rivas is a sports reporter for the Liberty Champion. Follow him on Twitter