Liberty's student team places third in Aerospace Maintenance Competition 
Six Liberty students reached all new heights as they soared through the Aerospace Maintenance Competition (AMC) April 18 through 19 in Atlanta, Georgia. 
The AMC is held by the Aerospace Maintenance Council and creates an environment for students to advance their maintenance skills and celebrate professionals within the aviation maintenance field worldwide. The AMC allows students and current maintenance professionals to grow their abilities in competition with others all across the country and to put their skills to the test regarding what it takes to be an aviation maintenance technician.
In teams of five, students worked against the clock, being timed as they deconstructed equipment and then rebuilt it, among other various tasks. At the end of the day, they were ranked based on their time.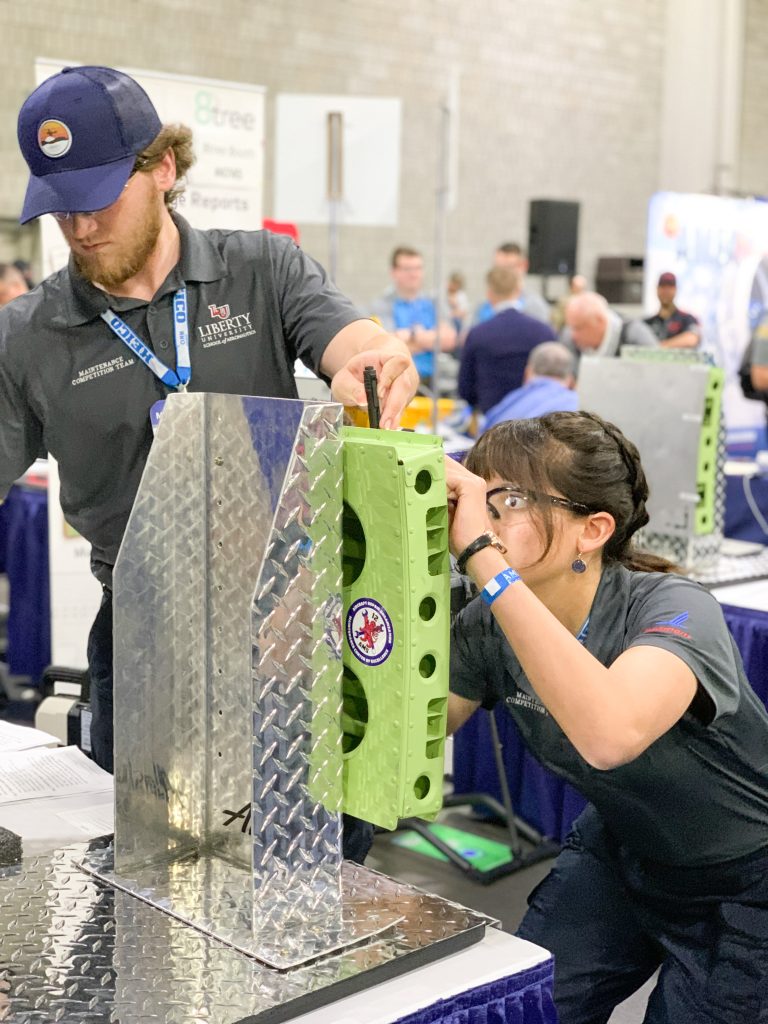 This year, Liberty sent both a team of five and an alternate team to the competition. Joel Cihak, DJ Albert, Jacob Gehly, Ian Martin, Julia Rose Cagasan and Josh Schilinski participated. Out of 120 students in the School of Aeronautics, professors chose these six after a long tryout process.
The team competed in five events against approximately 43 schools, and Liberty came in third place for the third consecutive year.
"We're hoping to see where we can go from here," Jacob Gehly, senior aviation technology major, said. "You really have no idea where you're standing throughout the competition. They don't post anything. Most people are there for networking and the experience. Nobody has any clue where you're standing until the very end."
This high placement did not come easy for Liberty. For the past two months, the competing students practiced every Wednesday morning to prepare for the event. Along with the special competition preparation, Gehly explained that the classes the students have taken are incredibly helpful to the learning process. Classes in the aviation maintenance program typically run from 8:20 a.m. until 4:30 p.m.
"It's a really cool experience to go down there and represent the Lord, especially in an industry where He is not represented well," Gehly said.
This year, the Liberty students passed out cards inviting people to a Bible study. Gehly said this opportunity brought fellow believers together to encourage each other and be a light to non-believers in the industry.
"Being a mechanic makes you a better pilot, being a pilot makes you a better mechanic," Gehly said, referring to a commonly used phrase in the aviation maintenance field. While the students in Liberty's aviation maintenance program learn to become pilots and mechanics, they also learn how to take their faith into the field and be a positive influence on everyone around them.
Mullet is a feature reporter for the Liberty Champion