You Know Ball: Stanley Cup Finals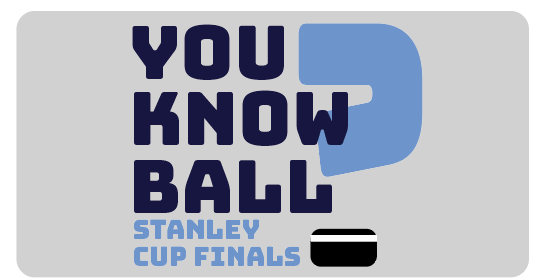 It's that time of year again — the time when the oldest and hardest trophy to win in professional sports is up for grabs. While the NHL has seen numerous historical events take place this season, perhaps none are more historic than the team that took center stage. 
One team seized the spotlight throughout the course of the 2022-23 regular season, and that team was the Boston Bruins.
After a first-round playoff loss to the Carolina Hurricanes in 2022, Boston made the decision to part ways with Head Coach Bruce Cassidy. Cassidy's successor, Jim Montgomery, took over the storied franchise with numerous question marks.
Many were doubtful that Montgomery was fit to lead the talent-packed team with such a troubled past. Boy, he did not disappoint.
The Bruins were ranked 14th in the preseason and were only given 25-1 odds to achieve Stanley Cup status. Flash forward about eight months, and Boston is now the favorite to win Lord Stanley's Cup. The Bruins hold the NHL's most points in a season with 135 points and the most wins in a season with 65.
With a historic season and a potential Stanley Cup impending, only one question remains — if the Bruins are the team to hoist the Stanley Cup come June, will this team go down in history as the greatest of all time?
Acquiring 80 points in just 47 games, this year's Bruins are the fastest team to ever reach that mark — almost too good to be true. Those 80 points soon became 135, passing the 1976-77 Montreal Canadians (132 points) for most points acquired in a season. That, however, is not where the records end.
One of Boston's most unbelievable players lives between the pipes, as goaltender Linus Ullmark broke the NHL record for fewest games to reach the victory benchmark of 25 wins, doing so in just 28 games. Ullmark is the current favorite to win the Vezina Trophy and has the stats to secure the victory. The Bruins also boast a team save percentage of .931, the best percentage since the 1968-69 St. Louis Blues.
Another key to Boston's unparalleled success has been forward David Pastrnak, who simply dominated this season, leading the Bruins with 61 goals this season and is fourth overall in points with 113.
There's no doubt the Bruins have achieved the greatest regular season in NHL history. Now, it's time for the group to become the greatest the world has ever seen. It's time for the Bruins to join the ranks with the 1962-67 Maple Leafs, 1947-56 Red Wings and 1983-90 Oilers — something that can only be done by bringing Stanley Cups home to the City on a Hill.
Cote is a sports reporter for the Liberty Champion