Three Liberty hockey teams Boston bound for ACHA National Tournament
Regular season hockey has concluded, and the ACHA National Tournament is all that awaits for Liberty hockey. The Flames will have three teams repping the red and blue in Boston March 16-21, as the men's D1 and D2 teams, along with the women's D1 team, will all make the trip to New England for postseason puck drops. For the Lady Flames, it's a five-peat they're vying for. In the case of Liberty's men's teams, however, they'll be fighting for the chance to bring their first ACHA National Championship title home to the Hill City.
Men's D1 Hockey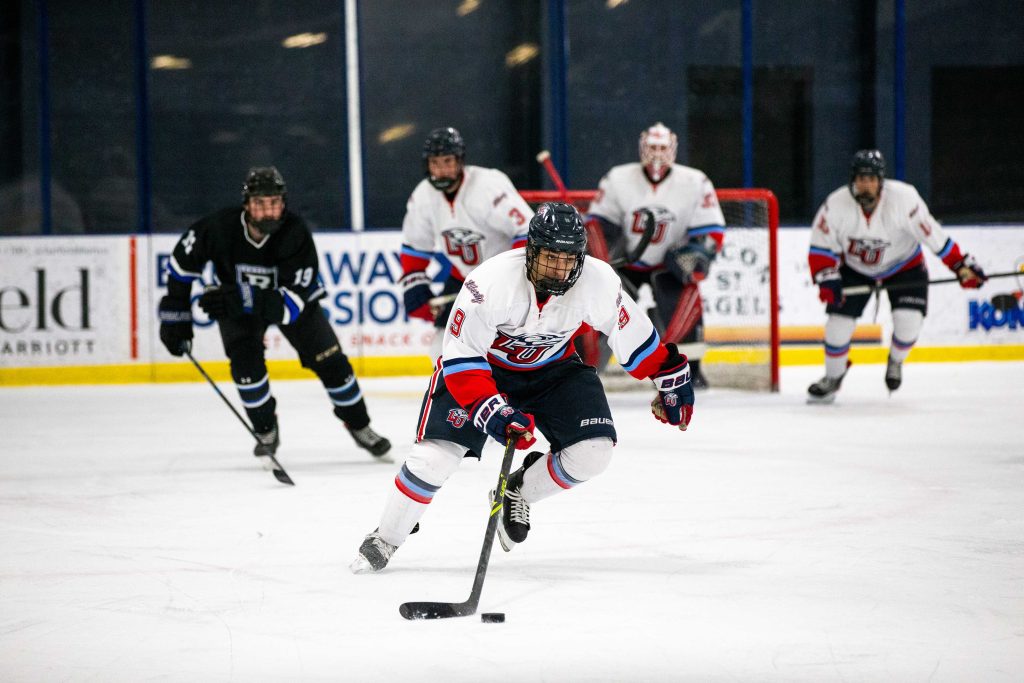 After a long and eventful 2022-2023 season, the Liberty men's D1 hockey team has its eyes set on its first-ever national championship title. The Flames are set to travel to Boston for the ACHA National Tournament, where their first opponent, the Pittsburgh Panthers, await.
This season has had its fair share of ups and downs for the Flames.
Liberty opened its regular season winning 13 of its first 19 games. This included sweeps over Stony Brook, Delaware and UNLV, along with series splits with Robert Morris and Maryville.
Not long after, the Flames faced a lot of adversity in January, losing five straight games and one of their most skilled seniors, Josh Fricks, who went down on the ice with a serious neck injury.
However, this squad bounced back and showed resilience down the regular season stretch. Liberty knocked off top-ranked Adrian in an electric shootout and picked up high-quality wins over Ohio and Minot State.
As they enter the national tournament, Head Coach Kirk Handy simply loves where his team is at.
"I like what our guys have done," Handy said. "They've developed great habits as we've gone along, and when you play the better teams, your weaknesses get exposed quickly. Because of that, we've had an opportunity to play the top teams, and I like where we're at going in the tournament."
Although Liberty is favored to defeat Pitt in round one, no win in the national tournament is easy. Pitt has an impressive track record of its own, finishing the season 22-10 with wins over Ohio and Stony Brook.
The Flames, however, will look to beat the Panthers by playing their own game.
"The game plan is going to be all about us," Handy said. "It's going to be about us performing at our best, about us being Liberty University and being the best version of Liberty University. I want our focus and attention to be on our team and what we're doing and how we're executing."
Will this be the year Liberty finally hangs a banner in the LaHaye Ice Center? While only time will tell, this squad has the ability to get the job done and appears to be a team of destiny. The Flames and Panthers will face off in the first round of the ACHA National Tournament Saturday, March 18 at 10:15 a.m.
Women's D1 Hockey
Who is stopping the Liberty women's D1 hockey team?
The Lady Flames are set to enter the ACHA national playoffs in hopes of winning their fifth straight national championship. With a No. 1 seed and first round bye, the Flames have the opportunity for a five-peat in Boston on March 18.
After going back-to-back-to-back-to-back (a four-peat), Liberty kicked off its 2022-2023 season with a continued level of dominance. The Lady Flames accumulated 17-straight victories, which included wins over UMASS and Arizona State.
Liberty ended the year with a record of 23-3, with their only losses coming from McKendree University, Minot State and at the Midland University, who took the conference crown from the reigning champion Flames at the Women's Midwest Hockey tournament.
The Flames finished 11-1 at LaHaye Ice Center and proficiently defeated their competition. If the Flames can continue that excellence in Boston, they will put themselves in a great position to bring home a title.
McKendree State and Minot State headline potential spoilers for Liberty's national championship hopes. These two programs gave the Flames two of their three losses this season.
However, McKendree and Minot will have to make it out of the first round. McKendree State is set to take on Indiana Tech, while Minot State will play Miami (OH). The Lady Flames will open tournament play taking on the lowest remaining seed on Saturday, March 18 at 7 p.m.
Garrett is a sports reporter for the Liberty Champion