Men's D2 hockey overtakes Utah State 5-0

In game two of ACHA National Championship pool play, the Liberty Flames D2 Hockey team shut out the Utah State Aggies 5-0. Sadly, even with that bounce-back victory, the Flames weren't able to advance to the Final Four of the tournament. After their loss to Iowa to open pool play, and Iowa's victory over Northeastern the next day, the Flames, along with Northeastern and Utah State, have been eliminated after back-to-back victories from the Iowa Hawkeyes.
"It wasn't easy for us to play today's game and already of knowing the outcome…." Head Coach Ben Hughes said. "Our goal was to do what we knew we had to do, and that was to win the game and not have any goals against (us)."
To not have any goals against you, like the Hughes and the Flames were aiming to do, a team needs to play good defense. And as the old saying goes, "sometimes the best defense is a good offense."
"I thought our offense was what kind of set the tone today," Hughes said. "Usually, whenever you're playing a lot of offense well, you don't usually have to play defense too much. So, Steven (Sanders) did a great job, and there probably could have been one or two up on the scoreboard had he not made a couple of good saves."
Senior goaltender Steven Sanders, who filled in today for the Flames' usual starter in the crease, sophomore Lane Skon, had himself a day between the pipes. Coming into this game, Sanders had a 96.0% save percentage and boasted 2 shutouts in his 5 games this season. On Saturday night, Sanders saw 17 shots on goal from the Aggies, all of which were turned away or snatched up in Sanders' mitt.
"I think Sanders played great today," senior defenseman Alex Norwinski said. "I think it was a great win. This is his last year, too. I don't know if he's playing tomorrow or not, but if this was his last game, it's a great way to end it."
Norwinski, who opened the scoring for the Flames with a wrister from near the blue line, is playing some of his last games as a Flames, but that doesn't bother him.
"I love this game," Norwinski said. "I put everything into it past 20 years of my life. I'm not going to sit on my butt and dwell on it being the end of my season (and how) there's nowhere after this pool play, but (I need to) just go out there, give it my all, and I think the game itself deserves that kind of respect. You need to go out there, give it your best all the time, no matter what."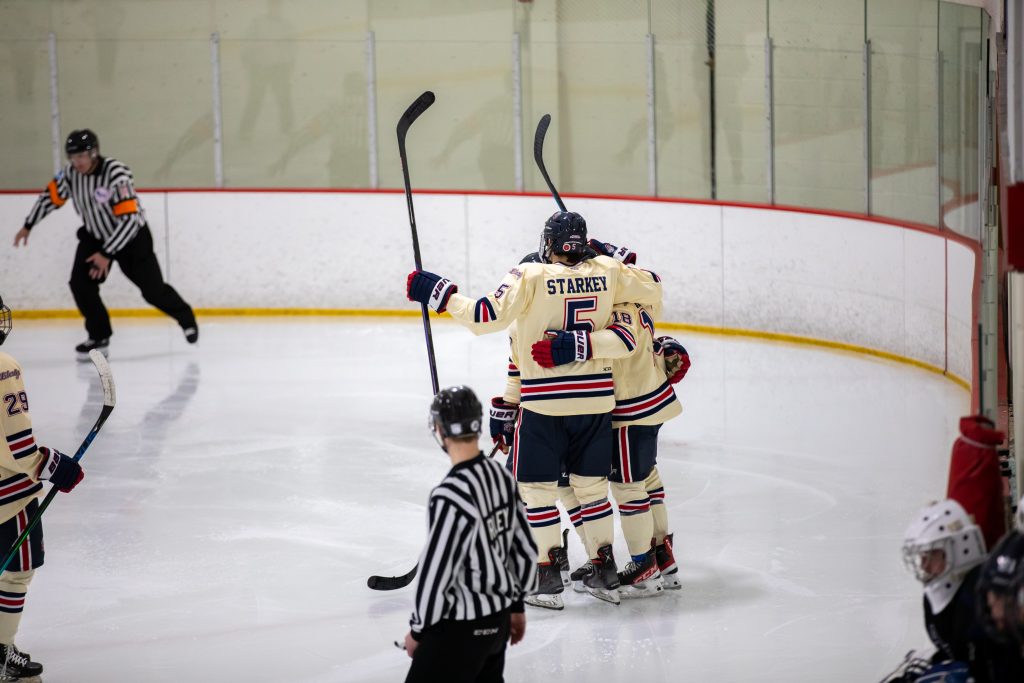 Norwinski was the first to find the back of the net for the Flames, but three more would add their names to the scoring column by the game's end. Freshmen Joshua Martin and Nathan Mulder, who play forward and defense, respectively, both scored in the second period, pushing the Flames' lead to 3 by the end of the second.
The Aggies, who had been previously shut out by Northeastern in game 1 of pool play, were desperate to score their first goal of the tournament in the third period, but the only one to score in that period would be Flames freshman forward Thomas Kayner. Kayner, who scored one of the two Liberty goals in the team's loss to Iowa, tallied two more goals for himself in the final period against Utah St.
After this win, there really isn't much left for this Flames team. They face off against Northeastern in their final game of pool play, but because Iowa has beaten both Liberty and Northeastern, and Utah St. has yet to win a game, Iowa has closed the door on the rest of the pool and taken away their chance to advance to the Final Four of the ACHA Nationals.
"We did what we had to do," Hughes said. "And that was win the game and not get scored on. We set ourselves up to move on to the next round, had that still been our fate, you know. (I'm) proud of just what we did today."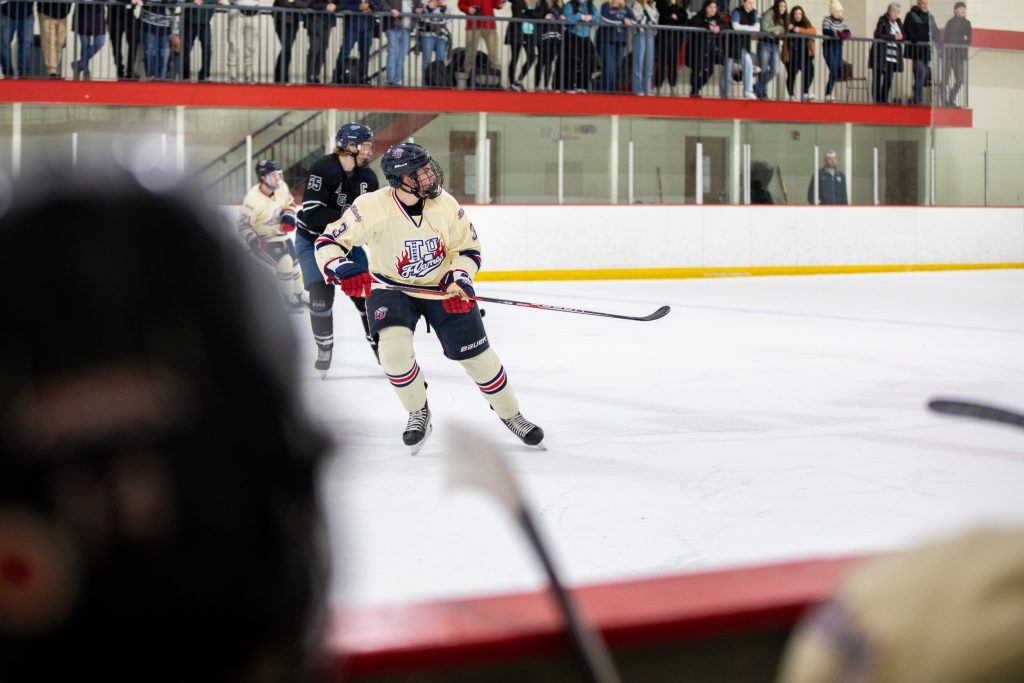 The Flames face off against Northeastern in their final game of this 2022-23 season Sunday, March 19, at 8:15 pm. The game will be streamed on Hockey TV.
Palsgrove is the asst. sports editor for the Liberty Champion. Follow him on Twitter