Have you seen these plastic masterpieces on campus?

Have you seen or been startled by life-size plastic statues of Mike and Sully, Maleficent, graceful ballerinas or Darth Vader? So has the rest of the campus.
Students in Professor Todd Smith's sculpture class have placed these realistic creations of plastic statues around campus. Each year, several Liberty students devote themselves to recreating famous paintings, movie scenes and figures from age-old classics.
Smith, the founding chair of the Department of Studio & Digital Arts and professor for Sculpture 1 and 2, enjoys watching his students interact with their work.
"It's a project we've been doing here for at least 10 to 15 years," Smith said. "One of the goals of this project is to give students experience working together, among other goals."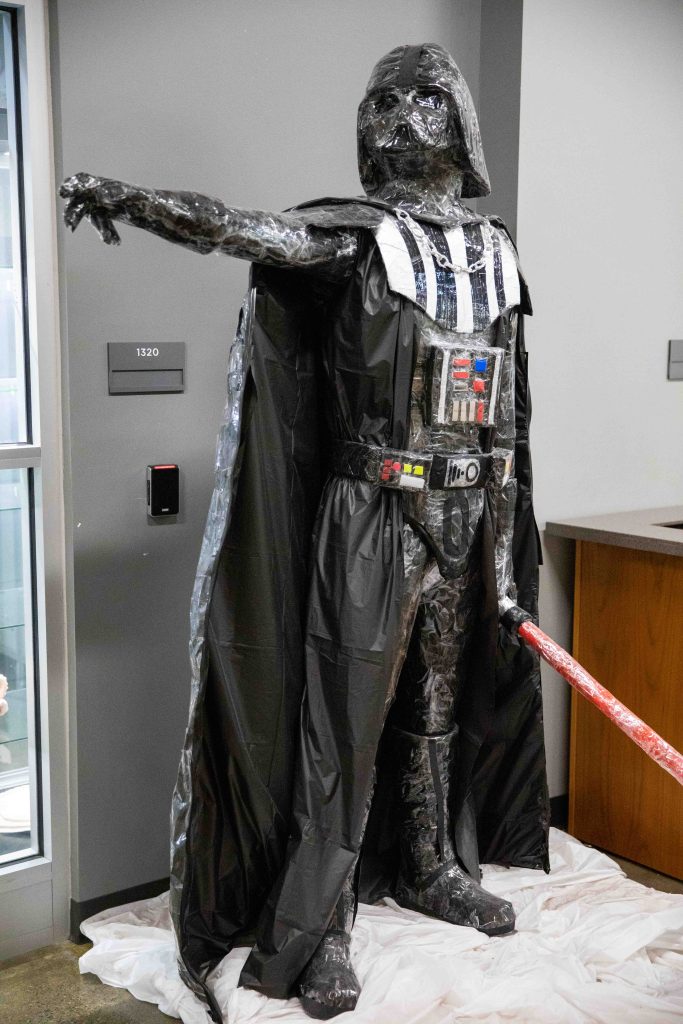 Smith assigned his students into groups of three to four people with a month-long time frame to complete the project. The requirement for the assignment consists of students working with their classmates to formulate a proposal, design and draw the concept on paper, and finally, make the vision tangibly come to life. The statues could be anything from a well-known work of art, a movie poster or a scene from a movie.
"It's a team effort," Smith said. "It involves lots of problem-solving techniques, or as I like to call them, visual opportunities awaiting a solution."
Smith encourages his students to see whatever obstacle they face in their project, or even in their academic journey as a whole, as opportunities for growth and to strengthen their resolve.
"God has given us the talent to start with, and this visual solution is awaiting us to solve. That is how we viewed these sculptures," Smith said. "You have the God-given talents and the ability to solve these things as they arise, but the last step is the application."
Sculpture students had to apply what they learned in class, the materials, the presentations and their God-given talents to create a piece that creatively articulates who they are and what they enjoy. Smith believes that the quality of the students' work is excellent. He believes that each piece intrigues the imagination.
"(Imagination) is one of the most powerful elements about this project," Smith said.
"When the students walk into the classroom, I want them experience an environment of worship," Smith continued. "I want the students to feel like they can use their talents in that time and space as an act of worship. People generally think of music or singing as the only forms of worship, but the act of dedicating the mind and hands for God's glory is an act of worship."
Students made each statue from packing tape, plastic wrap and a pre-made base that helps keep the figure stationary and upright. Some sculptures are positioned around Green Hall while others were moved to the Jerry Falwell Library by the students. The sculptures are held in the library for a certain amount of time before students can request to keep them or have them remain at the library.
For more information on the Studio & Digital Arts programs, visit their website.
Merritt is a feature reporter for the Liberty Champion