A Flames five-peat: Women's D1 hockey wins ACHA National Championship

They've done it again. For the fifth time in as many years, the Flames' Women's D1 Hockey team is ACHA National Champions.
On the afternoon of Monday, March 20, the Lady Flames entered the ice against the Minot State Beavers, vying for the privilege of hoisting the trophy and calling themselves back-to-back-to-back-to-back ACHA National champions. Exactly two hours and four minutes later, the Flames stormed the ice in celebration as the clock hit zero, and they won 3-2.
"You know, I can't even really explain it, but God allowed us to have this moment, and I don't know why," Flames Head Coach Chris Lowes said postgame. "You know, we told the girls 15 hours ago we were down 4-1 in a semi-final. We lost one of the heartbeats of our team in (junior right wing) Carly Glover to a season-ending injury, and (senior center) Yannick Truter can't even hold a pencil. And yet (Truter) scored our overtime winner (against Adrian), and she hasn't shot a puck in practice in two months. There are just so many incredible things, and I'm just proud of the girls. They found a way."
The Flames certainly found a way, in large part due to the contributions of sophomore defender Madison Glynn. Glynn, who entered the Championship game with five goals on the season, was solely responsible for the Flames' goals in this game. Of the three goals the Flames scored, every single one of them came off her stick, giving her her first hat-trick.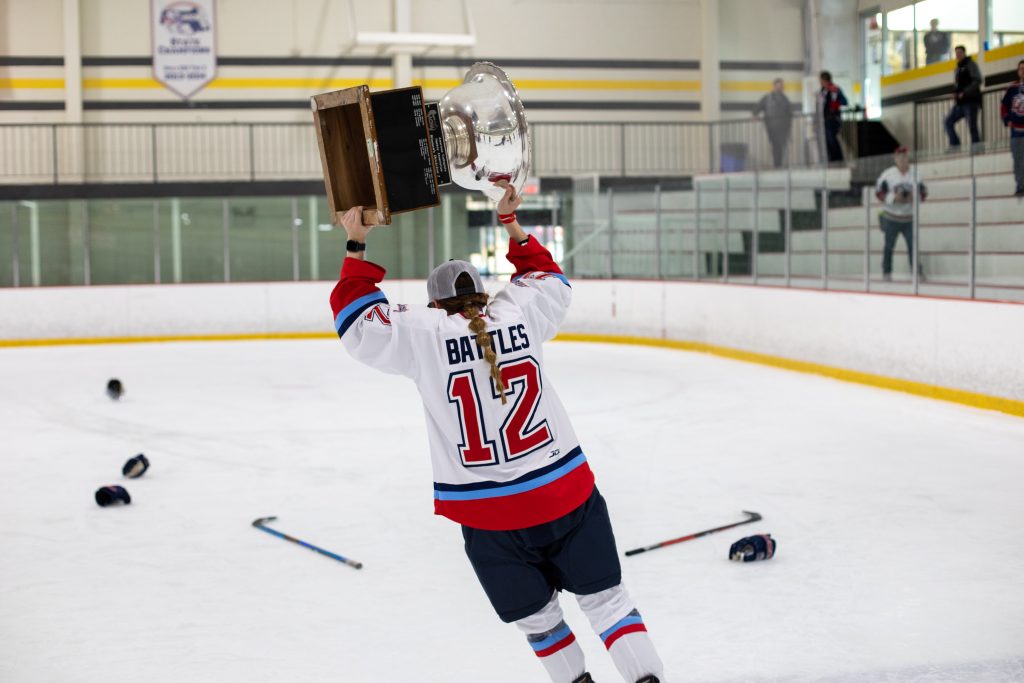 "I've never got a hat trick in my life before," Glynn said. "I wasn't expecting it, but things were rolling, and it went in."
With her incredible performance on the ice, the ACHA named her the D1 Women's ACHA Championship MVP. Glynn may not have been expecting to tally her first hat trick in one of the most important games of her life and to walk away with some new hardware, but her coach and her teammates weren't surprised.
"That's Maddie, and I'm not surprised," Lowes said. "That doesn't surprise me at all. I was talking to her last week, and she told me she's got four goals in her. And, like, I thought, yeah, that's about right. We play three games; she'll get one a game. And she's been such a weapon for us. And to see her have success (is incredible). She's (still) young (too). It's her second year, but she's established herself as one of the best defensemen in the country, and I thought she just played with an incredible confidence."
"She's insane; she's amazing," junior forward and assistant captain Brityn Fussy said. "She surprises me every day, but if anybody deserves that, it would be her. She works so hard every single day."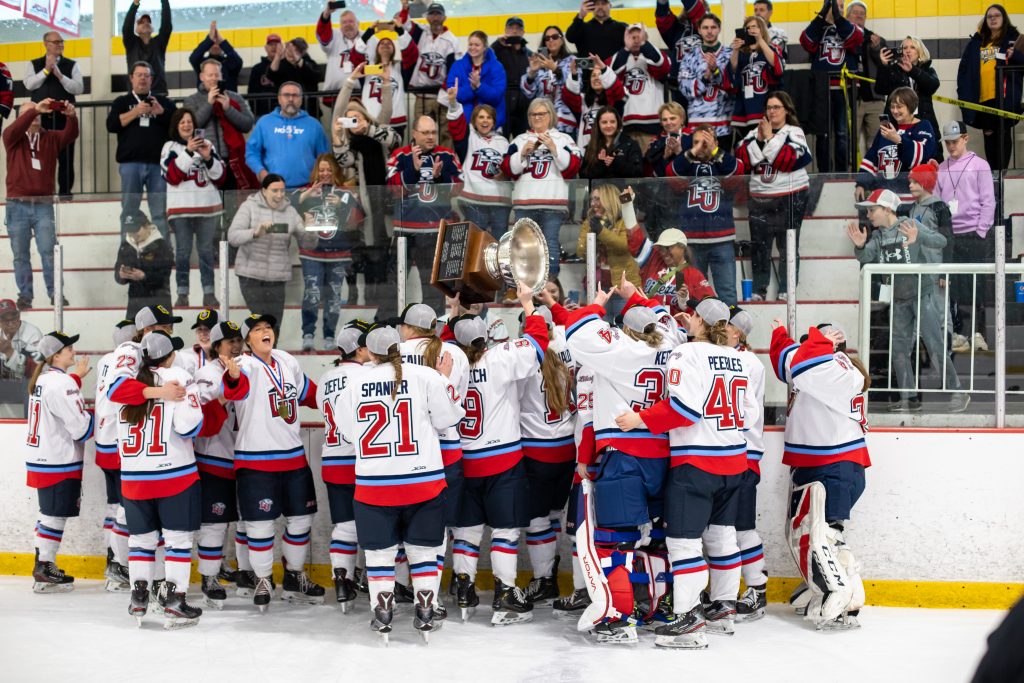 This game started like any other, but the energy each girl brought to the ice was palpable. The Beavers struck first, sending a shot back of the net on the powerplay. As the first period was winding down, the Flames would have their own power play, and Glynn would take full advantage of that, scoring in the first three seconds of the advantage.
In the second, the lone goal came again off the tape of Glynn, as she rocketed the puck off the right post to give the Flames, and herself, the second goal of the afternoon.
In the third period, it seemed as if the Flames and the Beavers had locked horns, and it was a question of who would flinch first. Would the Flames score the back-breaker, or would the Beavers find the equalizer? Glynn answered that question by scoring her third goal of the game and locking up the hat trick.
The Beavers would score one more time with 3:32 left to play, but it wasn't enough. As the clock hit double zeroes, the gloves came off, the cheering started, and the celebration began.
Bradford and some of the other veterans have won five straight championships, but, according to them, there's something different about this particular group.
"I mean, honestly, it is special," Flames' captain and grad student Shelby Bradford said. "We had people from all over, like, we had girls from different age levels. We don't really face a lot of adversity, so battling back through that and just working hard every single day, every single girl gave 100% of their effort every day. And that is something that, as a captain and as a 6th year, I'm very proud of."
"This year has been really special," Fussy said. "Especially coming off of (our trip to) Finland and just going through spiritual warfare with that and overcoming adversity is just amazing."
The Lady Flames have capped off another incredible season with a national championship, and though this team has been the one to hoist the trophy for the past five seasons, that didn't take any of the excitement or joy out of this victory.
"Oh, my gosh. I prayed for this every single day, and I couldn't be more blessed, and it's all God's glory," Fussy said. "I am so blessed with this team and sad to see this be the last one for me, but I know they're gonna do great things."
With the end of this Flames season comes the end of some of these players' time on the ice. Bradford, the captain of this team and who's been a part of this team for each of its five national championships, will be hanging up her skates as this season comes to an end.
"Having five under my belt is something that, honestly, I'm blessed for," Bradford said. "I've been blessed with a bunch of great teammates that have helped me do it along the way, and it's something that it's an amazing feeling. So I'm definitely happy with our group and happy for the outcome."
Bradford is not the only Flame who has played her last game. Bradford, Fussy, Truter, forward Danica Polson, forward Linzy Jedrzejek, and defensemen Aislyn Stretch and Julia McDonald have all just completed their last season with the Flames.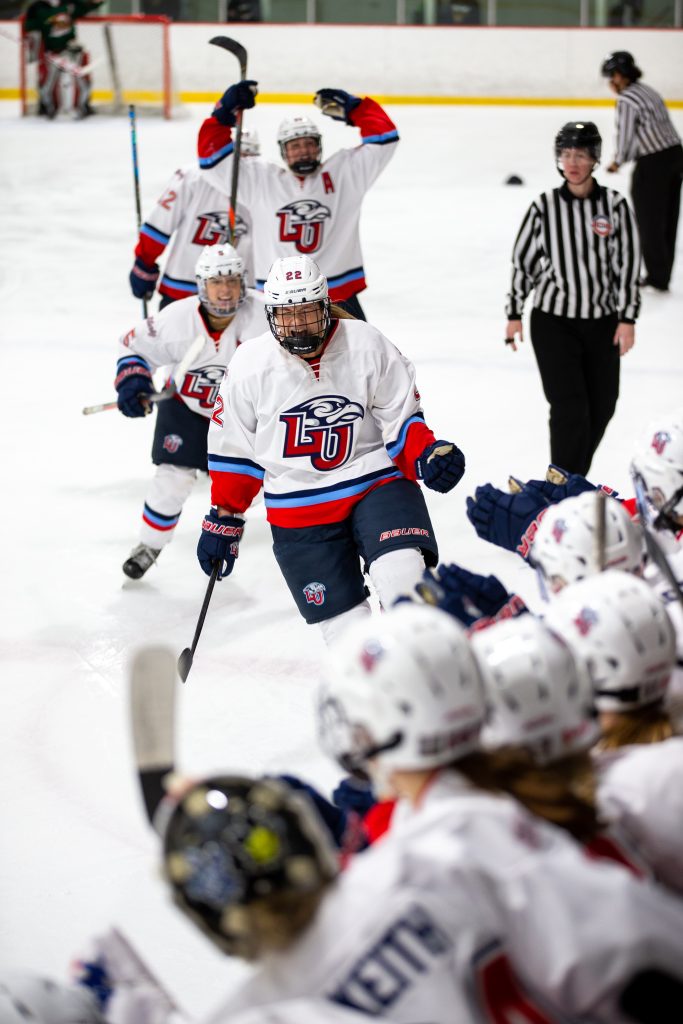 Though Coach Lowes' main priority is the result on the ice, he made a point to thank all those who support his the team.
"(There are) just so many people in addition to our three coaches and our team," Lowes said. "But all the support people and ATs and people back at Liberty, they're all so important to what we do, and (I want to) just make sure that they feel that they won the title too."
Palsgrove is the asst. sports editor for the Liberty Champion. Follow him on Twitter