One professor's story of her move across the world
From mainland China to Massachusetts to Lynchburg, Virginia,  Yan Xie has come a long way from where she started. An associate professor of Mandarin Chinese at Liberty University since 2009, and full professor since last year, Xie spent the first 33 years of her life on the other side of the world in China. 
"I worked hard in China," Xie said, but she ended up wanting to leave because she felt that her future was "more at the mercy of factors other than mine."
In moving to the United States in 2001, she noticed the difference in opportunities right away. In China, "social networks and relationships weigh a lot for your career development," she said.
"In America, I feel that how much you perspire is how much you will be rewarded," Xie said.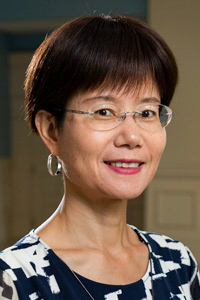 Throughout the upheaval and changes of moving to another country across the world, Xie's faith is one of the few things that remained constant. As a Christian in China, she "went to a house church every week," hosted by a sister in Christ. It wasn't always easy, with Xie and her family traveling "for more than an hour to get to her house to meet." But for Xie, it was all worth it.
"The church family (was) very loving," she said. "Every Sunday after service, we ate lunch together. We didn't want to say goodbye until we had lunch fellowship."
Now here at Liberty, Xie said that she loves the way that the "LU family encourages us to focus on the Lord," explaining that this makes teaching at Liberty different from other places because "here, you have support to apply a biblical worldview."
It is Xie's faith that ultimately led her to become a teacher. Xie said that she dreamed about being many different kinds of things when she was young, but being a teacher was never at the top of the list.
It wasn't until she was in college that she began to love working in academics, for two reasons.
"The first reason," she said, "is I love reading and exploring knowledge."
Her biggest reason, though, is that "teaching is a job where you can support young people in their growth of mind, knowledge, character and faith." Her faith drives her to teach. She said that she once heard the saying "teachers are soul engineers." Xie believes that "Jesus is the greatest teacher," and the "only soul engineer. I want to follow him in teaching my students."
In 2006, her family moved to Lynchburg from Massachusetts, and once again, Xie found herself experiencing a cultural shock by moving from northern to southern America. She said people here use different words to express the same concepts, speak in accents and bake in different ways. Though she said that she loves both places, Liberty University makes Lynchburg special to her.
"It is not just because it is the largest evangelical university in the world," Xie said. "It is more because of its mission of training Champions for Christ."
One day, a student majoring in engineering at Liberty talked about an idea percolating among professors.
"The student told us that the modern languages department intended to offer Mandarin Chinese and suggested that I write to the department chair," she said.
Xie did, and the rest, as they say, is history.
"I am thankful for the opportunity to serve at LU," she said.
The pilot program of Mandarin Chinese at Liberty began in 2009. Since 2012, it's grown to be an official program offering a Chinese minor. Fourteen years later, Xie is still here and is grateful for all she's experienced. She will continue to lead students as they explore a new language.
Perez is a feature reporter for the Liberty Champion