Lynchburg Dance Connection will feature dozens of teams in showcase

For some, childhood dreams die away and lie forgotten, but for Alisha Dixon, hers lives on in her company, Lynchburg Dance Connection.
Dixon, who graduated from Liberty with a bachelor's degree in sports management, pursued her childhood dream, which led to the founding of Lynchburg Dance Connection and to the spread of community, unity and a love for dance in several cities.
Dixon grew up in upstate New York and started dancing at the young age of 3. By age 10, all she wanted to do was dance with her friends. This dream is what inspired her to launch a dance company.
"I always wished there was a way we could dance together, but also at our own home studios. I wish we could come together as a community and be strong together. We had so much talent and would be such a force together," Dixon said.
The story behind her dance company is one carefully planned and written by God. Dixon graduated from Liberty in 2013 and moved to Los Angeles in 2015 to pursue a career in acting. When that did not go as planned, she felt God calling her back to Lynchburg to start a dance company.
"I had a dream when I was 10, went to LA and just felt … like I was living literally somewhere where I had always wanted to live, but it was such an empty (feeling). I just felt like God saying 'No, you need to go back to Lynchburg and you need to do this company now,'" Dixon said.
Dixon desired to start a company for college students to take classes, learn and connect with other dancers in the area. Helping dancers figure out their next steps brought much joy to her. She founded her company in 2017, and she eventually moved into creating another location in upstate New York, and now a location in the town she calls home, Charlotte, North Carolina.
For the past five years, Dixon has run the Lynchburg Dance Connections showcase. This event features diverse groups of dancers who want to show their talents to the community. Dixon said the invitation is extended to any and all dancers if they choose to accept. Currently, there are over 200 dancers in this year's show.
While there are several Liberty dance groups that perform, Dixon said this is not a Liberty-only event. She wanted to allow others in the area, and even those in distant cities, to be able to have a chance at showing off their talents.
"It's a night of just dancing — celebrating each other," Dixon said. "It's a good networking, connecting, and it's a good opportunity for the college dancers, especially the choreographers, to get to meet different studio owners in the area so they can potentially get hired at these studios in the future."
This year's show will be held in the historic theater at the Academy Center of the Arts on March 5 at 6:30 p.m. The theme of this year's show will be Icons. The inspiration for this year's theme sparked from performing in a dance group called D-Trex at a past Coffeehouse event with the theme being titled Legends.
The dance teams starring in the showcase are not meant to be rivals. In fact, Dixon makes it known that there are no awards given. Instead, scholarships are given at random at the end of the night.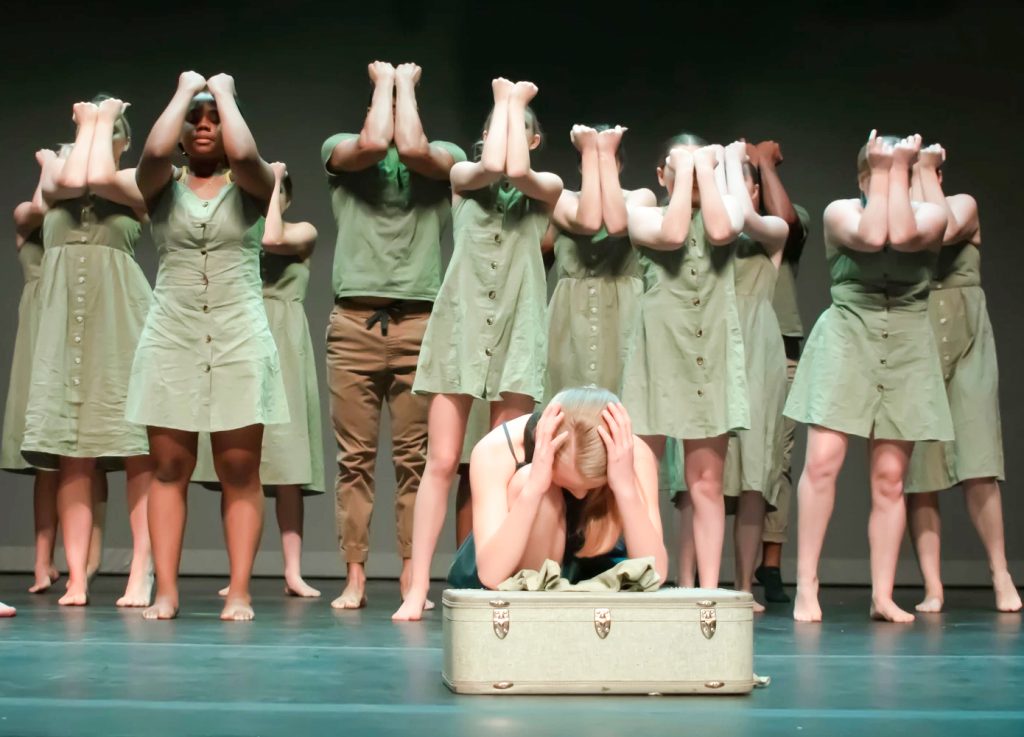 The company has a goal to raise $2,000 each year for the scholarships. The funds come from sponsors, dance fees and ads. Two high school seniors as well as two college seniors go home with the scholarships, which can be used towards anything the students desire.
"There are no awards," Dixon said. "It's just a night to come together for community and support. It's a really fun night."
When asked about the preparation that goes into such a large production, Dixon said the planning becomes easier every year. A lot goes into the careful planning and details of the event to make the night a good time for all.
Dixon wanted to create a company that celebrated one another through dance. She discussed how there is not enough of that in the industry, though Lynchburg has become a better place for the dance world. Dixon has had a positive experience working with others in the area to bring her mission to life.
Although the audience sees everything happening on the stage, they don't get to see the love the dancers have for one another back stage, Dixon said. The dancers cheering one another on from there and supporting one another are more important to Dixon than anything else.
"This is really a night of community, and the Lynchburg community has so much to offer," Dixon said. "In a world where dance could be so competitive and, you know, judgy, it's just a night to celebrate each other, and I don't think there's enough of that in the industry."
Performing groups this year are:
Averett University Dance & Cheer Teams
Divine Dance Company
Divine Dance Call
D-trex Dance Crew
Ecclesia School of the Arts
Forest Dance Academy
Kyla Hull Gift of Dance Scholarship
Liberty University Dance Team
Lynchburg Elite Dance
Lynchburg Tap Project
Masterworx Theater
Rhythm Tap
Seven Hills Dance Studio
With LDC's 2023 featured Choreographers: Hailey Johnson and Shania Lee Thorpe
Tickets to the show can be found at their website.
Denny is a feature reporter for the Liberty Champion