Branham brothers share the LAX field for the first time

Brotherhood — a term used by sports teams, churches and families alike. It has various meanings, yet always embodies the same idea of unity and sacrifice, rooted in respect and love. For two lacrosse players at Liberty University, this special bond of brotherhood goes beyond their blood relation and onto the field. 
Cooper and Luke Branham's love for each other surpasses that merely of a teammate. As brothers by blood, one would assume that the Branham brothers had played lacrosse on the same team before. However, this 2023 Liberty men's lacrosse season is the first time the Branham brothers have joined forces.
Pursuing a degree in commercial corporate aviation, Luke came to Liberty to play with his brother, and Cooper decided to stay a fifth year at the university to do the same while finishing his degree in sports management. Both the Branham brothers exemplify a genuine appreciation for each other and look to enjoy one last season together before life takes them their separate ways.
Much like most brothers, growing up under the same roof came with its ups and downs. Rivalries, conflicts and arguments define relationships between siblings from a young age. Over time, the Branham brothers were able to connect through their mutual love of lacrosse and sports of all kinds. Their competitive spirit drove each other towards success.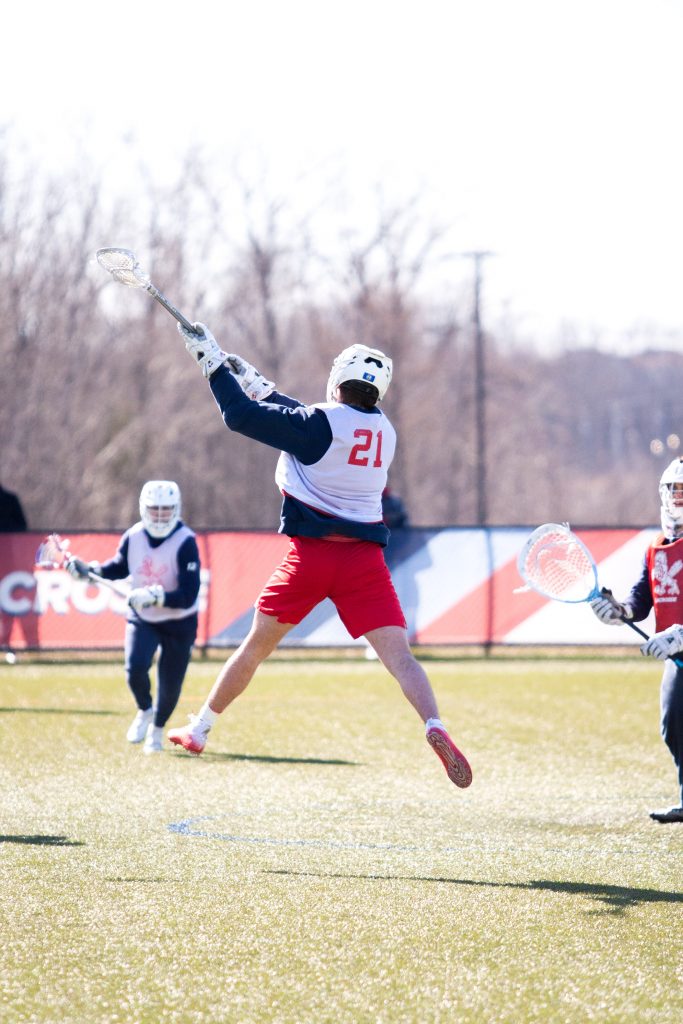 "Sports-wise, we definitely have pushed each other the whole time, especially me being the younger brother," Luke said. "(Cooper) always beating me made me a better lacrosse player … made me better at school, just made me want to work harder."
This unique bond between brothers creates a chemistry on the field, a crucial aspect in any team sport, especially one like lacrosse. Every year, Cooper adjusts to new players coming and going in the attack — players he must build chemistry with and earn trust with quickly to play well and win. Even though this is the first time Cooper and Luke have played on the same team together, the chemistry comes naturally.
"(Luke's) automatically someone on the field that I know I can count on," Cooper said. "I know I can trust him, and you might not always get that immediately with two new people on your attack line."
"Obviously, the trust feels natural," Luke said. "Being able to communicate if there's something wrong without there being any tension. You can call the person out without any hard feelings."
For Liberty lacrosse, Cooper is the glue that holds the team together. He is a stable and reliable player, who has built his reputation throughout his years on the team. Head Coach Kyle McQuillan, now in his 13th year with the Flames, praised the 6-foot-3-inch senior for his decision to stay an extra year to play with his brother and expressed his appreciation for his consistency over the years.
"The most interesting thing is that I've seen a different level to Cooper since Luke has gotten here," McQuillan said. "Cooper is that guy that's on the field when good things seem to always happen. … I feel like he's always got a rabbit's foot in his pocket."
On the other hand, McQuillan looks forward to the future with another Branham brother.
"Luke is just as talented, but I think he's more methodical… he has spent his time and energy on developing his skills," McQuillan said.
As one Branham brother passes the torch to the other, Cooper's only advice for his little brother is to soak it all in.
"It feels like yesterday I was a freshman, so I would just say enjoy the moment you're in right now. Enjoy it because it doesn't last forever," Cooper said.
Luke, with the daunting task to follow the legacy of his brother, hopes to imitate Cooper while also blazing a trail of his own. The younger Branham brother emphasized how much he has enjoyed Liberty so far. The people, the team and the supportive community have made his transition to a Flame easy.
After playing three exhibition games since the new year, Liberty men's lacrosse starts its regular season against Temple Friday, Feb. 10 here on The Mountain. As a program accustomed to winning, this team has its eyes set on a national championship.
McQuillan hailed this team as "one of the more talented teams we've ever had." After losing to Clemson University last year in the conference tournament semi-finals and then to South Carolina in the MCLA national tournament, the Flames are primed for a rebound season.
Rivas is a sports reporter for the Liberty Champion. Follow him on Twitter