10,000 feet: Liberty's first ever rocket is getting ready to launch

Going to the top of the 275-foot-tall Freedom Tower can take your breath away, as it seems like you have reached the clouds. However, a group of Liberty students plans to take things a little higher. June 20-23, Liberty is taking things a lot further — 9,725 feet further to be exact — with Liberty University's first-ever rocket to take to the skies. 
The Liberty Rocketry team is currently working on a vehicle that will be launched in the Intercollegiate Rocket Engineering Competition taking place in Spaceport America, New Mexico. The event is the world's largest rocket engineering competition with over 180 schools competing from the U.S. and around the globe. The group hopes to bring the rocket to reach as close to 10,000 feet as possible. To give perspective, skydivers jump from around 10,000 feet.
With over 25 core team members and one faculty advisor involved, the rocket will be competing in the 10,000 feet, commercial off-the-shelf division, meaning the rocket is made from commercial materials.
The students also have an invaluable mentor to help them along the way — Mark Miller, a Lynchburg local with more than 30 years of experience in competition rocketry at the collegiate level.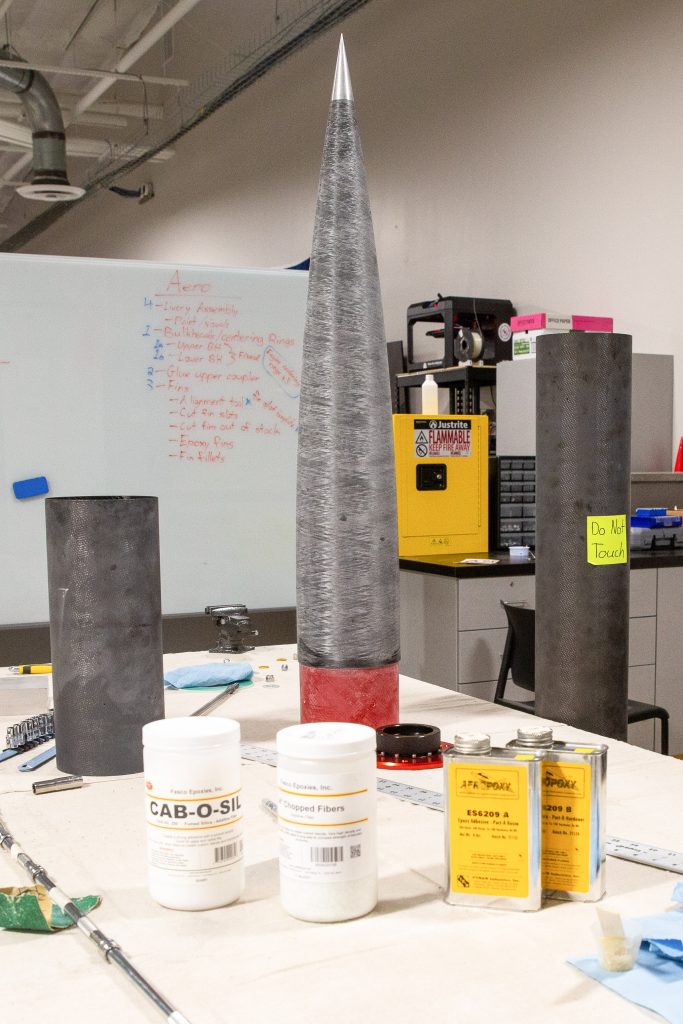 The rocket will be 10-12 feet tall, and the rocket body will consist of large carbon fiber and fiberglass sections, which make up some of the most expensive materials of the project.
Although the components of the rocket are "commercial off-the-shelf," the design, structure and planning for the vehicle is entirely unique and a product of Liberty Rocketry.
Some of the most prominent companies in the aerospace industry, such as Blue Origin, Virgin Galactic, Raytheon and Northrup Grumman, will sponsor the Intercollegiate Rocket Engineering Competition.
Liberty will be competing against a collection of other world-class engineering schools, including Virginia Tech, MIT, Purdue, Duke University, BYU and even schools from countries like Poland, Ukraine, Turkey, Argentina, Thailand and others.
Daniel Hembree, a junior mechanical engineering student and lead project manager for the team, expects the competition to be fierce and exhilarating. It will be Liberty's first time competing in an aerospace competition.
Hembree said the launch will look similar to a small-scale Apollo mission rocket-launch takeoff, with flames exploding out from the bottom, producing a sound powerful enough to knock someone off their feet.
"I've always been a huge space nerd," Hembree said. "It's something that I've just always fallen in love with — the awe and wonder of creation, how a God (who) created something so grand and so complex could be … so near and personal. That's always been something so mind-blowing. I just thought, why not try to explore that?"
The start of the project had humble beginnings when five to six people with a passion for aerospace wanted to dive deeper. Through time, research and much prayer, the members of that once small club grew to become a team of more than 25 core engineering and computer science students. The team working on the project is one of several teams comprised of the 200+ competing engineering students at Liberty. While these students are advised by faculty and other help, each and every part of the rocket is student built and designed.
Hembree said the Lord has led and blessed them in so many ways, but one of the biggest was stumbling through doorways of opportunity to connect with mentors from the leading edge of the industry. Hembree estimates the project costs will come out being several thousand dollars on materials alone, which will be predominantly funded by the university. However, the team has also received funding, support and other resources from other universities via Liberty's Students for the Exploration and Development of Space chapter known as Liberty Space.
"We're going to launch, and every system has to work together to ultimately meet the performance of the whole project, and that's really high stakes. … Students have really got to know their stuff," Dr. Tate Fonville, the faculty advisor for the project, said. "They've got to really be on top of it. … It has to perform well, and they have to repeat it in New Mexico."
Fonville said that competitions like this and companies like Virgin Galactic, which is hosting the competition at its Spaceport America facility, are raising up the next generation of aerospace engineers to lead the technological charge in human space travel.
"They aren't just building these little backyard rockets; these students are doing actual rocket science. But I think what's harder than that is that they're doing rocket science and rocket engineering, which is when you need to know rocket science to apply those concepts," Fonville said. "A lot of times, you'll see students doing stress calculations, and they're fabricating these components for … high energy high stress, a concept they haven't even taken a class on yet."
Beyond the logistics and the science, Hembree said that God has truly led them each and every step of the way. At every struggle, God has paved the way for them to succeed, even during times when they felt like giving up.
In the world of STEM, Hembree said there are countless people who don't know Jesus, and next to no other schools will proclaim the name of Jesus
at competition.
Hembree said their goal is to produce the best rocket possible, pursuing diligence and excellence to honor God's handiwork and give him the glory he deserves. They plan to announce onstage in front of the competition that their efforts have been for God's glory, and they would most definitely not be there without his sustaining peace, astounding providence and boundless wisdom.
The first test launch for the rocket will be on March 25 in Culpepper, Virginia, and it will be shown on Liberty's social media. To read more about the Intercollegiate Rocket Engineering Competition, visit www.soundingrocket.org/what-is-irec.html.
Lechner is the social media and web manager for the Liberty Champion. Follow her on Twitter