Local Lynchburg artist captures nature

Rodney Laughon, a local artist, never expected to make the leap into art. Laughon's career shifted gears when he was in his 30s after helping his son with an elementary school project. What began as a few suggestions and assistance with the acrylic paint turned into a part-time endeavor and then an eventual early retirement from his previous career at a natural gas company.
Laughon did not receive formal training but instead taught himself to paint. He began learning by picking up supplies such as acrylics, watercolors and oils and experimenting with them. He read many books and visited galleries and museums to study other artists' work, including that of the Hudson River School painters.
He describes his style as realism but not photorealism. For Laughon, details are the key.
"When I would draw in church, drawing on the bulletin, … I would draw little detailed things. And in school, instead of paying attention, I would draw something on a card or book or something," Laughon said. "I like detail in a painting. I think it kind of helps to tell the story."
Another hallmark of Laughon's paintings are his landscape scenes, particularly the mountains of Virginia and North Carolina as well as natural landscapes of states like Oregon.
He enjoys capturing the changing light outdoors.
"I think that's what a lot of painting is — just painting the light," Laughon said. "Like today, for example, it's just kind of misty and mysterious and gray, and that has some beauty to me too."
Whether locally or during his travels across the country, Laughon paints on-site, packing all of his necessary supplies in a backpack. Although the majority of his work is completed in the moment, he also has a shared studio in Lynchburg where he can add any finishing details.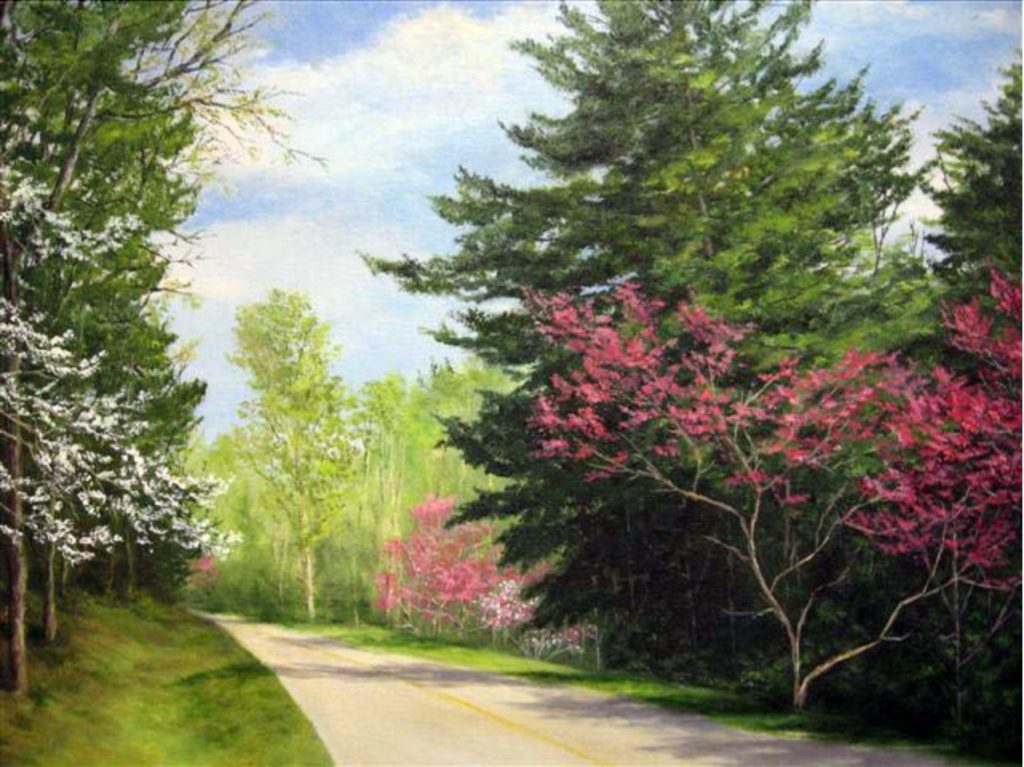 Laughon is part of a thriving community of artists in Lynchburg and the surrounding areas. For example, he is one of five members of the Blue Ridge Plein Air Painters, a group that has held several shows at Liberty University over the years. Laughon is currently featured in a gallery called Findings Art in the Boonsboro shopping center.
He also teaches at the Templeton Center as part of Lynchburg Parks & Recreation. Laughon enjoys sharing his knowledge with others through teaching and encourages those interested in art to begin by just getting started with simple supplies such as acrylics or watercolors. He views learning as a lifelong process and sees his abilities as a God-given gift.
"I just know (God) has blessed me in this way because I would have never, never thought that I could do this. … You always try to stay humble, but I'm just in awe that I can do this. It couldn't possibly come from me," Laughon said. "I guess it's like a lot of things about God. It's a mystery."
For more information and to take a look at Laughon's work, visit his website at http://www.rodneylaughon.com/.
Malanowski is a feature reporter for the Liberty Champion