A list of Head Coach Jamey Chadwell's complete on-field coaching staff
With the offseason in full swing for Liberty football, Head Coach Jamey Chadwell has officially moved in, and his on-field coaching staff is now complete. Chadwell announced the hiring of his staff Jan. 6, and while there are 11 new additions to the Mountain, the list also bears some familiar names. Jack Curtis will be remaining with the Flames in 2023 as the co-defensive coordinator and safeties coach after guiding a group that led the nation in tackles for loss and ranked No. 3 in sacks this past season. Robert Bala will also rejoin the staff as the linebackers coach after serving as a defensive analyst in Hugh Freeze's final season at Liberty. The remaining 11 on-field coaches, however, are new to the Hill City, and they all hope to multiply the success Liberty football has seen in seasons past.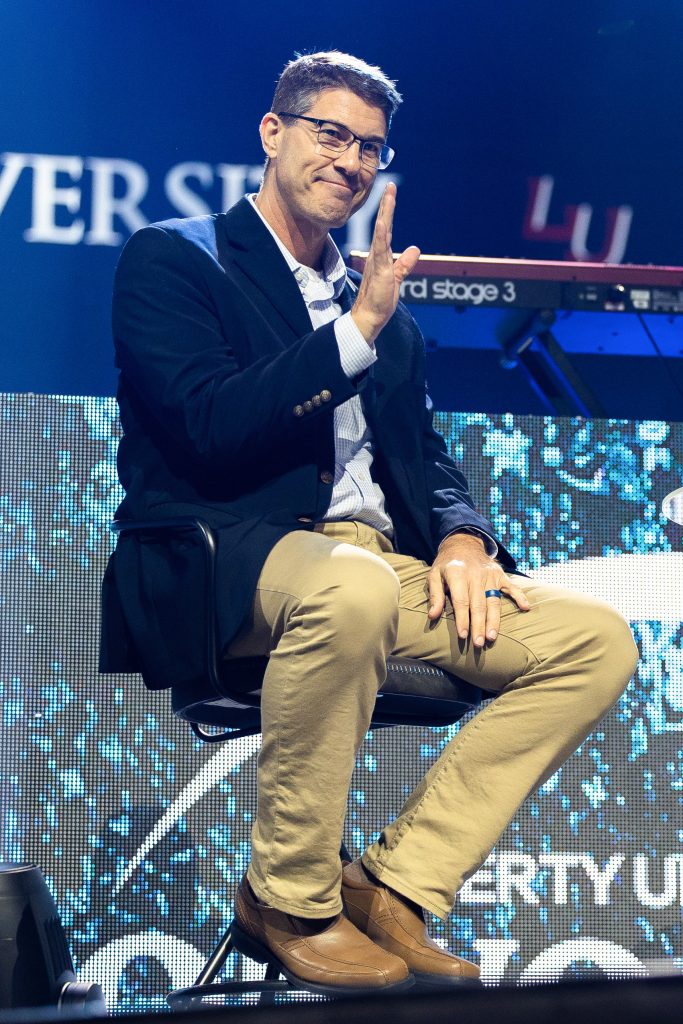 Willy Korn: Co-Offensive Coordinator/Quarterbacks Coach
After spending his entire coaching career under the leadership of Chadwell, Korn will make his way to the Mountain as the co-offensive coordinator/running backs coach.
Korn got his start at Charleston Southern as the wide receivers/receivers coordinator from 2013-2016, before finding a home in Coastal Carolina for the next six years. He spent one season as the receivers coach before being promoted to co-offensive coordinator/quarterbacks coach. Just one season after his promotion, Coastal Carolina took an unbelievable leap from 5-7 in 2019 to 31-7 over the next three years.
Korn is known for his orderly offense, one that led the nation in team passing efficiency (192.01) and No. 6 in rushing offense (228.8 yards per game) in 2021. Now, Korn will resume that same role for the Flames in an effort to take the offense to new heights.
Bill Durkin: Offensive Line Coach
The trenches of Flames football now belong to Bill Durkin, who brings over 20 years of coaching experience to Lynchburg. Prior to his eight-year career with the Chanticleers, Durkin held numerous roles with programs such as Bowling Green, Hofstra, Richmond and UMass.
Durkin also had experience coaching at a number of positions with the Chanticleers, spending four years with the running backs and two with tight ends and offensive tackles before moving solely to the offensive line from 2020-22.
The Stratford native experienced heightened success in his single season at Coastal Carolina, with an offense that finished the 2021 season ranked No. 1 nationally in average yards per rush (5.84) and in third-down completion percentage (53.8%), while ranking No. 2 nationally in yards per play on offense (7.74).
Cody Ladutko: Tight Ends Coach
Having spent the majority of his coaching career at Coastal Carolina, Ladutko now makes the transition to Liberty, where he'll operate in the same role he did in 2022.
After serving in numerous roles in the Chanticleer's offensive staff from 2018-2020, Ladutko worked specifically with tight ends in 2021 before making the official move to tight ends coach in 2022.
Under the coaching of Ladutko, former Coastal Carolina tight end Isaiah Likely had a successful season that included All-Sun Belt first-team honors in 2020 and 2021, along with FWAA All-America second-team honors in 2021. In his senior year, Likely posted 59 receptions for 912 yards and 12 touchdowns, which led to the Baltimore Ravens selecting him in the fourth round of the 2022 NFL Draft.
Before pursuing his coaching career, Ladutko played professionally in Europe for the Orebro Blacks Knights (Sweden) in 2011 and Cannes Iron Mask (France) from 2012-2013.
Tony Washington: Passing Game Coordinator/ Wide Receivers Coach
Following his 2022 season spent as the wide receivers coach at West Virginia, Washington will now reunite with Chadwell in the Hill City. Washington was a member of Chadwell's staff at Coastal Carolina from 2020-21, helping drive the Chanticleers explosive offense to a 22-3 record in those two seasons.
At West Virginia, Washington's receiving corps had an exceptional season, with three wide receivers finishing 2022 with 500+ receiving yards. In addition, he coached wide receiver Bryce Ford-Wheaton to All-Big 12 second-team honors, posting 62 receptions for 675 yards and seven touchdowns.
As a player, Washington spent three years in the NFL, where he spent time on the Colts, Jaguars and Patriots rosters. Now, the 32-year-old joins forces with Chadwell once again to bring his successes to the Mountain.
Skylor Magee: Co-Defensive Coordinator/Defensive Line Coach
After previously coaching for nine different programs, Magee joins the Flames coaching staff to take over a defensive line group that ranked among the nation's best in 2022.
Magee first got his feet wet in the coaching world at South Carolina and Nichols State, where he served as the graduate assistant and defensive line coach. It wasn't until North Greenville in 2009, however, that Magee would first cross paths with Chadwell.
Magee worked with Chadwell at North Greenville, Delta State and Charleston Southern before a four-year stint with the Chanticleers from 2019-22. In his time at Coastal Carolina, Magee would mentor three All-American linemen in Tarron Jackson, C.J. Brewer and Josaiah Stewart.
Chad Scott: Director of Football Speed, Strength and Conditioning
Scott joins the Flames staff after five years with the Chanticleers. In those five years, Scott proved to be successful, helping the team to a 31-7 record, a top-25 ranked offense and three-straight bowl game appearances.
In 2020, Scott was recognized for his achievements in Conway with the title of Football Scoop Strength and Conditioning Coach of the Year. He also worked closely with Chadwell at Charleston Southern prior to Coastal, where the Bucs won a number of Big South Conference Championships. Scott has experience working with athletes in numerous sports outside of football, including basketball, softball, tennis and golf.
Kyle Krantz: Special Teams Coordinator/ Outside Linebackers Coach
Spending the last 12 seasons coaching at five different SEC programs, Krantz is one of just two new additions to have not coached in Conway under Chadwell.
Krantz comes to the Mountain from Missouri, where he held the role of special teams analyst and coached a unit that blocked three kicks last season while not allowing a kick or punt block. His group also finished the season No. 1 in the nation in fewest kickoff return yards allowed per return.
Prior to his time with the Tigers, Krantz spent five years in South Carolina as a defensive analyst, special teams assistant/nickel and SAM linebackers coach and special teams coordinator/defensive backs coach. He played a role in the development of now-NFL defensive back Jaycee Horn when the cornerback was a true freshman in 2018. Krantz also spent time in Kentucky, Florida and Auburn.
Newland Isaac: Co-Offensive Coordinator/ Running Backs Coach
Coming alongside Korn as co-offensive coordinator is Newland Isaac, who has also had a long history with both Korn and Chadwell.
Isaac first crossed paths with Chadwell at North Greenville, where Isaac was the running backs/wide receivers coach. He would then follow Chadwell to both Delta State and Charleston Southern before venturing
to Albany State. There, Isaac would get his first experience as an assistant head coach and offensive coordinator. One season later, however, he would rejoin Chadwell in Conway to head the running backs group for the Chanticleers.
In 2019, Isaac was promoted alongside Korn to his current role as co-offensive coordinator/running backs coach.
The South Carolina native comes to Lynchburg as the 2021 AFCA FBS Assistant Coach of the Year and a 2021 Broyles Award nominee. His high-powered rushing attack at Coastal Carolina helped the Chanticleers secure their first three bowl appearances in the Cure Bowl, Birmingham Bowl and Tailgreeter Bowl. The most impressive offensive unit he led came in the 2021 season when Coastal Carolina outscored its opponents 532-281.
Dino Waites: Cornerbacks Coach
Liberty's secondary is now in the hands of Dino Waites, who makes the trip over to Lynchburg after spending 2022 as the safeties coach at VMI. Waites will take over a group that ranked 15th in the nation in interceptions and 19th in third-down defense.
Prior to his time at VMI, Waites was in Albany, Georgia, serving as the co-defensive coordinator and safeties coach at Albany State. It was here that Albany State claimed victory at the 2021 SIAC Football Championship, finishing the season ranked No. 1 in scoring defense.
As a player, Waites saw several successful seasons at Carson-Newman at safety, helping the team post a 10-1 record.
Cory is the sports editor for the Liberty Champion. Follow her on Twitter