Men's D1 hockey overtakes Stony Brook

The Liberty Division 1 men's hockey team completed the sweep over No. 7 Stony Brook in a weekend series Nov. 4-5. The Flames win streak sits at three, and this group has now picked up some much-needed momentum entering the midway point of the season.  
In Friday's contest, Liberty got hot early. It only took nine minutes for the Flames to get on the board twice, as they led early 2-0.
Going into the first intermission, Liberty held a comfortable 3-1 lead. However, Stony Brook started to gain momentum, going on a 3-1 run, tying the game at four with under 10 minutes to go.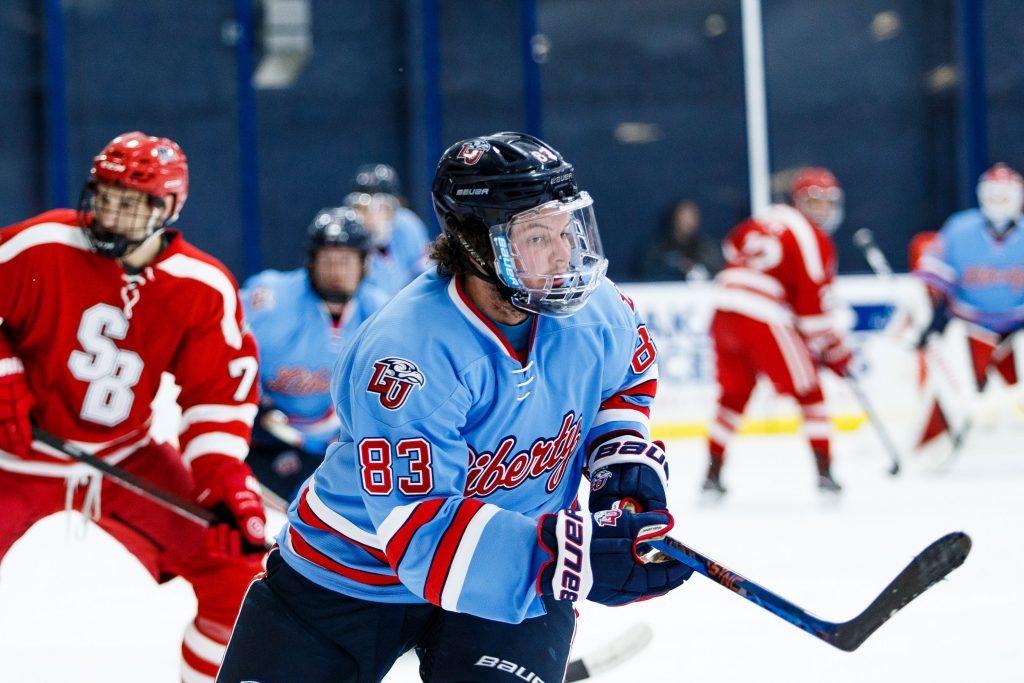 Two clutch goals from Colin Baird and forward Jackson Vercellano then gave Liberty a two-goal lead with under two minutes in regulation. Stony Brook managed to score once more, but not soon enough as Liberty would walk away the victors in game one.
Trying to bounce back from their tough defeat, Stony Brook got on the board early in game two, when Seawolves forward Michael Galinski put his team up 1-0.
It didn't take long for Liberty to respond, and they responded big. Freshman defenseman Lazarus Kaebal netted the equalizer on a power play at the 6:09 mark, with sophomore forward Truett Olsen scoring the go-ahead-goal just 27 seconds later.
Junior forward Jacob Kalandyk would stretch the lead to 3-1 in the second period, who put a backhanded wrist shot into the net.
When asked what sparked the Flame's change offensively, Handy said the team "hit the reset button and continue(d) to keep going."
Liberty's next two scores on the night came in the latter half of the second from junior forward DJ Schwenke and junior forward Kam Ottenbreit.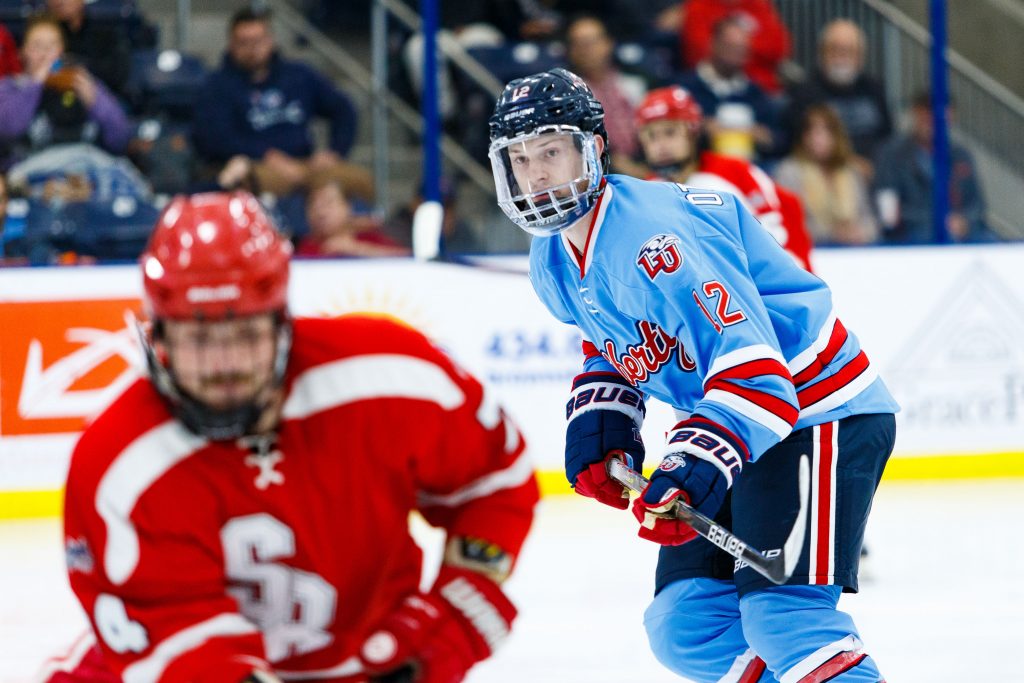 In the third, it would be freshman forward Sam Feamster and sophomore forward Jackson Vercellano who cemented the victory with two scores of their own, silencing the Seawolves and adding another win to the Flames record with a 7-1 triumph.
Head Coach Kirk Handy had high praise for his squad following the game, calling it a "statement win" for the team.
"Stony Brook is a good team, and they're big-time rivals," Handy said. "I think our guys executed at a high level, and that's key for us. It's huge."
The real hero of the night, however, was Flames goalie Hunter Virostek, who posted 41 saves and was designated the team's "star of the game" by Handy. Virostek now holds a save percentage of .920 on the season in 11 games played.
Liberty will look to continue its success on the ice next Friday when it takes on the University of Delaware in a two-game series Nov. 11 at 7 p.m.
Garrett is a sports reporter for the Liberty Champion