Lady Flames sweep RedHawks
The Liberty women's Division 1 hockey team faced off in a two-game series with its league opponent, the University of Miami (Ohio) RedHawks Nov. 4-5.
Returning to action at the LaHaye Ice Center for the first time in over a month, the Lady Flames were fired up to be back on home ice.
"It felt excellent to be back on our ice," sophomore forward Zosia Adamek said. "I think everyone was excited because it was only our second time this year playing back at home. We're also excited to get back to playing some league games."
The Lady Flames came to hit in game one, showcasing their intense speed. Graduate forward Danica Polson got the party started with a goal on Liberty's first shot of the game.
From then on, the dominance only continued for the undefeated squad.
Sophomore forward Brielle Fussy netted an unassisted goal at the 1:48 mark in the first period, her first of what would be five on the night.
"Obviously, it was a big night for Brielle to get five," Head Coach Chris Lowes said. "She may have had a hat trick last year, but never five in one game."
The ladies blew the game wide open in the second, which saw pucks from sophomore forward Haley Battles, graduate forward Shelby Bradford, sophomore defenseman Priscilla Ziefle and junior forward Rianna Spanier find the net. With a now 6-0 advantage entering the third, the ACHA powerhouse had no intention of slowing down.
Graduate defenseman Aislyn Stretch expanded the lead to 7-0 just 30 seconds into the third period, deflecting sophomore defenseman Madison Glynn's shot past Miami goalie Maya Gonzalez.
Brielle Fussy would then complete her hat trick at the 17:09 mark, followed by goals from sophomore forward Brityn Fussy, sophomore defenseman Sammy Peebles and two more from Brielle. The Lady Flames lit up the scoreboard, smothering Miami 12-1.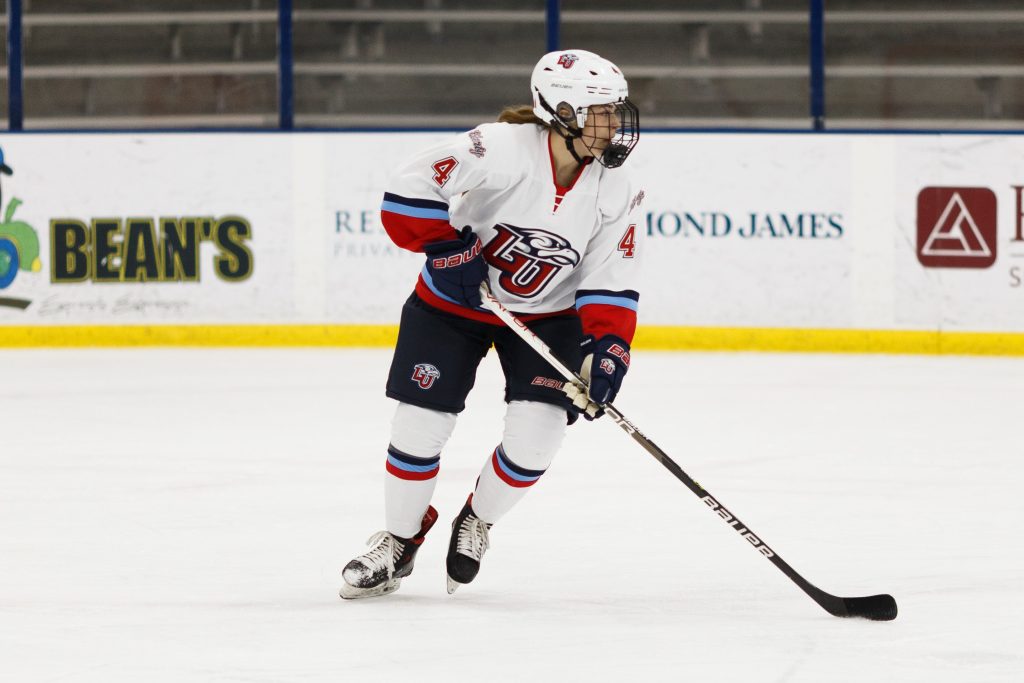 Liberty ultimately outshot the RedHawks 62-18.
"I think in the first period, both teams battled very hard," Adamek said. "But the second goals started popping in, we had all the momentum and didn't back down. We have a hardworking and fast team, so I feel it's hard to come back once we take control of the game."
The Lady Flames remain one of the few undefeated teams in the ACHA, something that Brielle Fussy attributes to their faith in themselves.
"Our team morale is focused, but we know how to enjoy our time and have fun while playing," Fussy said. "We are very confident but learn to be ready for any team in our league … Miami is a passive team, so it's easier to use our rate to control the game. Getting up on them right away gave us confidence for the next periods. Having a fast team is helpful."
While the night ended with sheer power from the Flames, Saturday's game was a completely different show.
The matchup was delayed by one hour due to a campus-wide power outage, which appeared to cause some disruption for both teams.
Conditions on the ice were less than satisfactory, due to eight hours with no electricity in the LaHaye Ice Center.
"(It was) a little slushy out there," Liberty Assistant Coach Justin Forth said. "It plays on the mental side of things. Instead of stickhandling, though you want to carry it, you should probably chip it, so it kind of makes you second-guess what you're doing out there."
The Flames were held to merely one goal, which is the lowest-scoring game the team has had this season. The only score came on the powerplay with 2:18 to play in the first period, when Battles sent the puck past Gonzalez from the right circle.
The Flames outshot Miami 68-20, with chances coming from Adamek, Brielle Fussy and Ziefle.
"Miami came out a lot stronger today and gave us a run for our money, but we came out with an important win," Adamek said. "It reminds us how we can never back down to any team and take no game lightly."
Brielle Fussy, after an astounding night-one performance, felt the team could have put a better product on the ice.
"Today's game felt a lot less controlled," Fussy said. "We bobbled pucks that we normally handle better, and our finish was not as good as yesterday. But it still felt good to get a win."
Flames' freshman goalie Alex Keith, however, had an impressive night, with 20 saves and her third shutout in four starts.
The Lady Flames will hope to continue their path of domination Nov. 11-12, when they face the Adrian College Bulldogs in Adrian, Michigan.
"I know Adrian's going to be good competition, so it's good to kind of get that close game under our belt so we can go in there prepared next weekend," Keith said. "They'll be closer games for sure, but we're just going to grind it out over the week in practice and prepare for them on the weekend."
Cote is a sports reporter for the Liberty Champion