Lady Flames stumble in season opener, fall to Richmond 69-48
The Lady Flames looked to open their season on a high note Monday, Nov. 7, but the Spiders from Richmond had different plans. 
Richmond took command in the second quarter and never looked back, defeating Liberty by a score of 69-48.
The Flames, led by Head Coach Carey Green, entered the season coming off an impressive 2021-2022 campaign. The team posted a 28-5 record and appeared in the NIT, where they fell to Vanderbilt.
Richmond, on the other hand, came in looking to improve after a lackluster 2021-2022 season where it finished 16-14. Going into his fourth season as head coach, Aaron Russell hoped to help his squad bounce back with a game one victory.
The Flames were favored in this matchup, and early on, they played like the better team. Liberty jumped to a 9-1 lead, thanks to a tough finish by Kennedi Williams and a banked-in 3-pointer from Dee Brown.
Although the Spiders made a run late to end the first quarter, the Flames still held a two-point lead and all the momentum.
The second quarter, however, did not go well for the Flames. Liberty struggled to get any of its shot attempts to fall, allowing Richmond to capitalize on the mistakes.
Spiders forward Addie Budnik played dominant. She was unstoppable in the post, a gifted passer and able to knock down shots from deep when called upon. In the second quarter alone, Budnik scored or assisted on 15 of the Spider's 18 points.
Despite a promising start, the Flames were down 10 at the half.
In hopes of sparking a run offensively, Liberty opened the second half by feeding the team's top scorer, Mya Berkman. Berkman was able to finish through contact and draw a foul, cutting the Richmond lead to seven.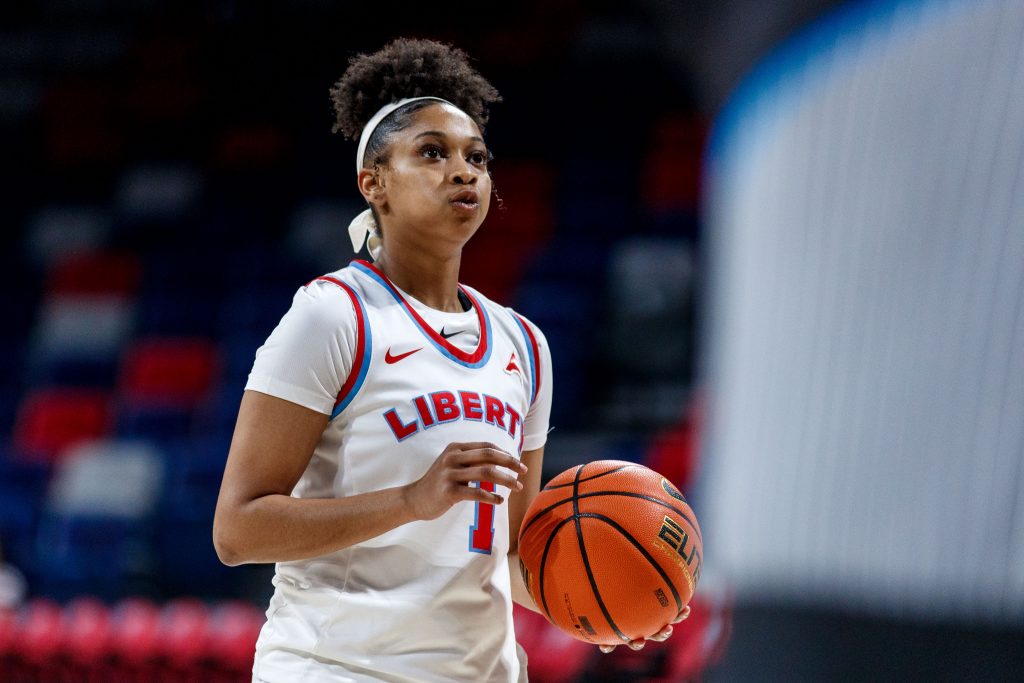 The Spiders wasted no time answering as they scored back-to-back buckets, extending the lead back to double digits.
Both teams traded shots throughout the quarter. However, Richmond was able to up its lead again to 19 points.
Liberty did its best to mount a comeback late in the fourth, but it was all too late.
The Flames finished the game shooting 29.6% from the field and 22.6% from beyond the arc.
"You want to make shots, and a lot of our shots today were rushed and more difficult than we made it for Richmond," Green said. "We didn't move the ball well enough to get open shots and consequently, we were getting tougher and contested shots."
Following the game, Berkman stressed this loss would not define the team.
"We have to play our game no matter what they're doing on defense … Liberty basketball is inside out. You kick it inside, beat them up inside, and then you get wide-open 3s," Berkman said.
Although it is a tough beat for Liberty, expectations remain high for the team. The Flames look to bounce back Nov. 17 when Hampton visits Liberty Arena.
Garrett is a sports reporter for the Liberty Champion. Follow him on Twitter