Flames hockey alum signs pro deal
Former Liberty hockey player Quinn Ryan is making his way through the minor league hockey system.
Ryan, who played for the Flames from 2016-2021, signed with the Worcester Railers in September. The Railers are the ECHL affiliate of the New York Islanders.
Now, with the season underway, Ryan is continuing to learn the pro-style game.
"Adapting more to the pro-style game – it's a fast-paced game," Ryan said. "There's a lot of skilled guys, a lot of big guys. It's just adapting to the pro game and pro-level mindset."
The transition to the pros was smoother for Ryan because of his years with the Liberty hockey program, including time spent in the summer working out with strength coach Chris Kerr.
Ryan, who led the Flames in scoring in 2021, looks back on his days in the Liberty hockey program fondly for all that it helped him accomplish.
"The Liberty hockey program meant everything to me and still means everything to me," Ryan said. "The staff there, the coaches, the players. It's life-changing, just not on the ice but in life in general, the people you meet and the connections you have there with everything centered around Christ."
A big part of the Flames hockey program is Head Coach Kirk Handy, who still reaches out to Ryan to check on him.
"Kirk is one of the most incredible humans I know," Ryan said. "I'm so blessed to have gotten to play for him and develop a close relationship with him."
While Liberty and Handy prepared Ryan for his play on the ice, they also prepared him for his spiritual journey in the secular setting.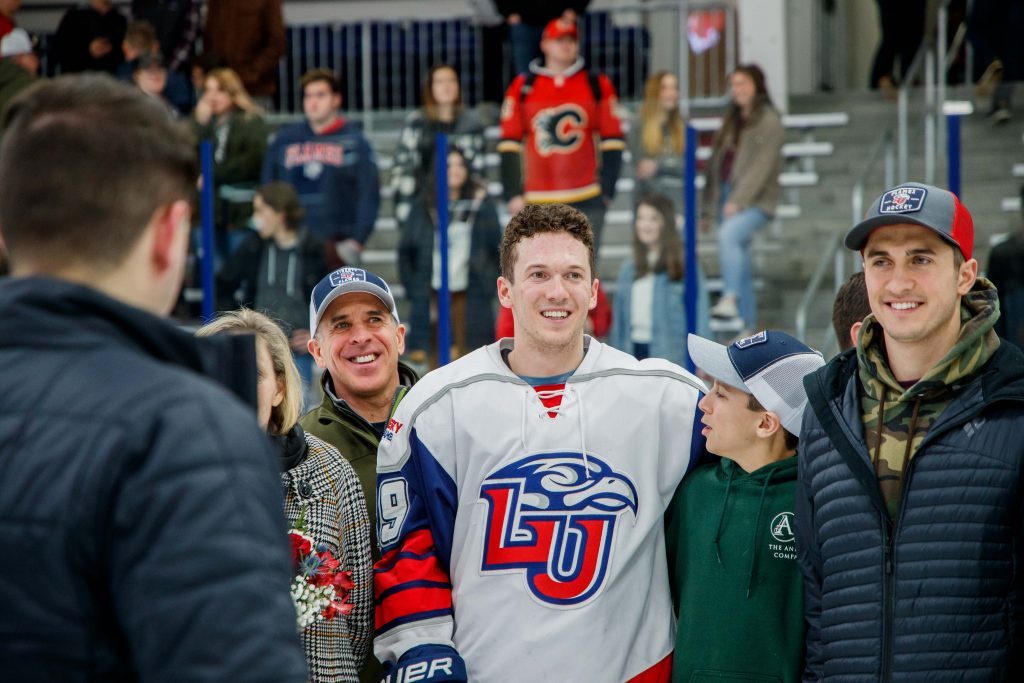 "A lot of strategic spiritual goals," Ryan said. "Being able to learn those and develop those at Liberty and carry those into the secular world has helped in being bold in your faith and living for Christ."
Ryan is still improving on the ice as he goes through the season, sharpening his skills to make himself a better professional player. He has appeared in nine games for the Railers, who have a 10-1-0 season. Ryan has three goals and six assists, totaling nine points.
"Being able to be explosive and faster than most guys that will help me get to the next level – whatever that may be," Ryan said. "Speed has been my focus, and speed will continue to be my focus moving up the ranks."
Elmore is a sports reporter for the Liberty Champion. Follow him on Twitter