Dennis Osagiede brings jolt to Flames' front
The Liberty Flames football team is having a historic season for the program. 
Not only has the team beaten an SEC team for the first time in the Arkansas Razorbacks, but they also defeated another football powerhouse, the BYU Cougars. The Flames' dominance can usually be traced back to their high-powered offense, but with the absence of Malik Willis, another piece of the roster decided to step up.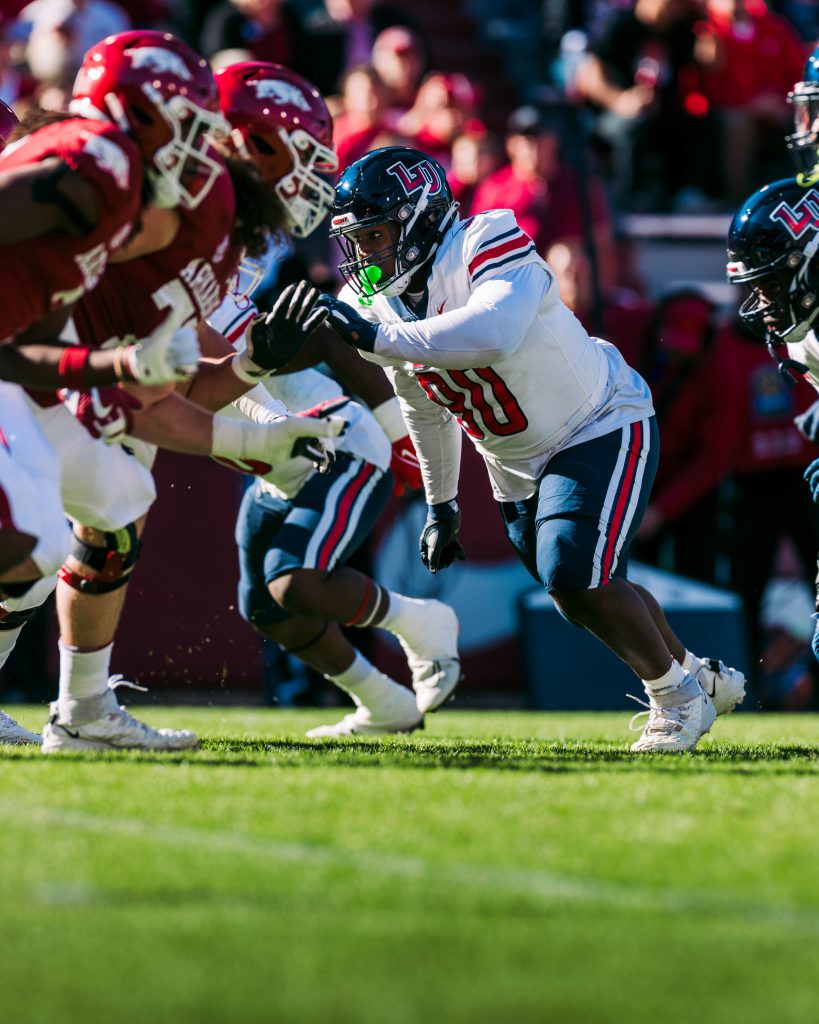 The Flame's defensive line is led up front by fifth-year senior Dennis Osagiede and on the edge by senior Durrell Johnson. Between the two of them, they've totaled 13 of the Flames' 34 sacks on the year, which places the Flames fifth in the entire NCAA in total sacks.
"Honestly, we just do our job, and we just do our job very well. I feel like our coaches give us the perfect tools to go out there and execute and be able to play with anybody, and everybody is humble, and we're not a selfish defense," Osagiede said about the dominant defensive line. "Nobody's worried about the stats or the takeaways. We're just worried about being efficient and being productive." 
They might not be worried about the stats, but those same stats still leap off the page and tell an interesting story about both the Flames and Osagiede individually.
Osagiede, who transferred to the Flames just this season from Stephen F. Austin, is having his most dominant season of his college career by a long shot. In his two seasons for UMass and his two seasons for Stephen F. Austin, Osagiede totaled just 61 tackles and two sacks.
That averages out to just over 15 tackles and less than a sack in a season. In this one season at Liberty, Osagiede has already totaled 29 tackles and six sacks. That ranks Osagiede at 60th out of all the defensive players in the NCAA, and there are 131 teams, each with around 50 defensive players on each team, which totals around 6,550 defensive players. That puts Osagiede in the top 1% of all NCAA defensive players in sacks. That might be a bit off, but you see the point — he's having an incredible season, and the stats back that up.
Even going into some of the big games this season, like the aforementioned BYU and Arkansas, Osagiede and the other members of that dominant Flames front don't view those games any differently.
"I mean, honestly, we felt the same all year," Osagiede said. "We know the work that we put in, and we know what it took to get to this point. Our main thing is being consistent and not changing up. Just because we have all this success, it's hard to gain all this. And if we walk away or shy away from the routines that we've been doing, then it won't last."
Palsgrove is a sports reporter for the Liberty Champion. Follow him on Twitter