Volleyball earns fifth consecutive win
The Lady Flames powered through ASUN newcomers Austin Peay in the first meeting between the two with a 3-1 win Oct. 28. 
The Flames led in kills (55-39), blocks (19-10) and digs (59-55), while the Governors led 9-7 in aces.
Trinity Watts led Liberty with 14 kills and had three aces and five blocks. Kamryn Bacus had 13 kills and five blocks, while Kate Phillips (12 kills, 17 digs) and Delaney Dilfer (47 assists, 13 digs) both had double-doubles. Madison Blane posted a Liberty Arena-record 12 blocks, while Lydia Burts hit .44 with 11 kills and added seven blocks. Erica Lowery got 14 digs.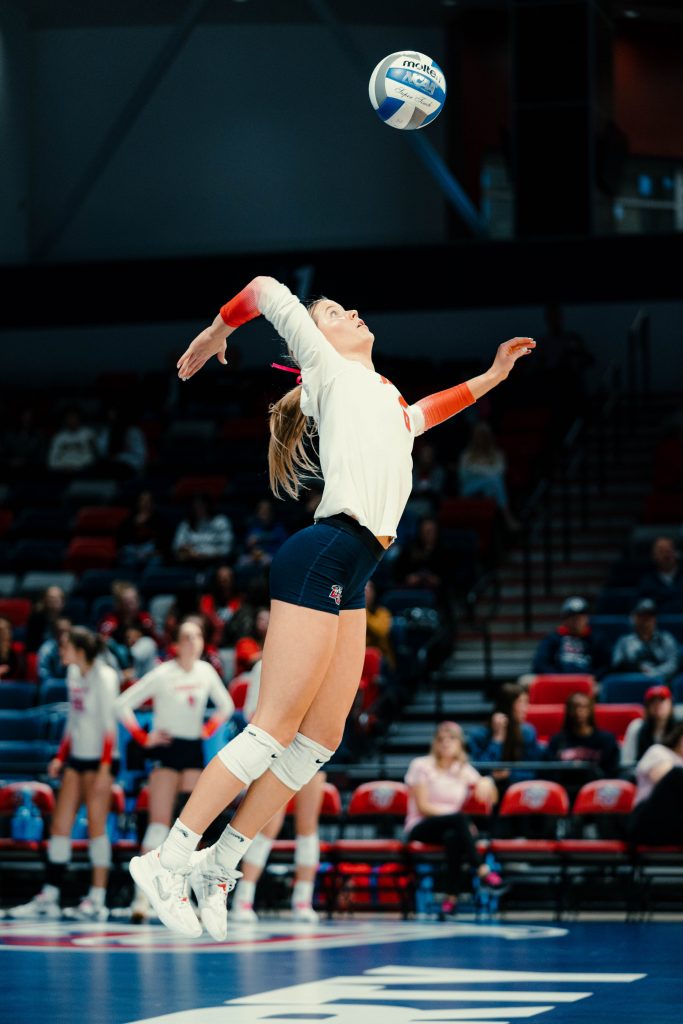 "I felt like we've come to a point with our team that we just keep getting better and better," Head Coach Trevor Johnson said. "We know at this point of the season, it doesn't matter if it's ugly or not. A win's a win, and we know that we can totally play better than that. (Our team) did a good job of trying to figure it out and trying new shots and do different things and make adjustments on the fly, which they did really well."
The Lady Flames posted a season high of 19 blocks, a testament to the team's two middles, Madison Blane and Kate Phillips.
"(Blane) has been working really hard. Not a great night for her offensively, but she killed it for us defensively," Johnson said. "I'm really proud of her and really proud of Kate Phillips — she's been working really hard. You think of someone that puts in all the hours when no one's watching, and that's definitely her."
For the Lady Flames, the most important match is their next match, and that mentality has really paid off this season. Johnson's ultimate goal for the girls, however, is for the team to unify as one. The wins will come and go, but the moments off the court are what they're going to remember forever.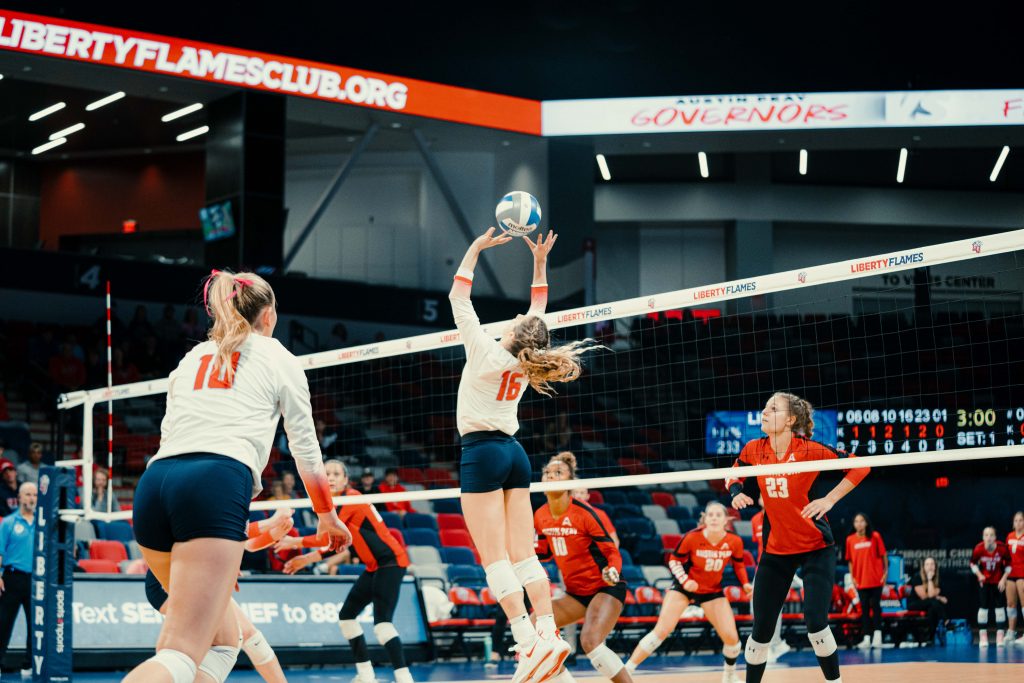 "I think we went into this game with three tangible goals that we wanted to maintain," Phillips said. "We wanted to stay aggressive, play fearless and have a next-ball mentality, and I think that's kind of what we did. It wasn't perfect, but kudos to our whole team for staying as a unit, even when we were down after the second set when it kind of got out of hand. We never really let that grit go away."
Even though they came out on top, the Lady Flames felt that it wasn't their best match. Regardless, they're anxiously awaiting what the rest of the season has to hold.
"I think we still have so much potential that we really haven't fully tapped into yet," Phillips said. "We've seen bits and pieces of it in different matches, including tonight. There's a lot of things that make me excited going forward. I'm just pumped to bring it. We got a whole bunch of time, and this is just the beginning."
Liberty went on to play Lipscomb Oct. 30, sweeping them 3-0 and putting them back on top in the ASUN conference.
Bruss is a sports reporter for the Liberty Champion. Follow her on Twitter