Scaremare Returns
Spooky season is right around the corner, and you just might be interested in experiencing the House of Death, the highlight of Scaremare.
An abandoned-looking warehouse at 2300 Carroll Ave., Lynchburg, serves as the home for Scaremare. The location brings the spookiness to life and displays what will happen when a person dies without
Jesus Christ.
Scaremare first began in 1972, and since then, the display has become more realistic and life-altering. This 40-minute experience takes people from dark, creepy trails in the woods to the House of Death.
Scaremare was canceled the past two years because of COVID-19, and for the freshman, sophomore and junior classes of Liberty students, this will be their first time to experience the gruesome adventure.
Each night, 300 CSER volunteers staff the event, and a total of 900 CSER students are involved in the total outreach. According to Josh Coldren, director of Scaremare, most of the students who volunteer at the event have not seen it before.
Coldren has worked with Scaremare for 18 years and "loves seeing it all come together with departments and students from all over campus … bringing ideas and energy together to communicate the gospel of Christ."
He knows the value of Scaremare and that it is more than a fun activity after seeing the lives it has changed. An agnostic man in a church Coldren pastored came to Scaremare, and what he saw lead him to Christ. The purpose of Scaremare is to "present the hope we have after death," Coldren said.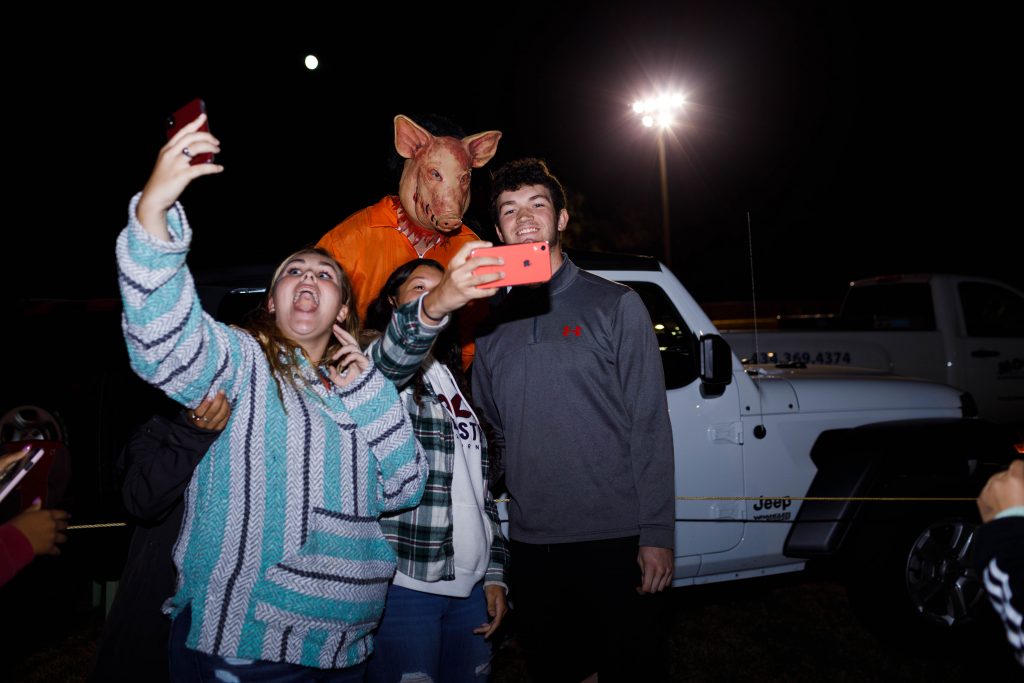 "For my freshman and sophomore years, I actually did my CSER at Scaremare. It was one of the best CSERs I have ever done because it was simply a fun outreach that incorporates the gospel," senior Megan McCoy said.
"We are not open on Halloween night," Coldren said. "We are not supporting Halloween. We are utilizing and leveraging it to do good, allowing us toshow Christ."
At the end of the encounter with death, the message of Jesus Christ is given, and the Scaremare website is filled with testimonies of those who have given their lives to the Lord.
"Last night I went to Scaremare," one testimony said on the website. "It was the scariest haunted house I have been in, and it also had the best message. My best friends and her brother got saved, and I was so happy for her. All I could do was hug her."
Scaremare has brought in guests from the community, from across Virginia and from as far away as Florida for over 50 years. In 2007, the all-time record was set with 4,500 people attending in one evening. This is the first Scaremare since COVID-19, and it is anticipated to attract the largest crowd yet.
"I was super excited to attend Scaremare last fall, but sadly, I was unable to because they had to close," senior transfer student Faith Mihok said. "I am really looking forward to being able to attend this year."
The School of Divinity has planned to increase the thrill by adding new details, including animatronics.
Scaremare will be open Oct. 13-15, 20-22 and 27-29. Admittance for students and military personnel is $5 on Thursdays. This experience starts at 7:30 p.m., and the gates will close
at 11 p.m.
Barton is a news reporter for the Liberty Champion