Mitrevski gives glimpse into how God brought him to the Flames
Liberty senior midfielder Marko Mitrevski did not take the route he anticipated in order to play college soccer, but it turned out to be the route the Lord had ordained for him. 
Before captaining Liberty's men's soccer team, Mitrevski was simply a kid with a dream, a kid from Rochester, New York, with aspirations to play professional soccer in Europe.
Mitrevski naturally gravitated toward soccer. With Rochester having the deep history in the sport that it does and an older sister who played soccer as well, Mitrevski picked up the sport early.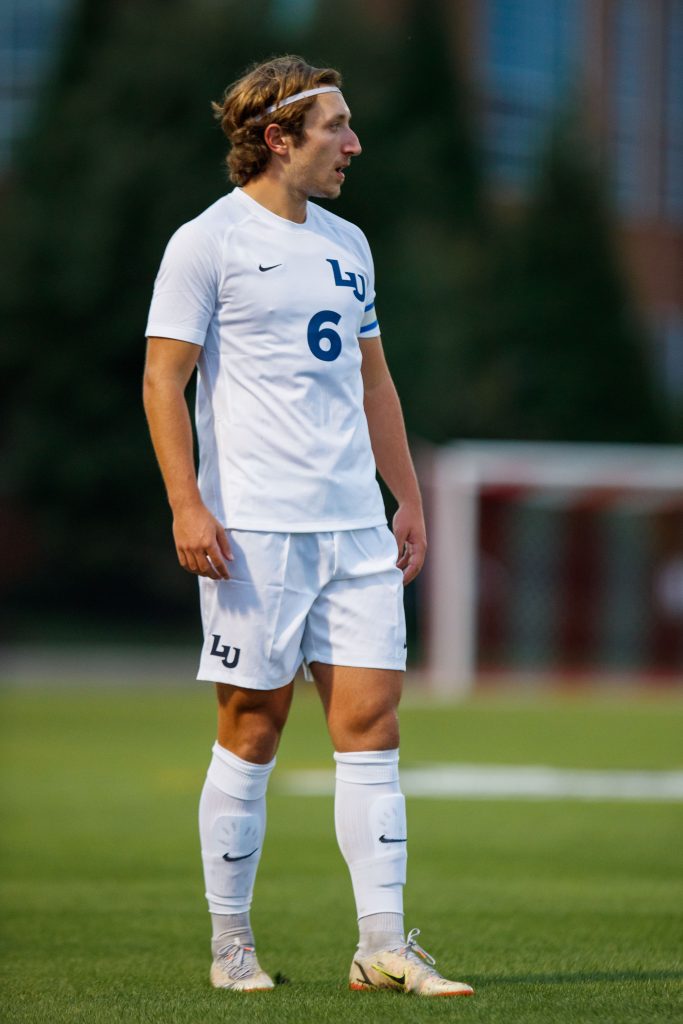 "I started playing soccer from, I think, when I started walking," Mitrevski said.
Mitrevski started as a kid by kicking a soccer ball against a mantle pretending it was a goal. From a young age, according to Mitrevski, he always had big aspirations.
"I have always been a big dreamer," Mitrevski said. "For me it was never, 'Can I play collegiate soccer?' It was always, 'Shoot for the stars.'"
Mitrevski's route, however, did not come without adversity. One of his club teams, Empire United, cut Mitrevski from the team.
From there, Mitrevski began to take the sport more seriously. Instead of giving up, he began to work harder. The way he reacted would affect the rest of his path.
"That was a huge point in my life where I kind of had to reassess, and it was a great test to see if I was really mentally prepared for the long road ahead," Mitrevski said.
Eventually, he returned to his original club team, now called Rochester Rhinos, and began searching for colleges to play soccer at. Hoping to go Division I, Mitrevski attended multiple Division I camps, but he was unable to earn a scholarship.
Mitrevski had one offer from a Division II school, Rochester Wesleyan, which he took. He played one season there, but his relationship with his coach soured.
Mitrevski still wanted to play Division I, and he had to make a drastic change to do so. He elected to take a gap year before reemerging at Louisburg College, a junior college in North Carolina.
"I wanted to play somewhere in the area of North Carolina, Virginia (or) South Carolina," Mitrevski said. "I knew that was where all of the big schools were … Louisburg was that little launch pad I needed to get to the Division I level."
In his spring season with Louisburg, Mitrevski made his first trek to Liberty for a spring season game. Mitrevski never expected to attend Liberty, but an impressive performance caught the eye of Head Coach Kelly Findley.
Mitrevski kept in contact with Findley, and he made two visits to Liberty. He was sold.
"It was an amazing testament to what God does in your life," Mitrevski said. "Me being an unbeliever at the time, having God work through me and show me all of those things throughout the whole year of 2019 was just crazy to see looking back on it."
Mitresvski would not stay as an unbeliever forever. He was amazed by the kindness of the people at Liberty and befriended teammate Kyle Garnett, who began witnessing to Mitrevski.
The two spent many dinners together at the dining hall where Garnett would defend every problem Mitrevski had about Christianity. In these moments, Mitrevski warmed up to the idea of the gospel.
"Those conversations that I had where I thought I was trying to disprove Christianity were actually God using those platforms to show me the truth," Mitrevski said.
From when he came to Liberty until now, Mitrevski changed himself completely. According to Mitrrevski, he has changed for the better.
"Through becoming a believer and through the experiences I've had, (I have) learned that there is a lot more than just shiny pieces of metal," Mitrevski said. "For me, it comes down to enjoyment. We play our best when we are having fun."
Now, Mitrevski is a senior with the captain's armband on his sleeve. He is now a leader on the team.
Even though a lot has changed in Mitrevski's life, his aspirations have not totally changed. He still wants to play professionally in Europe. However, his purpose for doing so is different.
"I want to play at the highest level I can possibly play," Mitrevski said. "I want to excel at whatever I do. I want to give my heart and my soul to whatever I do as a way to glorify God."
Lipowski is a sports reporter for the Liberty Champion. Follow him on Twitter