Bookshop on the Avenue serves LYH for 33 years

The building painted like an American flag waving in the wind is a landmark on Memorial Avenue.   
Inside this decorated cottage are books, memorabilia, videos and more books. Three floors filled with shelves and narrow aisleways hold books divided by genres. It is the home of Bookshop on the Avenue.
While many family-owned businesses are closing in Lynchburg, one business is staying strong and persevering through every challenge. Bookshop on the Avenue, owned by Walt and Maggie Carey, has been operating in Lynchburg for more than 33 years. As a local Christian business, they have been serving the community by buying and selling used books.
While many people casually enjoy books, Walt and Maggie had a strong passion for all forms of literature, from dystopian stories by George Orwell to mysteries by Agatha Christie. This passion shaped Bookshop on the Avenue.
"My wife and I have loved books since we were children," Walt Carey explained. "My wife Maggie was a librarian at Brookville Middle School and Rustburg High School. We have books in our blood."
Bookshop on the Avenue is one of the last used bookshops left in Lynchburg with a physical building for its customers. However, it wasn't always this way. There used to be several used bookstores in Lynchburg. Over the years, Walt and Maggie have seen many of these bookstores leave the community.
"There were about seven used bookstores in Lynchburg when we started," Walt said. "(Now), we are one of the few (used bookstores) left. We haven't changed much over the years except (for) the accumulation of many more books and movies."
Walt made it clear that, even though they've been working with books and the community for over 33 years, they are still very passionate about their books, their business and their community. This passion factored into their business model: serving the community and providing a space for their fellow book lovers.
"Our strategy has always been to serve Lynchburg with good quality books at low prices and to have a place where book people can … have fun," Walt said. "We have all types of books … over 130,000 books on three floors and over 7,000 DVD movies."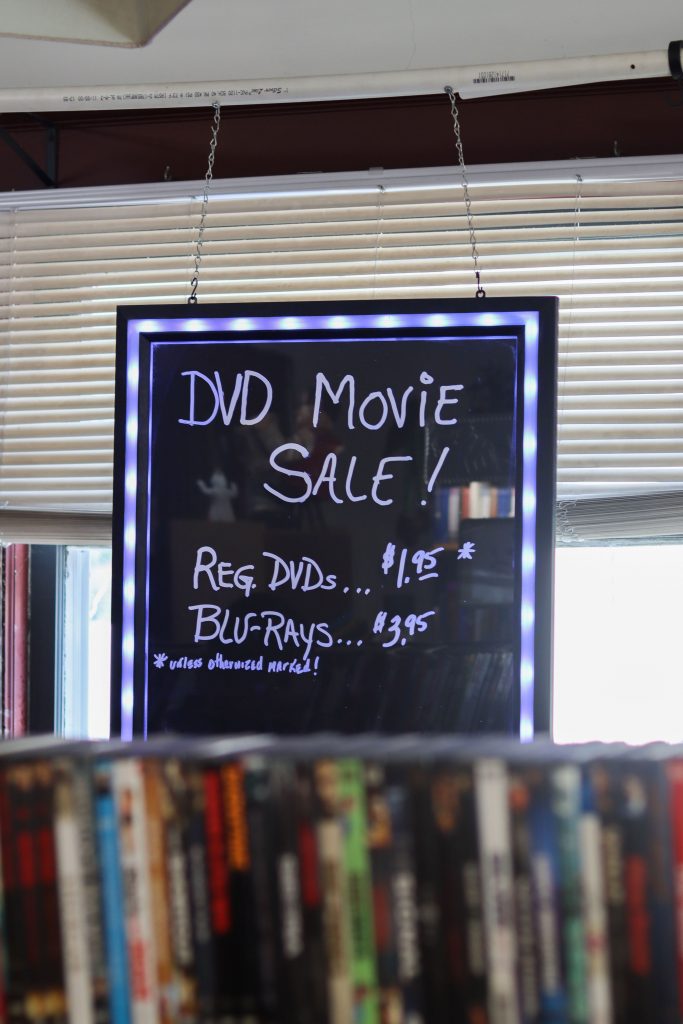 As a matter of fact, they are currently having a sale: $1.95 for all regular DVDs.
However, some things are bound to change in 33 years. Walt and Maggie decided to rename their store. While most people would not have changed their business name eight years in, they both felt like they needed to for the sake of their faith.
"Twenty-five years ago, (we changed) our name from Walt & Maggie's Haunted Bookshop, (a reference to) a (Christian) book by Christopher Motely, to Bookshop on the Avenue," Walt explained. "Because (that name made) many people (think) we were an occult shop … We are a Christian-based business and will not compromise our faith for any reason."
Today, the biggest struggle facing Bookshop on the Avenue is competition with online bookstores. However, the Careys' faith, determination and passion enable them to overcome these challenges so they can continue to serve their beloved community.
Bookshop on the Avenue is located at 3407 Memorial Ave,, Lynchburg, Virginia 24501 and is open Monday through Saturday from 10 a.m. to 6 p.m. The Careys can be contacted at oldbookshop@hotmail.com or by calling 434-854-1336.
Brown  is a feature reporter for the Liberty Champion