Quaint and eccentric: Welcome to The Aviary

Every city has hidden gems that tell the story of its past. All across Lynchburg are remnants of what it used to be. One of these quaint and eccentric places is the Aviary.
Now a multi-use event space owned by Lynchburg Parks and Recreation, the Aviary is a beautiful Queen Anne-style structure from 1903, built to be the home of exotic birds right here in Lynchburg, Virginia.
"The Aviary is now rented for special events like weddings, receptions, dinners, club meetings, parties and at least one prom," Doug Washington, a former tour-guide at the Aviary, said.
Essentially a giant birdcage, aviaries are large enclosures giving birds space to soar. Aviaries will often have shrubberies and greenery inside to help make it look more like home for the birds living inside. The Aviary in Lynchburg, however, contained much more than birds.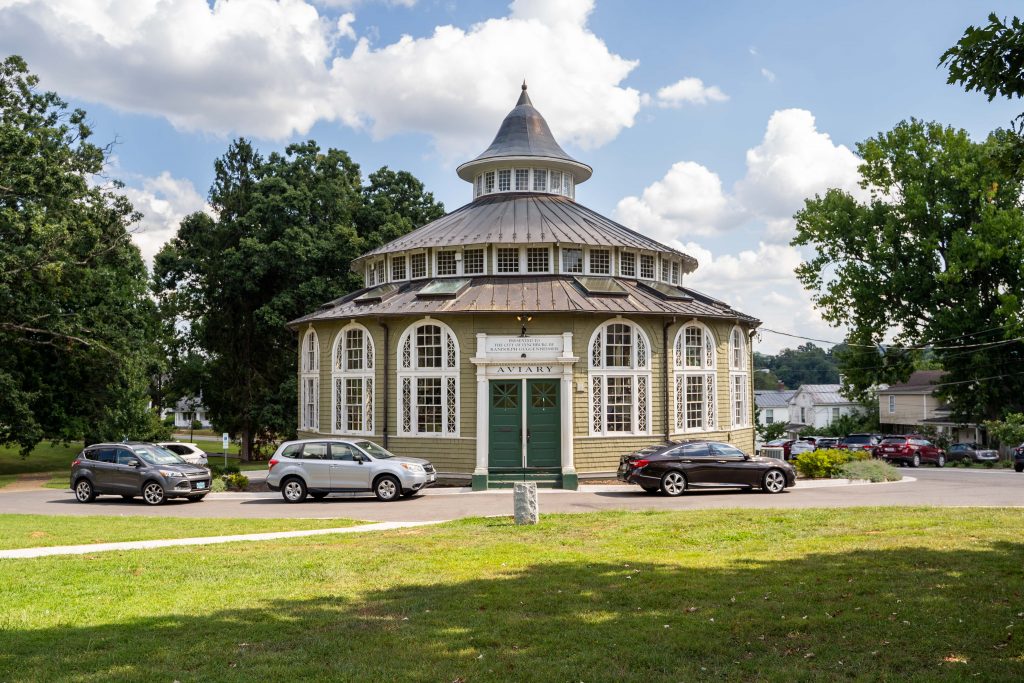 It is recorded that there were "seven cages containing monkeys, one with at least a half dozen healthy alligators, one with cockatoos, one with Australian doves, one with parrots and one with canaries," according to S. Allen Chambers' "Lynchburg: An Architectural History."
But that's not all. Within this same source, the lists also recorded a litany of other unusual animals.
The Aviary also contained "bear, deer, monkeys, badgers, raccoons, opossums, groundhogs, rabbits, elk, guinea pigs, foxes, squirrels, alligators, white rats, gophers, terrapins, gold fish, wolves, peafowl, eagles, hawks, owls, caracaras, parrots, cockatoos, crows, pigeons and other birds, snakes, other reptiles and animals … Most fearsome … was a giant rattlesnake."
The exotic structure was a gift to the city of Lynchburg by politician and Jewish philanthropist Randolph Guggenheimer in 1903. For the eclectic Queen-Anne style architecture, Lynchburg residents have Edward Frye and Aubrey Chesterman to thank. These two were partners in their own architectural firm Frye and Chesterman established in 1900.
Frye and Chesterman were noteworthy for much more than simply the Aviary. These two architects also designed the Jones Memorial Library and the Academy of Music in Lynchburg. They even ventured all the way to Richmond to help design additional wings being made to the Virginia State Capitol in 1906.
Becoming a part of the Virginia Landmarks Register April 15, 1980, the Aviary is now under the ownership of Lynchburg Parks and Recreation and has recently undergone a complete structural restoration to bring it back to its former glory.
With the ability to be a portal into Lynchburg's past, the Aviary has been a unique piece of history that brings the exotic to Lynchburg.
"The Aviary is multi-faceted, full of light, rare and gorgeous," Washington said. "I call the Aviary 'Lynchburg's Little Gem.'"
If you are interested in learning more about the Aviary or booking the space for an event, make sure to visit the Lynchburg Parks and Recreation website at https://www.lynchburgparksandrec.com/rentals/the-aviary/
Pace is the assistant feature editor for the Liberty Champion.