Bowling In 'Bama: Flames Football Set To Play Eastern Michigan
With Liberty football's comeback victory against North Texas Oct. 23, the program secured bowl eligibility for the third straight season. Uncertainty remained, however, as to the venue of the bowl game as well as the opponent that the Flames would face. These questions were answered Dec. 5 with the announcement that Liberty would face Eastern Michigan in the LendingTree Bowl Dec. 18 in Mobile, Alabama.
Not only does this game provide a bowl opportunity for the program, but the game against Eastern Michigan serves as a reminder to the enormous strides that the football program has taken in recent seasons.
Liberty's first FBS win came in a 25-24 victory over Eastern Michigan. Head Coach Hugh Freeze expressed joy at the opportunity for his team to experience the culture of postseason football.
"I remember growing up, bowl season is like the most awesome time to be a sport fanatic because you get to watch bowl games every night, and I'm just so glad that Liberty gets to be a part of that," Freeze said.
Freeze is no stranger to bowl games, having led Liberty to two straight Cure Bowl victories as well as finding bowl success while coaching for Ole Miss. Yet, he stated that this year's game holds a special place in his heart.
"I don't think I've ever been more excited to get a bowl game," Freeze said. "I want us to get back on the field as soon as we can."
Liberty Athletic Director Ian McCaw stated that he was proud of the team for its athletic accomplishments and saw this game as an opportunity to celebrate the team's season-long success. 
"A bowl game is a reward," McCaw said. "It's a reward for Coach Freeze and his staff. It's a reward for our student athletes, and it's also a reward for our fans, so we're excited to have everyone enjoy that experience."
This game provides the team with a chance to end the season on a positive note after the struggles the Flames had at the close of the regular season.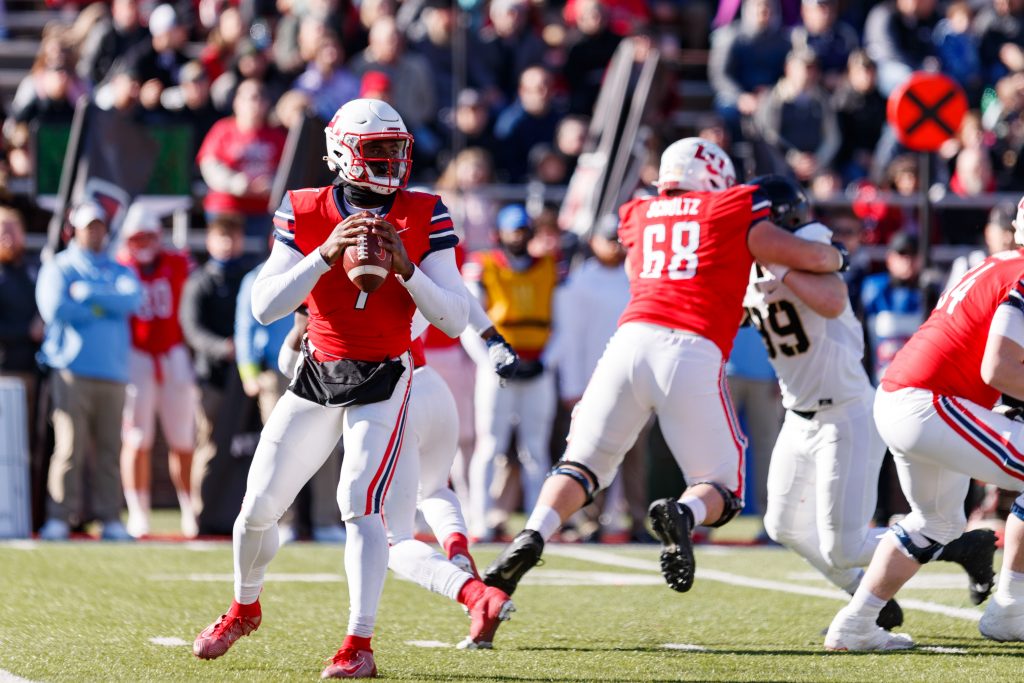 "I'm so thankful to be in this position to be able to play one more time with my guys and end on a good note, being that we lost our last three games in a row at the end of the season," linebacker Rashaad Harding said. "We could finish on a good note, so I'm happy and I'm thankful."
Freeze acknowledged that he felt that the team did not reach its potential this season, but he said that he saw the bowl game as a source of growth for the team. This game allows many of the younger players to have extra practice and game time before the offseason.
Despite the late season letdowns, quarterback Malik Willis chose to view the next challenge with optimism. 
"We could have had a better season, but we didn't have a bad season," Willis said. "We went bowling again for the third time in a row. That's a blessing in itself, and that's a testament to the guys that have been playing here since we elevated to FBS and to the coaches that put everything in trying to get us in the right position. I think we just got to be grateful for it."
Along with the opportunity to compete on a national level, the bowl game also provides an advantage to the coaching staff. It enables the staff to recruit future student-athletes to Liberty from Alabama, thus preparing the way for future stars on the team.
McCaw also noted that while the team is in Mobile, they will be able to take tours of the area and work on community service projects. Thus, not only do the players receive the blessing of another opportunity to prove their skill, but they can be a blessing to others through service.
Tickets are now available for the LendingTree Bowl and can be accessed through Liberty's website as well as by calling 582-SEAT. The venue, Hancock Whitney Stadium, opened last season and is home to South Alabama, who competes in the Sun Belt Conference.
The LendingTree Bowl is scheduled for Dec. 18 in Mobile, Alabama, with a kickoff time of 5:45 p.m. EST.
Shields is the asst. sports editor. Follow him on Twitter