Piedmont Airlines Helps Students Fund Their Education
Piedmont Airlines is strengthening its longstanding connection by launching a tuition payment program as a beta test for select aviation-maintenance students. 
The Piedmont Airlines' Tuition Payment Program allows students to participate in a 12-month training program at Liberty University without the financial burden, according to an article released by Liberty's Office of Communications and Public Engagement. 
Students in the program who receive the tuition commit to two years of work for Piedmont after receiving their certifications.
Steven Brinley, chair of the Aerospace Technology Department at Liberty University, said that knowing they have a confirmed path after completing the program gives students a high level of confidence.
"The program provides an opportunity for students to train and enter a great career without having a financial barrier or hurdle and an open pathway to students who may not have been able to afford it," Brinley said.
The new program covers tuition, fees and testing for students who remain in good standing for the 12-month period, according to guidelines on Piedmont Airlines' website.
Zechariah Huddleston, one of less than a dozen students in the program, had planned to get his certification and work for Piedmont with or without the program.
"My older brother works at Piedmont, so I had a plan in April to actually come to Liberty and get the … certification," Huddleston said. "And then I had to withdraw due to financial reasons."
Huddleston said that it is hard for him to sit down at a desk and do work, so he had been looking for a job that was hands on.
"My brother showed me working on airplanes and it seemed a lot more interesting than working on cars," Huddleston said. "I mean, cars are cool, but they don't fly."
Huddleston moved all his things to Lynchburg before he even knew he had been accepted to the program.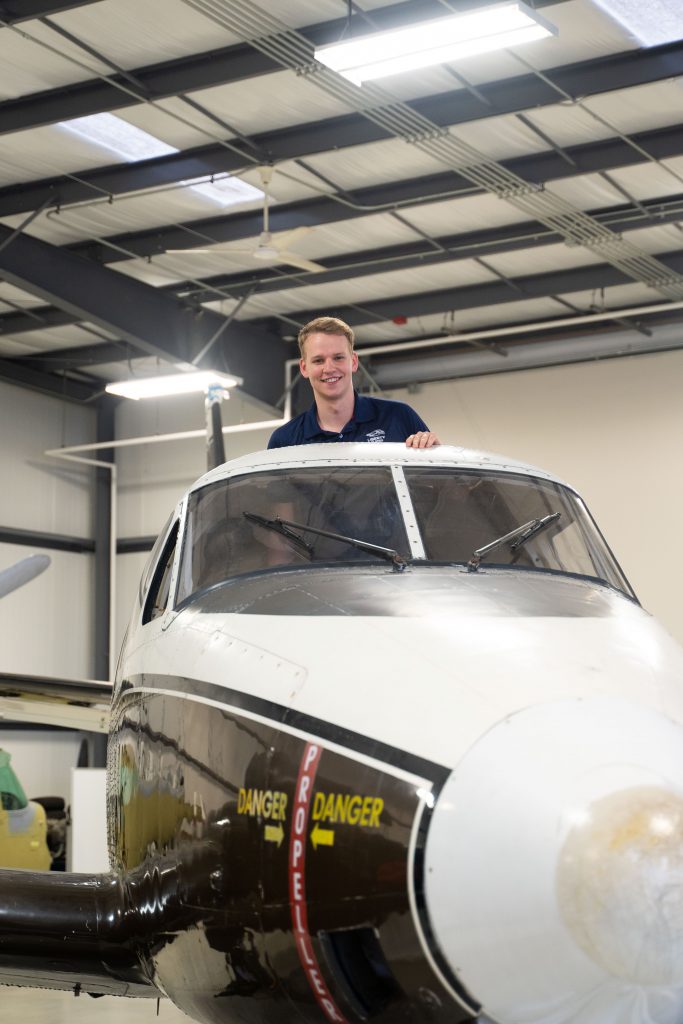 "Getting this completely flipped everything upside down in the best way possible," Huddleston said.
The program comes as part of an ongoing relationship between Piedmont Airlines and Liberty University that started nearly 10 years ago, according to Kevin Dallaire, Piedmont Airlines' Senior Manager of HRIS & Strategy.
"We chose Liberty University to be a part of this beta test due to its unique program length, one of a handful in the country with an approved FAA certified 12-month program and their willingness to work with corporate partners to provide unique opportunities to students," Dallaire said in an email. "In addition, Liberty's proximity to two of our seven maintenance facilities coupled with our long-standing relationship, highlights that we both are working towards training and hiring the next generation of aircraft maintenance technicians (AMTs)."
Dallaire said Liberty is one of five schools partnering with Piedmont on the East Coast, located in proximity to Piedmont's other maintenance bases and that there are no current plans to expand this program.
The aviation industry as a whole is seeking to fill a variety of open positions as it recovers from the COVID-19 pandemic. Boeing recently released a report that predicts that North America alone will need 192,000 aviation technicians by 2039.
"Investing in our local communities by creating good career opportunities, reducing the burden to entry and increasing diversity in the aircraft maintenance trade are all extremely important to us," Dallaire said. "We believe this program will help us accomplish all of these things and more."
Seiler is a news reporter. Follow her on Twitter at @SeilerMadalyn.