Local 5-Year-Old Becomes Youngest to Conquer a Northbound Trek on the Appalachian Trail
Exactly 2,193.1. That is how high 5-year-old Harvey Sutton, aka "Little Man," can count. 
That is how many miles he walked with his parents in 209 days to become the youngest person to hike northbound, from Springer Mountain in Georgia to Mount Katahdin in Maine, on the Appalachian Trail (A.T.).
Harvey, who loves "Paw Patrol" and thinks everything is "awesome," grew accustomed to calculating the distance between shelter and water with decimal points and counting his total miles in the thousands. But, of course, a few weeks after completing the nearly seven-month journey, he still had to return home to Lynchburg and start kindergarten, where he is learning numbers one through five.
This is the kind of story Josh and Cassie Sutton set out to make with their son.
"We came up with the family goal to live a life with extraordinary stories," Josh Sutton said. "Just working all the time doesn't give you extraordinary stories. Doing things like hiking with a child on the A.T. – those give you extraordinary stories."
Josh and Cassie have never shied away from different adventures. Josh was running a game lodge for a mission's organization in South Africa when he met Cassie, who was working at a school in AIDS prevention and life skills.
After the couple moved back to Josh's hometown of Lynchburg, got married and started working in real estate, they had a realization: retirement was not guaranteed. Cassie's father had died when she was young, and Josh's father had a stroke in his 40s. So, they decided to start taking "mini retirements," the first being a hike to Mount Everest base camp.
"We never felt that much peace before," Josh said of the trip. "But then we forgot, and we just went right back to the rat race."
The Suttons were blessed with Harvey in 2016, and as Josh held the infant in his arms, the self-admitted competitive father had the idea for their next mini retirement: hike the A.T. in 2021 with his son, aiming to beat the youngest completion record, then held by Christian Thomas, aka "Buddy the Backpacker," by several months.
When Harvey walked at nine months, several months earlier than most of his peers, Josh and Cassie took it as a sign that this ambitious goal could become a reality.
At age two, Harvey went on his first camping trip.
When he was three, his parents took him winter camping because Josh and Cassie knew they would have to start the A.T. in the winter to finish before the fall.
When he was four, in the summer of 2020, Josh and Cassie took Harvey on a 50-mile, six-day backpacking trip.
"From then we knew we could actually do this," Josh said. "He loved it. He just fit right in."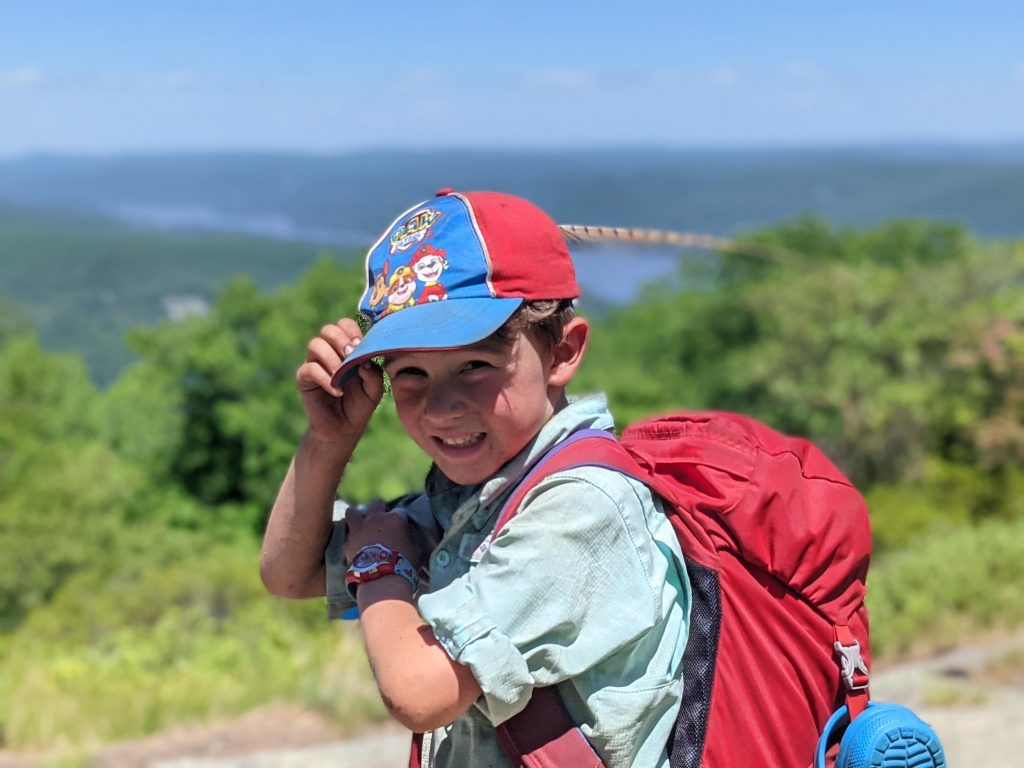 On Jan. 13, 2021, with four inches of snow on the ground, the Suttons got on the trail at Springer Mountain in Georgia and started following the A.T.'s white blazes north.
The first 45 days on the trail brought only three days of sun and hardly another soul. Zero-degree temperatures froze their boots overnight, and a storm covered the trail in 18 inches of snow, making it nearly impossible for the only 42-inch-tall Harvey to traverse and forcing the family to turn around and take time off the trail. But they bundled up and pushed on together.
Every day, the Suttons awoke with the sun, around 7:15 in the winter and 5 by the summer. They packed their bags and immediately began hiking to stay warm in the winter, covering 10 to 20 miles a day. On their longest day, they covered 20.3 miles.
Altogether, they ate five pounds of food a day: seven Clif bars for breakfast, candy bars or crackers for snack, 10 tortillas and half a jar of peanut butter with Skittles or wild blueberries as jelly for lunch and ramen, mashed potatoes or oatmeal for dinner.
On average, they would get off the trail every five days to resupply, shower, do laundry and sleep at a hostel.
Most of their time on the trail was spent playing make believe.
"That was literally the hardest thing for my wife and I," Josh said. "Not the cold, not the rain, nothing. It was playing pretend for 10 hours a day. And if we were enthusiastic about playing all day, his pace would quicken, and we would make it to camp sooner."
At night, Josh would set up the tent, filter water and cook dinner while Cassie organized their supplies and got Harvey warmed and entertained, usually by watching an episode of "Paw Patrol" on his parents' phone.
They finally started seeing other thru-hikers and warmer weather in Virginia.
By Pennsylvania, they had accrued a "Tramily," a term for thru-hikers walking at a similar pace that form a close-knit group. 31-year-old Karl Donus Sakas, aka "Sugar Man," who graduated from Randolph College and received his masters from the University of Lynchburg, bonded with the family and hiked with them until Mount Katahdin.
Harvey gained a trail grandma, "Orange," who was in her 50s and worked as a school bus driver. After she passed the Sutton's, she sent notes to Harvey with southbound hikers. Harvey also had what Josh called his "trail girlfriends," female hikers who Harvey would nearly run for several miles to keep up with.
The trail community brought many fun adventures for Harvey and his parents. Sakas made a 3-day treasure hunt through New Jersey for Harvey that ended at a drive-in movie theater. After getting off the trail to see a Yankees game, Harvey fell in love with baseball and, at a blueberry farm in Massachusetts, they played whiffle ball with 16 other thru hikers.
All the while, they continued their trek north, through the White Mountains in New Hampshire and the wilderness of Maine.
On Aug. 9, 2021, they woke up at 3 a.m., packed up their bags and started into the woods one last time. The final 5.3-mile climb up Mount Katahdin was socked in with clouds, but at 11 a.m. at 5 years, 4 months and 11 days, Harvey completed the Appalachian Trail as the youngest northbound thru-hiker.
Transitioning back to life off the trail has been hard. Josh has been rebuilding his real estate clientele. Harvey started kindergarten. Cassie is sorting through the stuff they packed up before the trip, hoping to minimize. All three of them are working to reintegrate into normal life, all while missing the hiker community.
"We all hiked to the same mountains together. We went through the same bad weather together. And we all knew what it was to get closer and closer to Katahdin," Josh said. "What we're struggling with is figuring out this lonely world of people where everyone has their own journey, and you don't have that camaraderie that you do and the community that you do on the trail."
Josh and Cassie knew Harvey would not remember much of the trip. Even by New England he had already forgotten the winter. So, they decided to film their adventure and post it on their YouTube page, Live Sutton. The videos gained traction and all along the trail people recognized the family and greeted Harvey with toys and candy. Their most popular video featured their final ascent at Mount Katahdin, and it gained over 45,000 views. For Harvey's birthday, their fans sent him over 300 presents from 45 states and eight countries – and a grand total of 50 pounds of Skittles.
They plan to keep up with this YouTube community by posting videos about off-trail life and, hopefully, once they save up, another mini retirement trip.
For now, they are staying active by walking on the Blackwater Creek Trail, in Lynchburg, VA, where Harvey shares the classic hiker greeting to people passing by: "Happy Trails."
Hale is the editor-in-chief. Follow her on Twitter at @HaleJaquelineR.