Theatre Department Recreates The Lively, Comical And Award-Winning Musical "Crazy For You"

Liberty University's Department of Theatre Arts prepares to transport audience members into a world of laughter with its rendition of the award-winning Gershwin musical "Crazy For You."
"Crazy For You" is a lively story set in 1930s Nevada that unites the audience through the production elements of song and dance. With the opening night April 30, cast and crew continue to work tirelessly in preparation for what will be the department's biggest production this year.
Director Andy Geffken has a personal tie to the production. In 2007, the last time it was on Liberty's stage, he performed in the musical as a student. Now a professor, Geffken has the opportunity to see this iconic musical come to life once again and take a behind the scenes position to bring it to life.
Geffken acknowledged the worry around whether or not the department would be able to put on live shows this season in light of COVID-19, but he sees "Crazy For You" as the final sigh of relief.
"We didn't know at the beginning of the year if we were going to make it two weeks," Geffken said. "So, it was awesome to see God's provision throughout the entire theater season and in culminating this final, huge musical of 'Crazy For You,' it's going to be very much a feeling of celebration."
While excited, Geffken understands the stress that comes with having a production of this size at the end of the spring semester and praised the endurance and tenacity of the student cast of over 30 actors and dancers. 
"Putting on something this big is always tricky," Geffken said. "It's always hard to pull it off. They have been doing an awesome job, and the students are all excited to unleash the show on audiences in whatever limited capacity we can have."
Choreographer Aubri Siebert worked with Geffken on a previous production and appreciates the collaborative atmosphere he creates both with her and the cast. Geffken brings her an idea of what he needs from the dance numbers, whether it be more character or a specific setting, and they move forward workshopping the pieces she choreographs until they are in their final form.
Siebert aims to make her dances a visual representation of what the audience is hearing and feeling.
"It can't just be dance for dance's sake or because a move looks great," Siebert said. "We want to make sure that each movement is utilized in a way to bring more life to each character."
Siebert loves watching the performance of a piece and being able to see where her and Geffken's ideas individually jump out on stage. This collaborative partnering, she said, "elevates" her work as a whole.
Siebert also finds inspiration in the way each cast member plays with the movements and makes each dance their own.
"It becomes something really beautiful because of that collaboration," Siebert said. "It can't be me alone because I am not the one at the end of the day performing. I like that they are able to bring their own kind of voice through the character and through the movement and that's what really brings it to life."  
"Crazy For You" has nearly 20 dance numbers that require a higher skill level than other productions to memorize and perform, but acting leads Aaron Hall and Kelsey Dial have taken on the challenge with excitement.
Hall's love for musical theater allows him to see this as not only a simple acting opportunity but also as a storytelling opportunity. He calls the ability to further the story through song and dance a "unique art form" and urges theater lovers to come see this story come alive.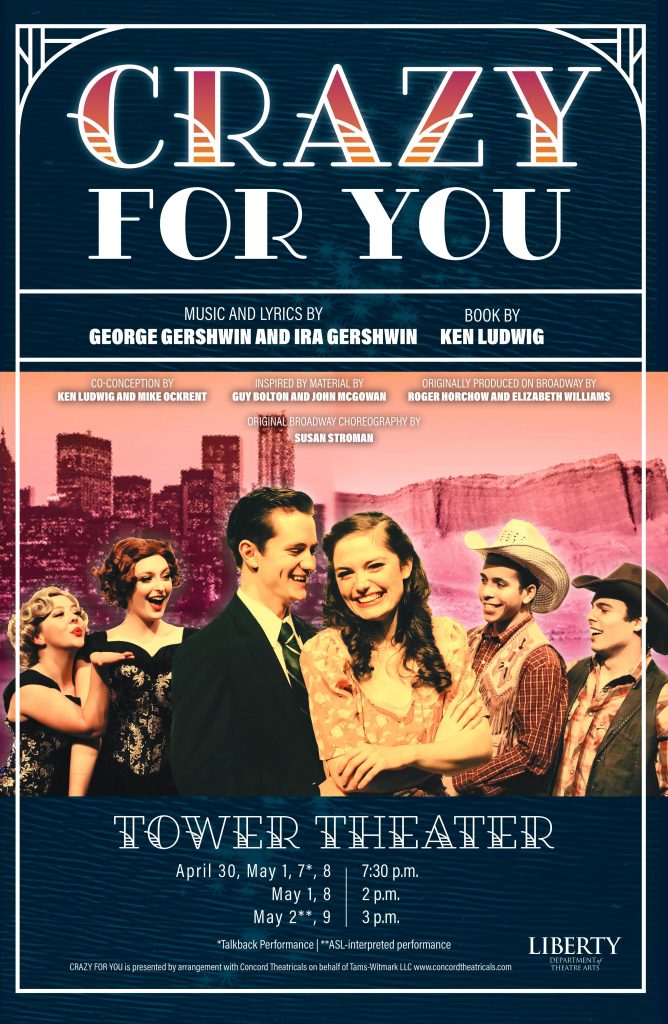 "I just love the big cast and the camaraderie and just the spectacle that we get to bring to the audience is really fun," Hall said.
"Crazy For You" focuses largely on making the audience laugh and ultimately feeling like a unified community, and the dance element of the production plays a big part in that.
"Just expect to have a lot of fun and to love dance," Hall said. "I think this show really makes you feel like you want to get up and dance while you're watching it, and you get to see this community on stage having a great time."
Dial admits that the choreography was a bit daunting at first but is beyond excited to bring the character of Polly Baker to life in what is a story about people coming together for a common cause they love.
Dial sees the lighthearted atmosphere of the show as a timely change of pace for audiences given that the last year has been difficult on people everywhere.
"I think everybody these days needs a good laugh, and this is a fantastic show for them to come to and laugh their heads off for pretty much a solid two hours," Dial said. 
Nadia Vires is a Feature Reporter. Follow her on Twitter at @nadiavires.