Watts Earns ASUN Volleyball "Freshman Of The Week" Award

Trinity Watts didn't discover she was the ASUN Volleyball Freshman of the Week until she checked Twitter.
"I got tagged in a tweet," Watts said. "Coach Johnson then texted me congratulations. The overwhelming support from my team was so nice to have."
After recording two consecutive double-doubles in kills and digs to help sweep North Alabama, Watts, an outside hitter for the Lady Flames, became only the second Liberty volleyball freshman to win Freshman of the Week this season.
The Houston native has always known she would play college volleyball, citing her mother, a volleyball coach, as the reason she started playing volleyball at 9 years old.
"It really got started with my mom being my coach. There's pictures of me holding a volleyball in the crib," Watts said. "It's always been a part of my life."
Head Coach Trevor Johnson attended a tournament Watts was playing at her sophomore year of high school, and after he saw her play, the recruitment process began.
"Coach (Johnson) reached out to one of my club directors and asked if there were any players (on the team) that were in love with Christ and that were looking to come to Liberty and be a part of something bigger than just volleyball," Watts said.
Watts knew she wanted to attend a Christian university, and when she got the offer to play for the Lady Flames, she jumped at the opportunity.
"I feel like what we have over a lot of other schools is that we're fighting for something so much bigger than just a trophy," Watts said. "We're fighting for each other and we're fighting for Christ."
Watts' desire for team fellowship has translated to a determination to help her teammates succeed this year. A leader on the court and off of it, she wished there was a way for her entire team to be honored instead of just receiving the award herself.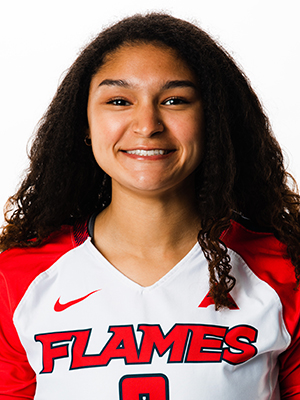 "I honestly couldn't have done it without my teammates," Watts said. "I truly wish they all could get the award with me because I would not have been able to be set up in that position without my team."
Watts had scored at least 10 points in nine of Liberty's last 11 games prior to the postseason, and she hoped to continue leading the team to postseason success when the ASUN tournament started.
"I want to be the leader that my team needs me to be, someone to look up to in any way possible, whether that's being a physical leader or communicating more," Watts said. "Whatever is needed, I want to be able to translate that."
However, the Lady Flames season sputtered to an end March 27 when the team lost to Kennesaw State in three sets in the ASUN quarterfinals.
The team started the first set strong and managed to gain a 20-19 lead. Kennesaw State struck back with a vengeance, however, scoring six points and allowing the Flames to score only one.
The second set did not fare any better for the Flames. After the Flames led 17-16, the Owls took over and refused to relinquish the lead and won 25-21.
The Flames worst set was also its last. The Flames never led in the set and lost 25-14, sealing Liberty's fate as Kennesaw State moved on to the semifinals.
Sarah Tate is a Sports Reporter. follow her on Twitter at @state2151.