Argentinian Transfer Has Been "Like A Wall" for Lady Flames Field Hockey
The Lady Flames field hockey team is breaking records left and right this season – and a great deal of success is due to a transfer freshman who was not even on campus four months ago.
Currently at a program-best 10-2 after 12 games, they have notched victories against the UConn Huskies and the Duke Blue Devils for the first time in program history. To top it all off, they are the first Liberty athletics team to be ranked in the top five at the NCAA Division 1 level, standing at No. 4 in the latest poll.
Goalkeeper Azul Iritxity Irigoyen transferred to Liberty from Argentina in January – and Head Coach Nikki Parsley-Blocker said that Iritxity Irigoyen has played a huge role in that success. The goalkeeper has been named the Big East Defensive Player of the Week for four consecutive weeks, and her assuring presence behind the defense have anchored the team's results this season.
"I don't think you can talk about the success we're having without mentioning (Iritxity Irigoyen's) name by any means," Parsley-Blocker said. "She's been like a wall for us. She's making the correct decisions to put us in a position to be successful."
Iritxity Irigoyen already had an impressive field hockey resume before coming to Liberty. In her home of Buenos Aires, Argentina, Iritxity Irigoyen played at the club level since 2007. She was a member of the Argentinian Junior National Team and won a gold medal at the 2018 Summer Youth Olympics.
"I have played hockey since I was 7," Iritxity Irigoyen said. "I've always been a sports person. I started being a goalkeeper at 10 years old, and I started to love it and be really passionate about it."
When COVID-19 hit and made it impossible to play club field hockey, Iritxity Irigoyen said she had to reevaluate her future. This revaluation led her to the chance to fulfill an old childhood dream.
"One of my dreams when I was little was to play and study outside Argentina," Iritxity Irigoyen said. "It's really difficult to play at high level and be in a good university in Argentina. What I like from the U.S. is you concentrate on your sport and in studying."
Liberty University gave Iritxity Irigoyen the opportunity to pursue both field hockey and a college education. Even as she learns a different language and adjusts to living in a new country, Iritxity Irigoyen said she has found a place she can call home in Liberty.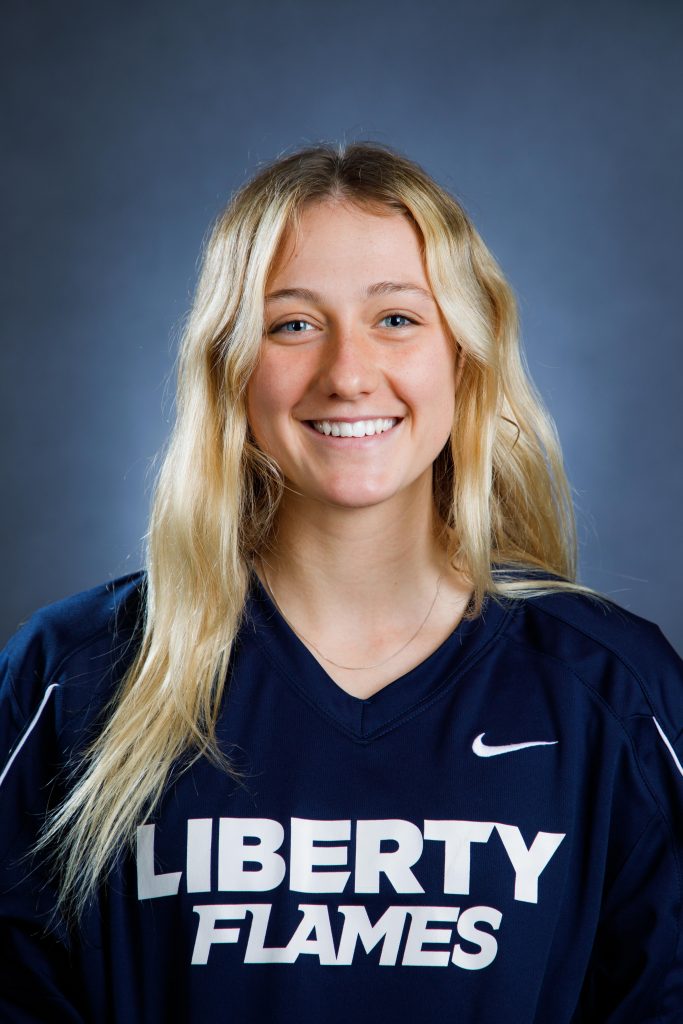 "I feel really comfortable and really happy," Iritxity Irigoyen said about playing field hockey for the Flames. "The team is amazing. The girls are amazing on and off the field. That's what I really love. It feels like family."
Since coming to campus in January, Parsley-Blocker said Iritxity Irigoyen has impacted the team with both her play and her work ethic.
"Something some people wouldn't necessarily know is what (Iritxity Irigoyen) does behind the scenes," Parsley-Blocker said. "That's what makes her such a high-level athlete. She's just constantly evaluating and critiquing herself even when it's a shut-out game. Even when we win 4-0 … she's just figuring out ways to get better."
She was also recognized at the national level March 24 when she was named the Play Safe Turf & Track/NFHCA Division I Defensive Player of the Week. She has had three shutouts this season, and her .821 save percentage is No. 12 in the nation for goalkeepers.
For Iritxity Irigoyen, however, the success and accolades are only by-products of playing the game she loves.
"I just do what I like," Iritxity Irigoyen said. "I enjoy the game. I don't think about (success) that much. I just enjoy the game and play like I know."
Sarah Tate is a Sports Reporter. Follow her on Instagram at @state2151.